Art in Homes
Read feedback from Erin Hanson's collectors.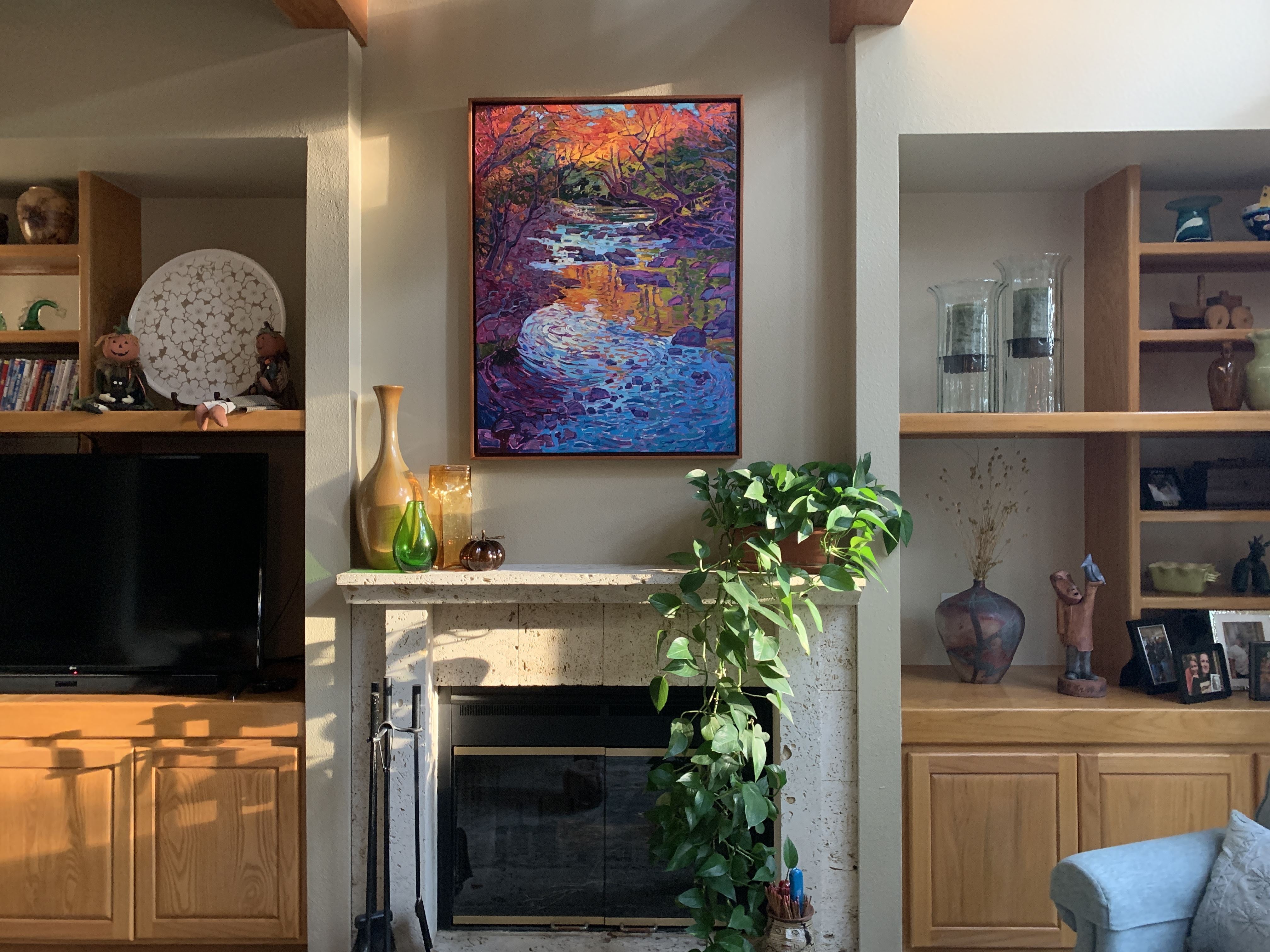 THE WOODLANDS, TX
"We are so thrilled to be the proud owners of our second Erin Hanson original, 'Autumn Creek.' We can't wait to get up in the morning to see its gorgeous colors and textures above our fireplace. It changes the whole dimension of our living space.
"We have followed Erin and her work ever since she was named Featured Artist at The Woodlands Waterway Arts Festival, the juried fine arts festival in our hometown, The Woodlands, TX. Whenever we get stressed, we look at all the gorgeous art on Erin's website and take a deep breath. Beauty is still with us to be savored every day!
"Thank you, Erin, for sharing your incredible and prolific talent with the world. Special thanks too to Linda Hanson, who treats Erin's patrons like royalty. She was a tremendous help in choosing and facilitating our prized purchases!" - S.W.
DRAPER, UT
"I received my Erin Hanson painting (my painting!) and Utah Sagebrush is, of course, even more spectacular in person. I absolutely love it! Thank you again for helping me to make this happen." - K.H.


SANTA CLARITA, CA
"Hi, Erin!! I wanted to show you how beautiful your painting is in my eating area! I have already received so many compliments!! Thank you for sharing your talents!!" - H.C.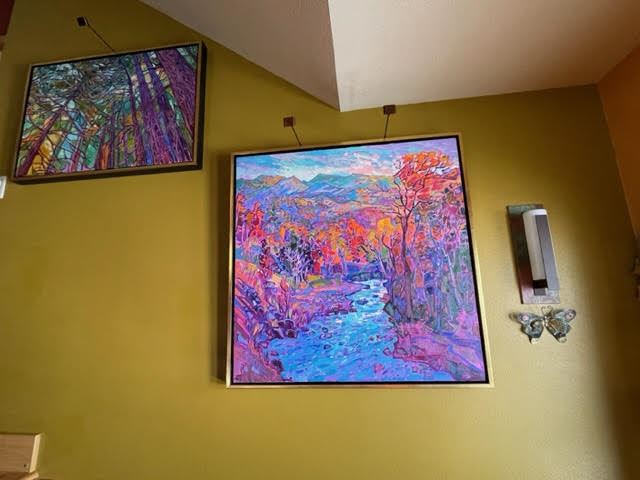 IDAHO FALLS, ID
"I received the painting today and I am more than satisfied; I am blown away. It is extraordinarily beautiful. I would like to commend all of you for your friendliness and wonderful service. Today was one of the busiest and most stressful days I have ever had at work. When I came home, so late, and opened up the package and saw the painting, my stress melted away, and a big silly smile overcame me. Thank you!!" - M.T.
EUGENE, OR
"Wife is absolutely thrilled and I love it too. Amazing, every time I look at it, it gets more and more beautiful. This will be my get out of 'husband' jail for free card for quite a while. Thank you." - C.S.
MCMINNVILLE, OR
"We went to the gallery and had a full tour. The staff there were so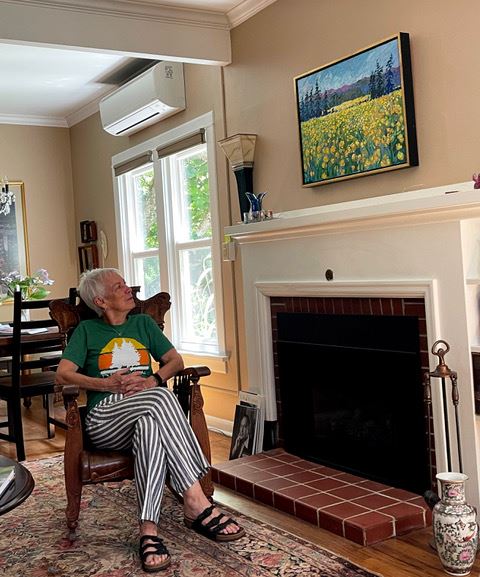 friendly and helpful; it was a treat to see all the paintings there, both framed and recently completed -- and to see the different options of pictures available. We were so impressed that we decided to invest in a piece of Erin's artwork ourselves. We had never done this before, hadn't even contemplated investing in art. But Erin's paintings are so lovely and fresh, and her style of painting so unique that we decided to take the plunge.

"The only hard part was picking out the painting as we loved so many! But we did, and then her staff was fantastic about not only delivering it but also giving us advice on hanging and lighting. They have stayed in touch since then.

"So now we have the most wonderful 'field of mustard flowers' painting above our fireplace, right in our living room where we can enjoy it every single day." - R.D.
LOON LAKE, WA
"The painting arrived today in perfect condition—great packing job. We are really enjoying having the painting up. It reminds us of sunny, warm places, unlike here the inland northwest." - E.D.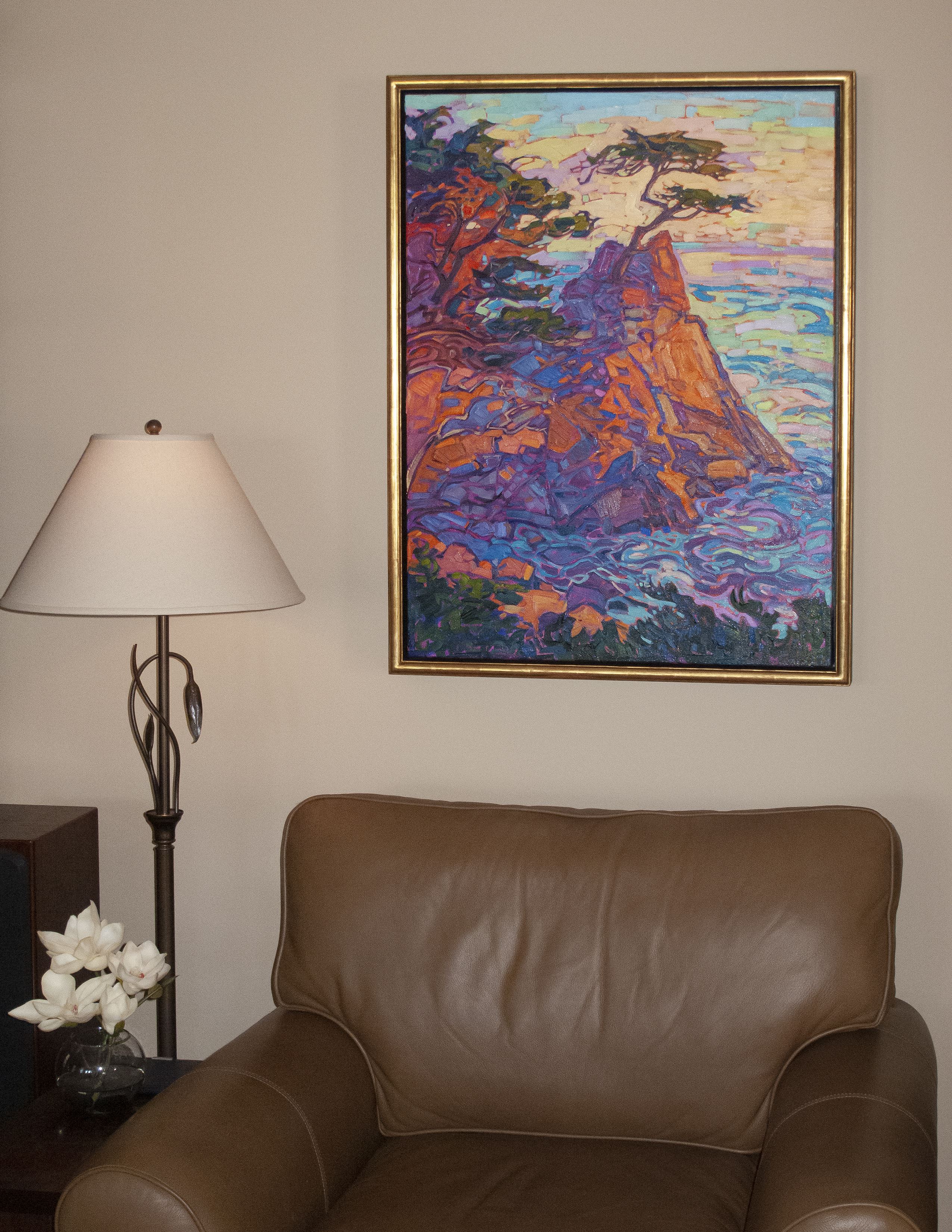 APEX, NC
"As an artist myself I appreciate her expansive treatment of light and shadow. I have three originals displayed close together. I cannot rush past those walls. I must always pause and become lost in the lovely landscapes.

"Erin has found more than two dimensions. She boldly ventures into depth, space, and time as well. A viewer would swear the flowers in 'Wild Blooms' are swaying in the iridescent breeze.

"I love water. Erin has created a magnificent Coastal series. I could not resist owning 'Carmel Sunset' and River of Light'. The water seems to be alive. The ripples swirl and change each time I view the paintings. Simply amazing!

"Take the opportunity to enjoy the artwork of Erin Hanson. Savor the pleasure of owning truly perfect paintings." - S.P.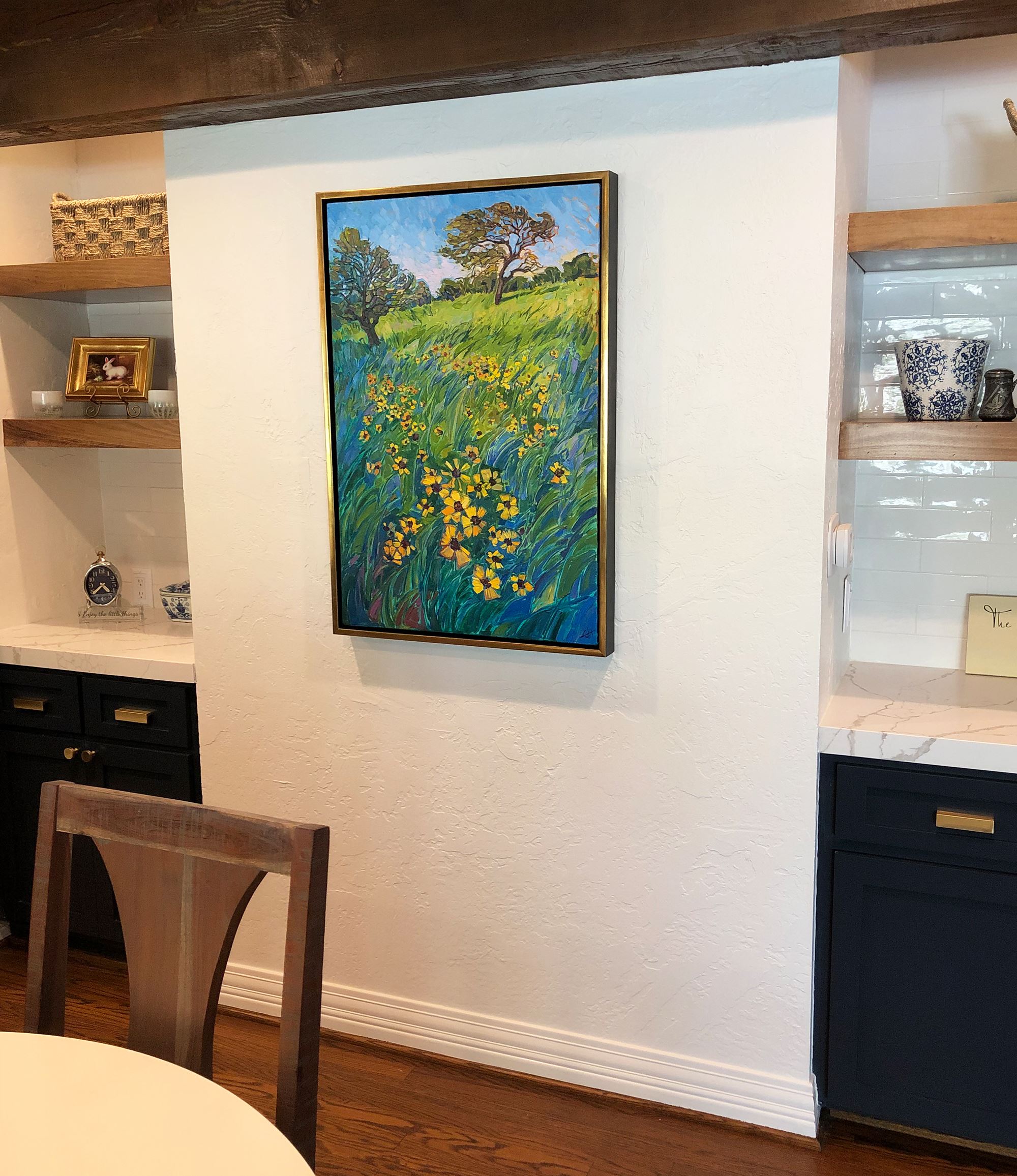 BUFFALO, WY
"I've always wanted to tell you that two years ago when my elderly mom spent 10 weeks in hospice, I took family leave and spent that time with her. I began receiving your texts/art with such vibrant, moving colors. You don't know this but your paintings gave me such comfort. And motivated me to paint again. Thank you for making the world a more lovely and calm place." - L.S.
"Erin... you cannot believe how perfect the painting is! Seeing it in person is soooo different than the final image before it dried. I couldn't be happier with how this commission turned out! It was a big step for me to undertake something of this scale, but I knew your work was all so gorgeous that I would not be disappointed. When I sit in my family room and look at the painting, the perspective is perfect! It feels like that view of wildflowers is just beyond my kitchen. So happy to have this painting be a part of my life." - D.L.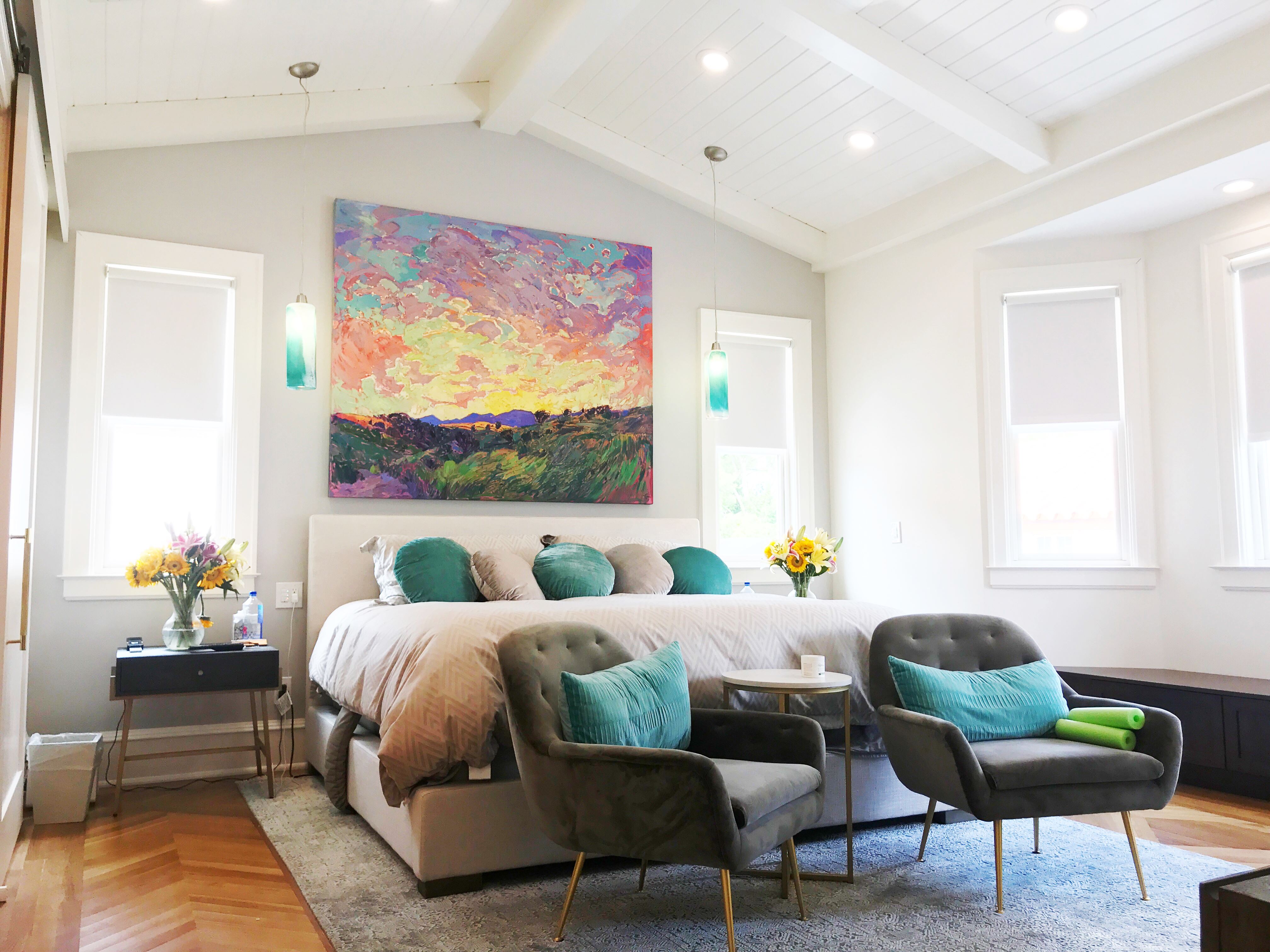 CLEARWATER, FL
"I am absolutely in LOVE with this piece of art! When I saw it online I knew I had to own it! I actually designed the room around this piece. I wish I had more wall space -- I find myself on Erin's website browsing the pieces that she still has available for sale wishing I had a place for one!" - J.G.
DAYTON, OH
"I just unwrapped Dappled Light. It is everything that I had hoped for and more. Suburb packing job, Dan, and the colors are exquisite. Thank you Erin. Amy, thank you for making this happen and remembering my color favs!" - H.M.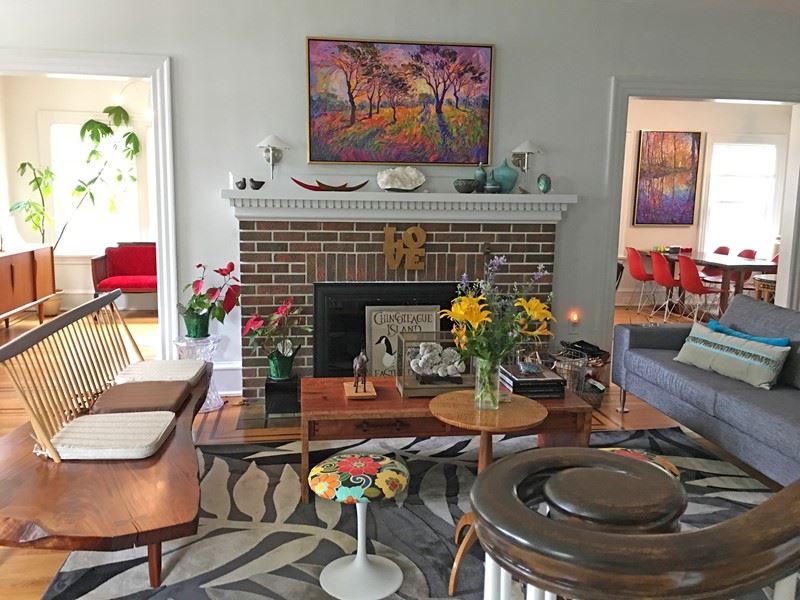 DOVER, DE
"Just received the painting. It looks stunning. We hung it above the Geroge Nakashima table. I was so excited and spent so much time admiring it that I forgot to each my lunch! I guess feeding the mind is as important. Thank you for helping me decide on this piece and not letting it escape from me like the last piece. Love it!" - K.T.
RANCHO SANTA FE, CA
"Here is a picture of your piece installed in my client's master bedroom sitting area. It's smashing!" - K.S.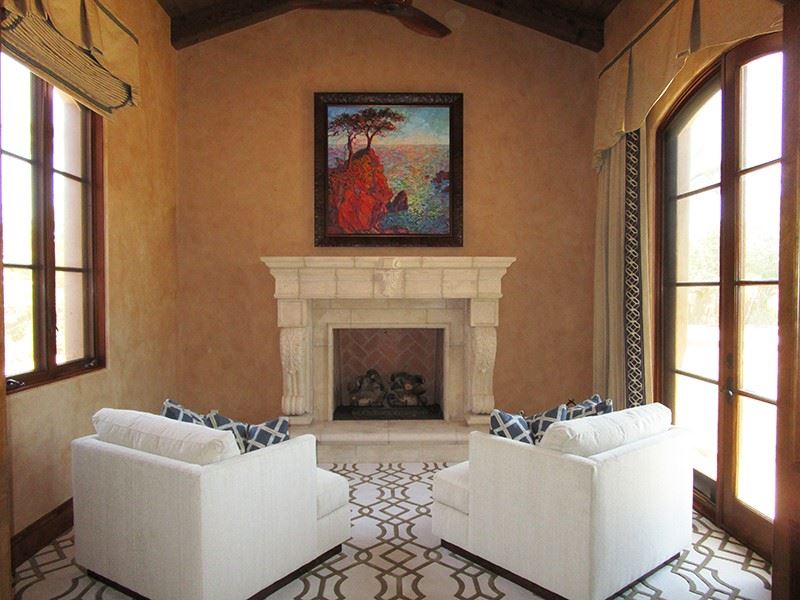 LA QUINTA, CA
"I just have to tell you how thrilled I am to think that we will be able to have Lupin Hills. The Paso Robles area means a lot to us. We enjoy the scenery every time we drive up to see the kids in Pacific Grove. Whatever time of the day the light is lovely but in the evening it is special and the colors are spectacular. I love lupins, I love your use of bold brush strokes, and the movement in the painting is obvious from the picture you sent." - D&J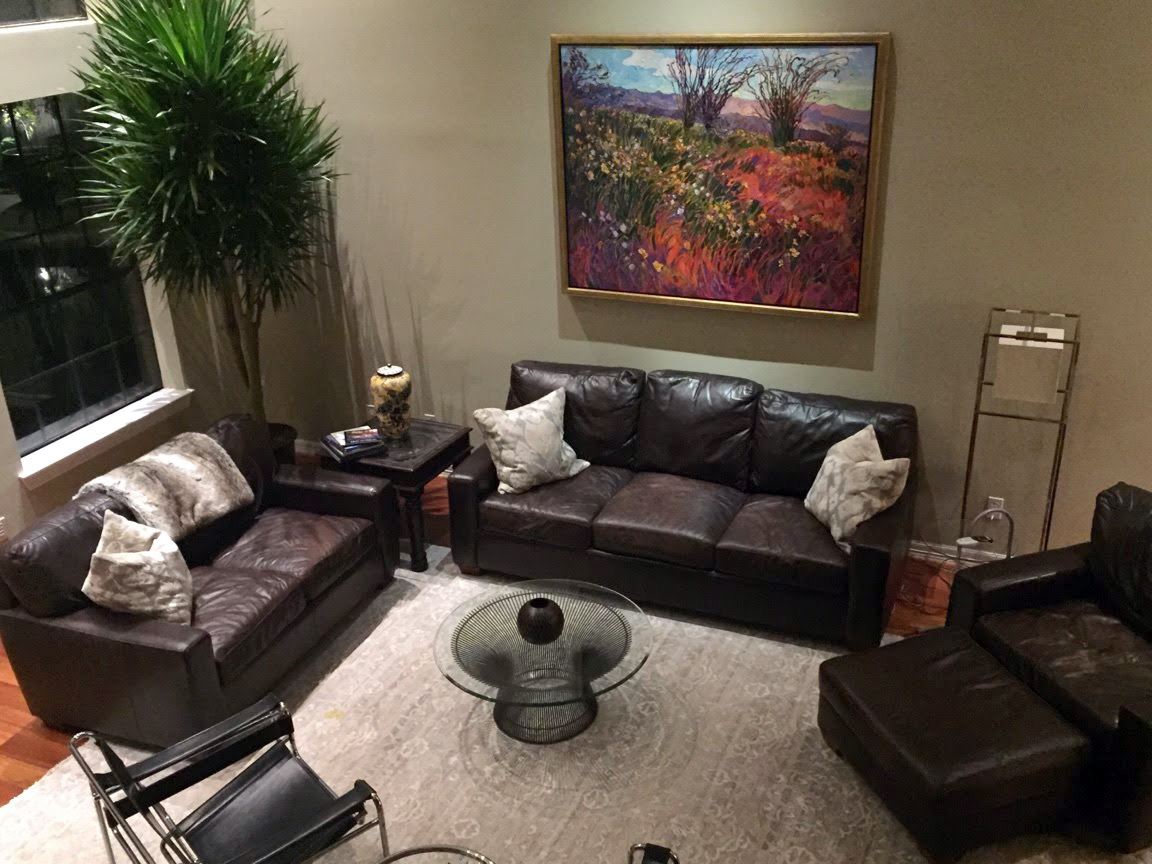 KATY, TX
"We are the proud owners of Super Bloom. I just wish the photos do your painting justice. The painting makes our whole house and is most definitely the center of attention, we could not be more thrilled! Can't tell you how much we love it, oh also the frame is perfect! Your talent is so amazing, the emotions that the painting brings out in everyone that looks at it is beyond moving. Thank you again! Your big fans in Houston." - D&L
"The painting arrived safely. The photo didn't do justice to the actual painting. It's even better than we expected and we are very pleased. THANK YOU! Your ardent fans," - D&D.E.
"We were very pleased to receive your beautiful paintings during the holidays. They are both proudly displayed in our bedroom, providing vibrant colors and a sensuous appeal. We love 'em. We find it particularly pleasing to gaze at your beautiful art as the last act of the day." - R&B.L.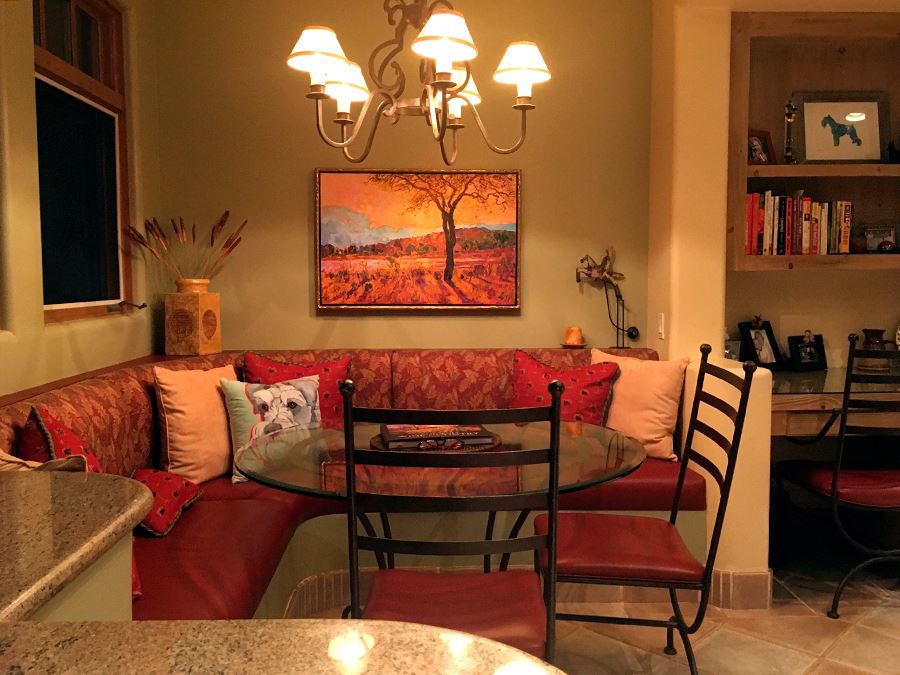 ENCINITAS, CA
"It is so nice of you to follow-up on our purchases! We absolutely LOVE our paintings, and you're right, it's uncanny how well they go where we have placed them. It was so nice of Dan to bring them by our house and to hang them for us. I am so glad that my sister introduced us to you. You are so incredibly talented, and your paintings elicit such excitement, joy, and happiness in the viewer. I simply can't take my eyes off them!! No surprise, I have now found more walls in my home where we would love to hang additional Erin Hanson's!" - J.D.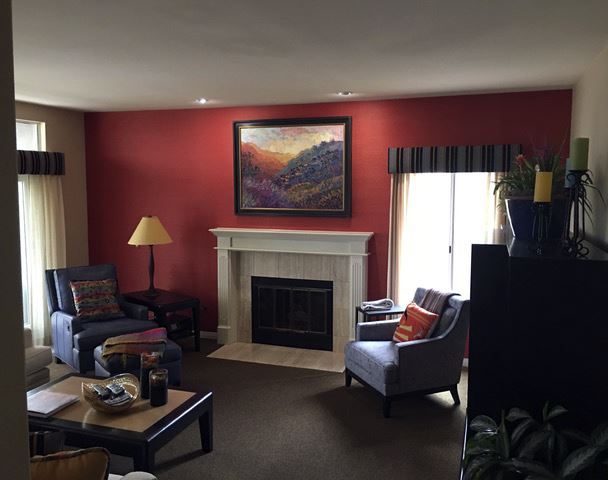 SAN DIEGO, CA
"When Paul and I first laid eyes on your work, we knew it was a fit for us and for our home. We were instantly drawn to your vivid colors and bold brush strokes. When Mandarin Hills was hung in our family room, we were thrilled beyond words. Since then, the wall has been covered in a gorgeous grass cloth and accent lighting has been added. What was stunning before is now even more breathtaking! Your art brings a smile to our faces each and every day. We feel so fortunate to have this masterpiece in our home and feel happy and blessed to have met you." - J&P
"We LOVE our new painting and it brings us much joy every day! It looks like it has always belonged in that spot in our home. We will try to visit the part in Kyoto that inspired you to paint such a beautiful painting." - J.A.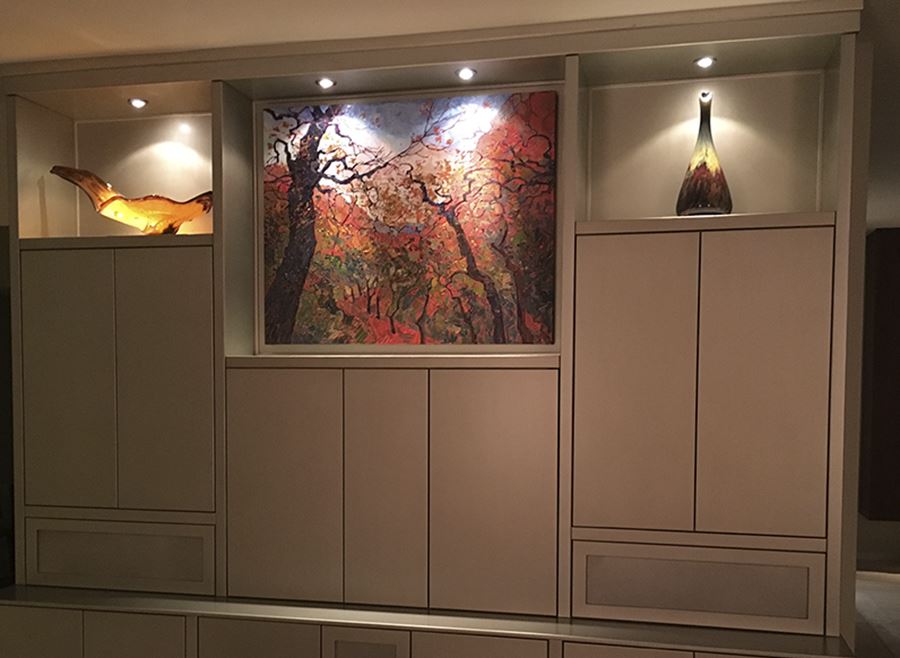 LA QUINTA, CA
"We think the piece just looks fantastic in our home." - J.B.
"Thanks so much. We love your work. It's nice to pause during the day, look at your work and be transported through such beautiful art to places we have visited." - M.K.
"They are beautiful and everything that we expected. They are a great addition to our house, such a refreshing view every time we walk by and see them. You do wonderful work." - F.S.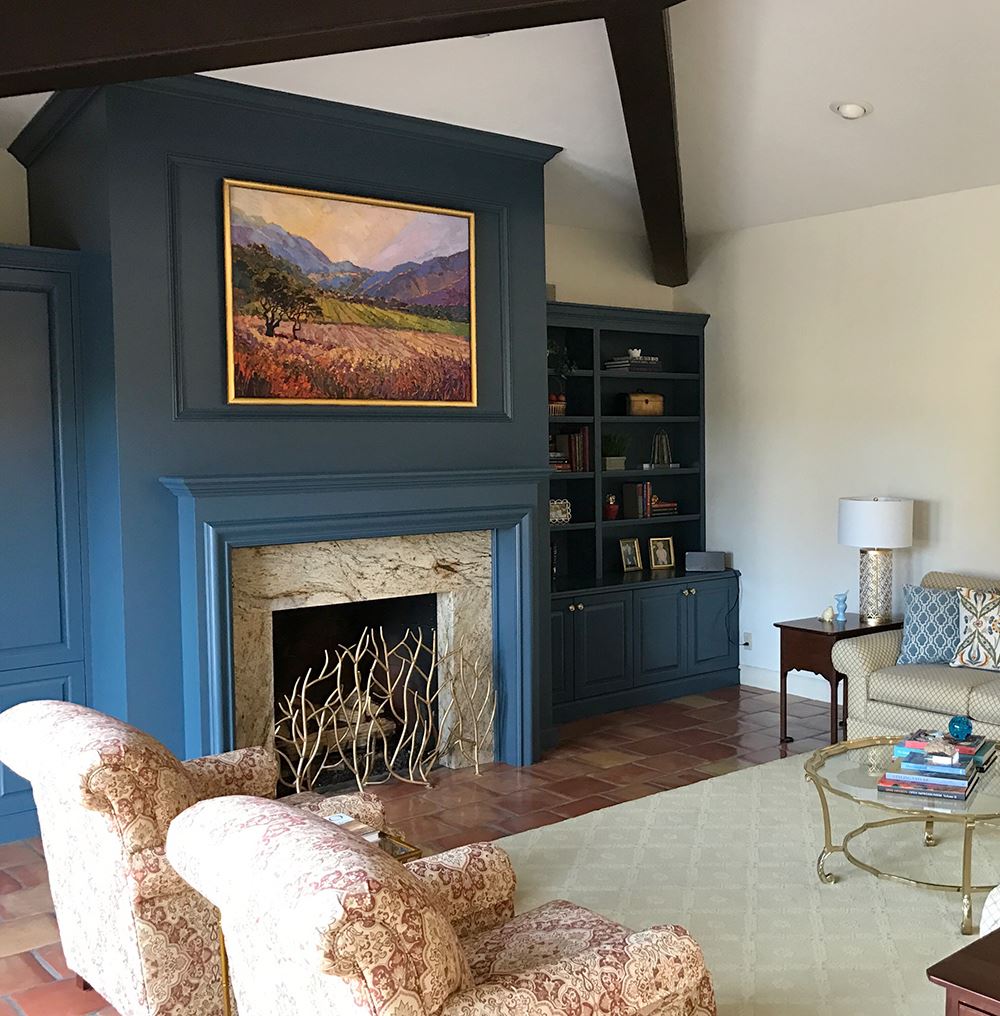 EL PASO, TX
"It is GORGEOUS and goes beautifully with our decor. Thank you!!" - R.L.
SAN DIEGO, CA
"We finally got our print hung in our house in Tubac, AZ. It was quite the ordeal with the high ceiling electrical and painting the wall a complementing color, but we believe that it came out absolutely stunning!
"We feel that the painting brings in the nature of the surrounding desert into our home. The monsoon rains have made everything so green right now, but soon we will be back to the color palette of your painting. You have such a wonderful knack of capturing the intimate character of how light affects the objects in your landscapes. We love it so! Thank you so much!" - D.S.
"Erin, I love your attention to detail - the excellent framing choices you offer (I particularly like the gold floater), the multi-layered packaging, the read-to-hang artwork, lighting instructions - every possible thing to ensure that your artwork arrives safely and is displayed properly, leaving nothing to chance. I think your engineering side complements your artistic side beautifully. And best of all, your personal touch, know that my questions and concerns are being addressed by the artist herself. Really brilliant!" - T.B.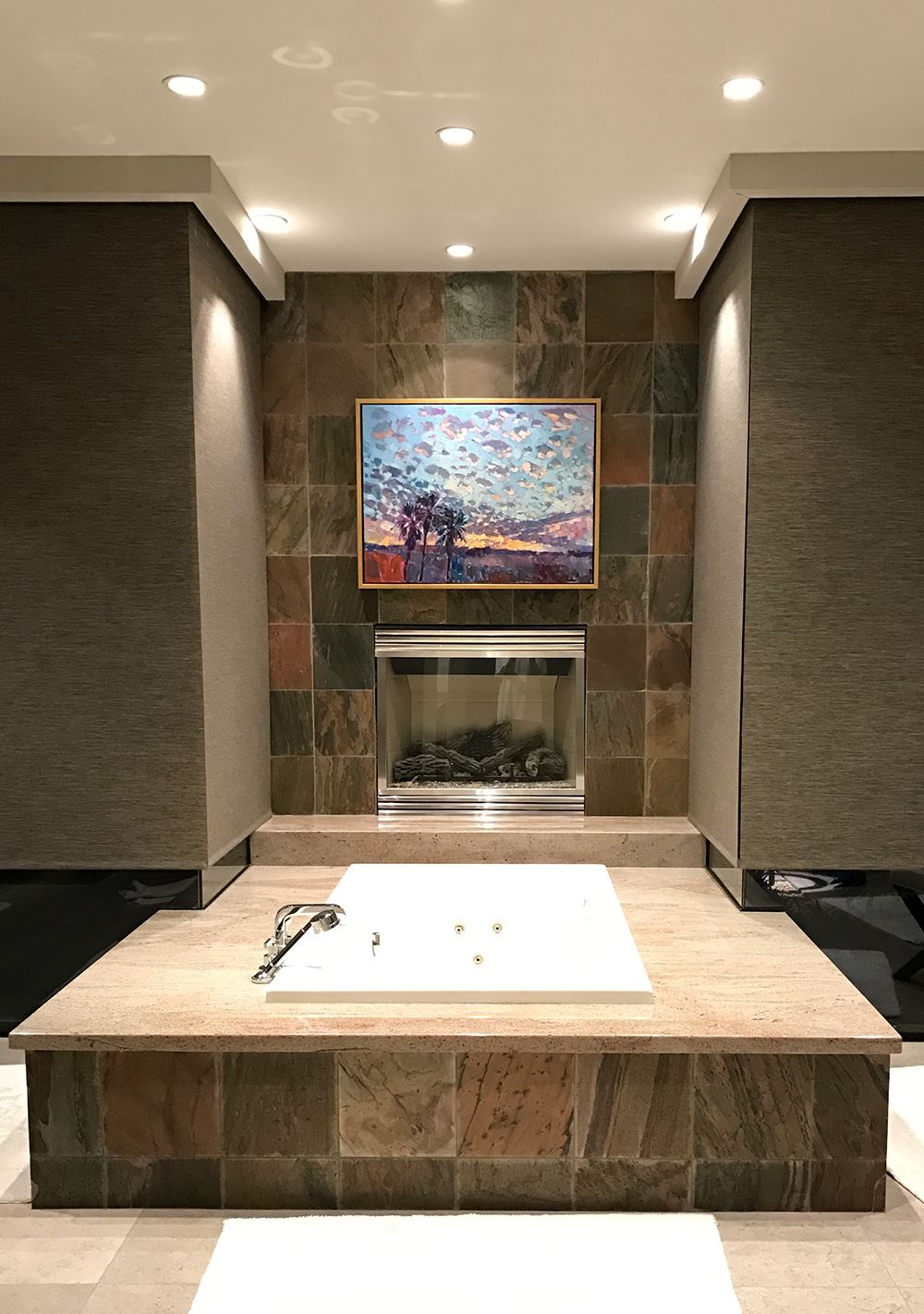 SANTA MONICA, CA
"We are thrilled about our two new pieces!! I sent you a picture of Streak of Orange, hanging in our house in the desert." - J.S.
SAN DIEGO, CA
"I want to tell you how much I have enjoyed a painting of yours that my wife and I purchased two years ago. Not once have I looked at it without deeply reveling in its beauty. Your work is so gifted with an amazing balance of soul, high artistic talent, a very special communion of colors and an exuding love of the Earth. Your book is also delicious. Thank you for beautifying our lives and our world." - C.S.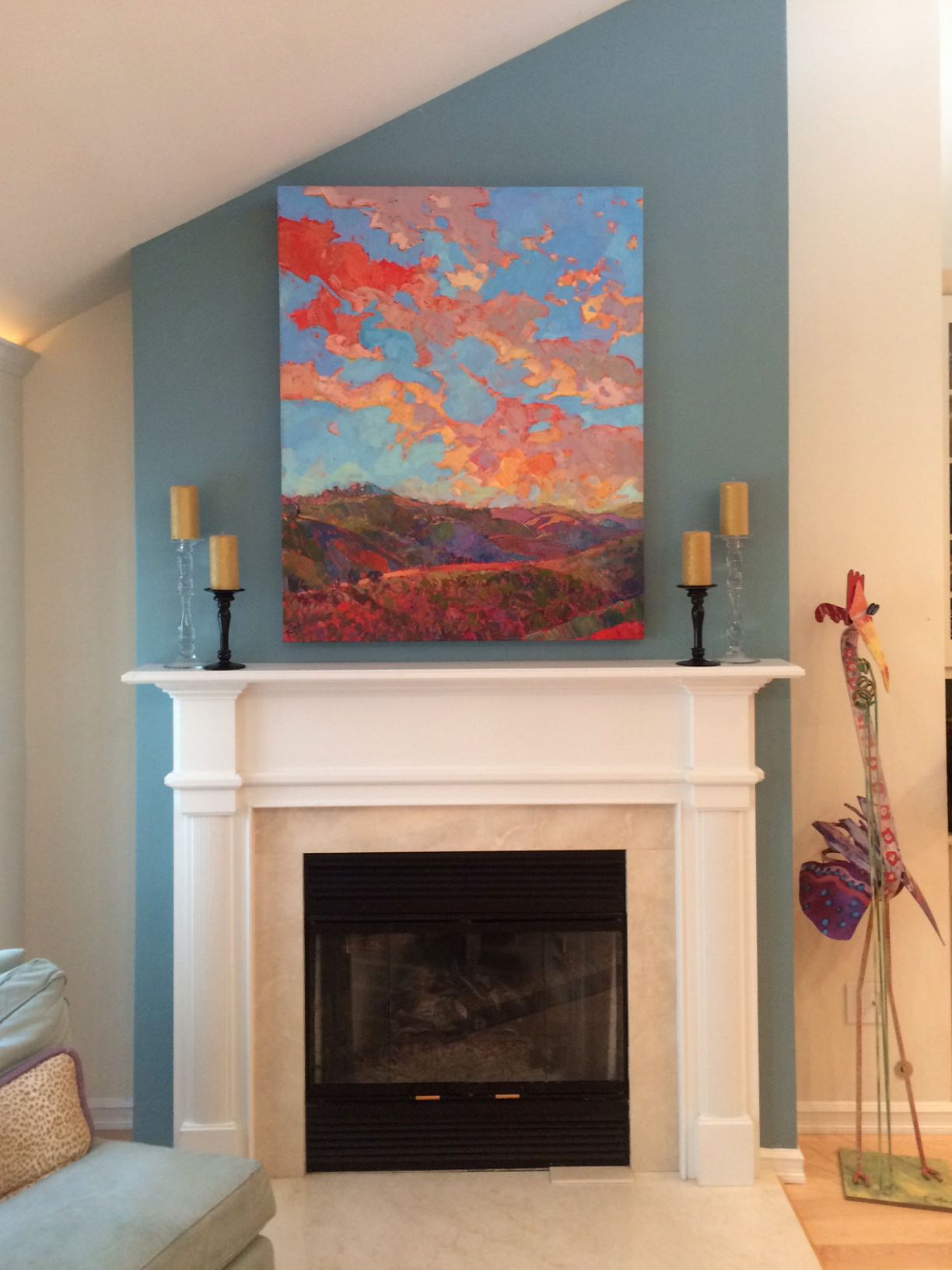 ST. LOUIS, MO
"We love it!" - S.G.
WAVERLY TOWNSHIP, PA
"I cannot believe how beautiful Alpine Kayakers is, especially framed. You outdid yourself. The perspective when you stand back in incredible. Framed, the painting is very impressive and beautiful." - M.F.
EAU CLAIRE, WI
"We received Summer Path late yesterday afternoon. We have installed it over our fireplace. It is beautiful! And adds just the touch of color and class that our room needed. Thanks to all for your help." - A.M.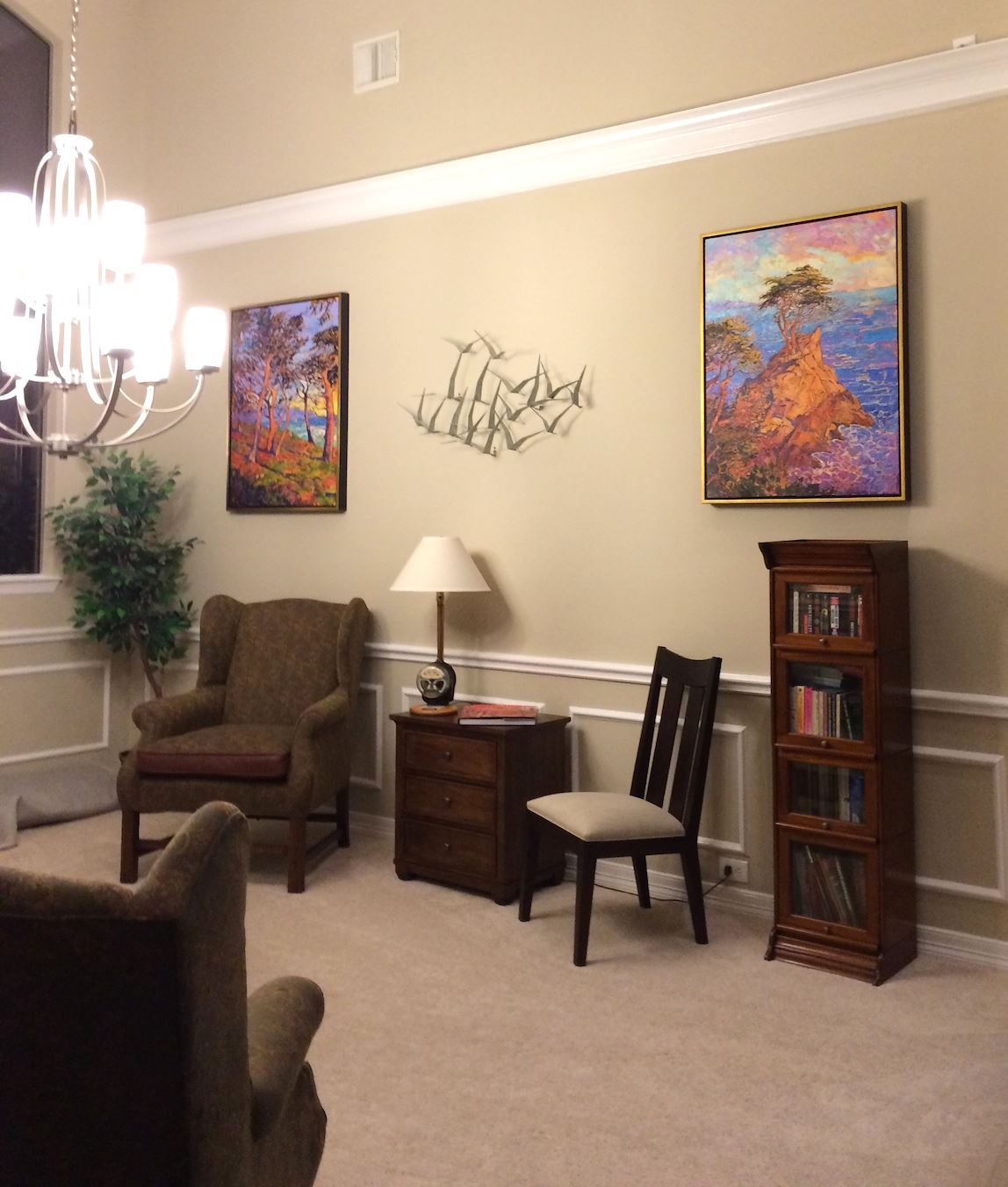 MARVEL, TX
"I'm enclosing a photo of the installed paintings. They are in my music room (piano on the opposite side of the room). I LOVE how they appear to be alive. The colors are so vibrant; you can feel the trees swaying in the ocean breeze and hear the crashing of the waves below. So incredibly beautiful! Thank you so much!" - K.B.

"We moved our painting all around the condo, but finally decided to hang it where I would enjoy it most. It looks fabulous and is seen when you walk in, from the entire open plan as well as the kitchen. It actually glows at night. Love it!" - L&M.M.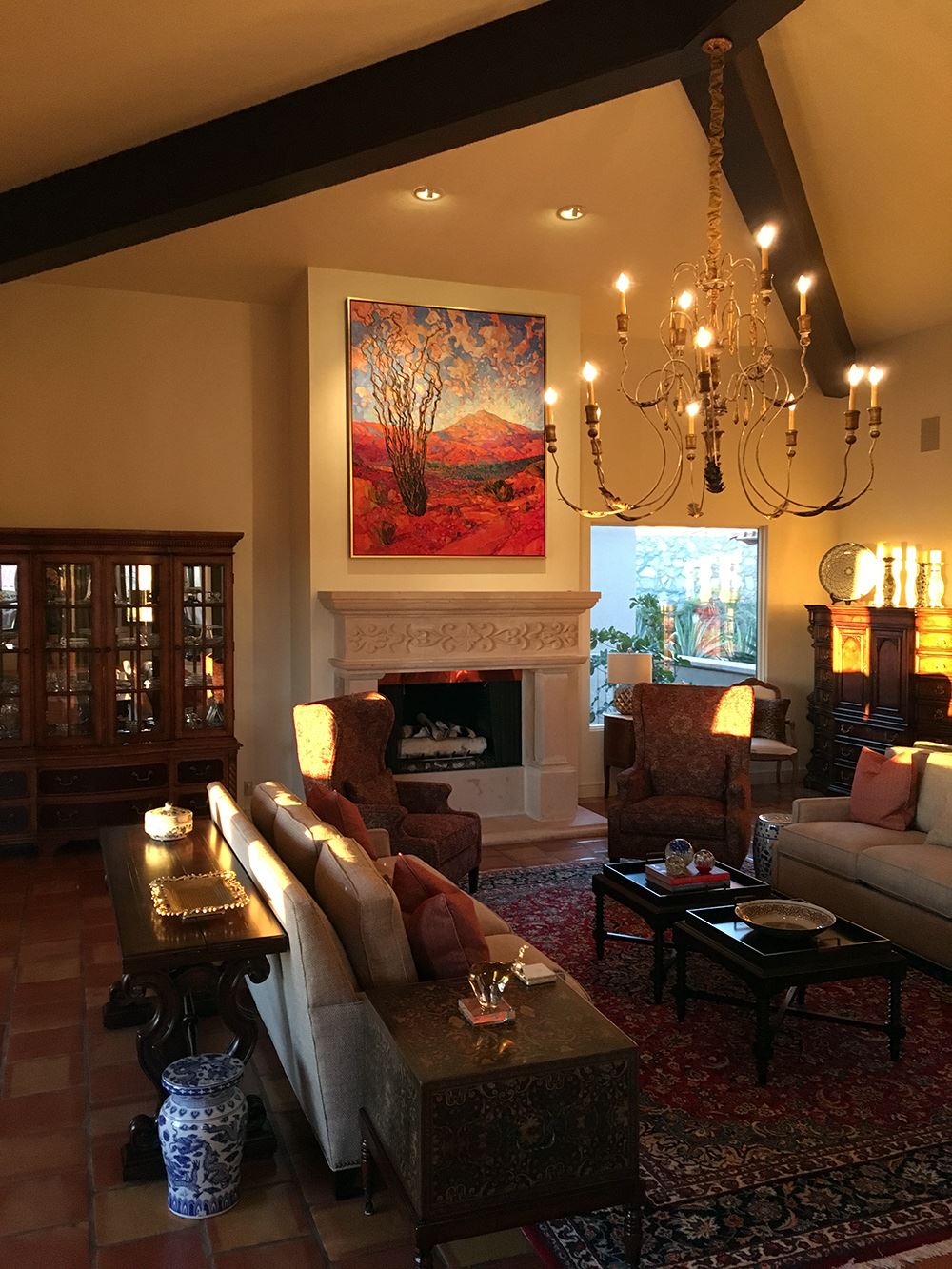 EL PASO, TX
"We love it!!! It looks like it was painted specifically for that spot." - R.L.
"It was one of our winter trips to the desert where I was captured by the style and colors of Erin. We walked through the show and visited with lovely Erin, and then we had to stop back by again on our way out. Erin is such a beautiful woman with a beautiful spirit that can be felt with her greeting smile and when she talks and finally out on her fingertips onto the canvas. Erin told us of her education background, experience and shared with us how she's inspired by her love of the outdoors, camping and rock climbing. Growing up in Central California and now living in Los Angeles I live with a longing for the beautiful landscape and peacefulness that growing up was accessible right out our back door. Erin captured that feeling in Color Drift I. The huge oak tree and rolling hills of Paso Robles filled a hole in my heart, and it was love at first sight. Now it hangs on my wall like a window to my youth and bringing into our home the beautiful colors of the landscape and a warm peacefulness. It truly is one of my favorite pieces, Erin, thank you for creating it." - A.P.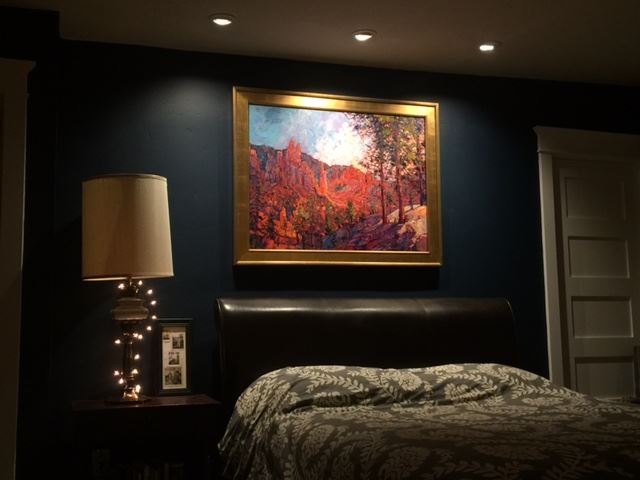 SAN DIEGO, CA
"I love it! Thank you! It makes me want to go hiking." - J.N.
SACRAMENTO, CA
"I wanted to drop you a few lines and let you know the painting arrived today, the packaging was very well done and the painting came in perfect condition. The painting is gorgeous and we love the rich fall colors. Now I just need to decorate around it :) Very pleased with the purchase. Thank you." - A.C.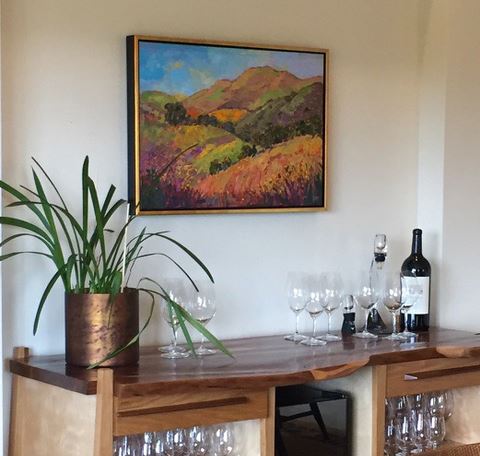 PASO ROBLES, CA
"We LOVE the paintings, and we hope you will come visit Adelaida Vineyards and Winery to come see their new home!" - K.V.S.
COURTENAY, CANADA
"Hi Erin, I wanted to let you know the painting arrived safe and sound yesterday. At present, I hung it directly in front of my workspace where I'm fixed all day long every day. It should have a more respectable location but I love having it right in front of me daily... just a few feet away. It is such a happy painting and I love the way it saturates my eyesight with all its colours. It's just such a joy to look at!
"Thanks for all your help over the past months. The whole experience of purchasing this painting was top drawer and I feel very lucky to have it now. I am hooked on visiting the website each week and am truly amazed at Erin's remarkable talent and the amount of amazing paintings she produces. I've never seen anything like it." - M.S.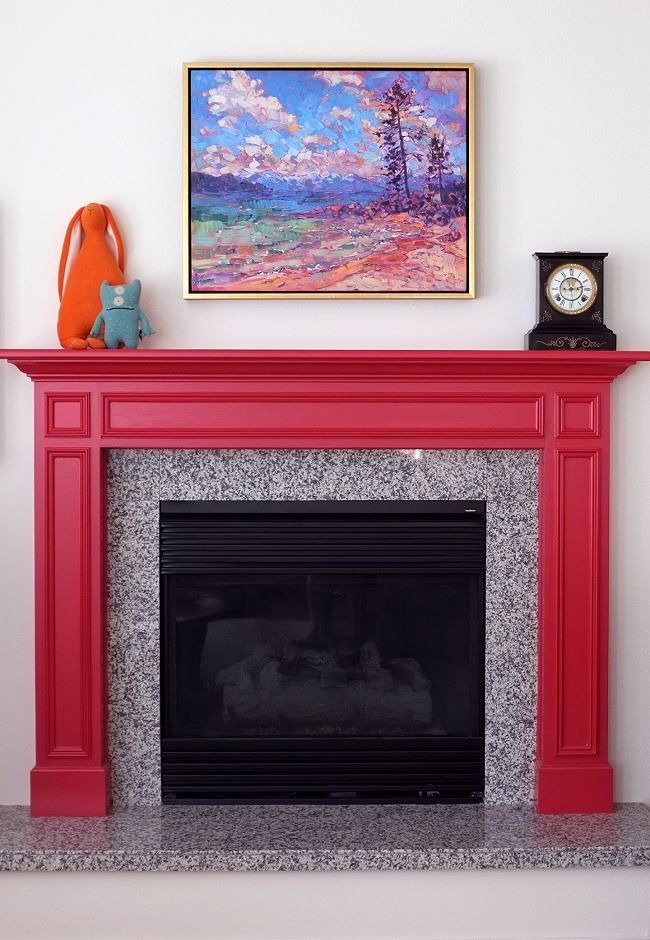 WOODINVILE, WA
"I catch my breath every time I see the one in the dining room. And we both feel like we've had the Tahoe painting forever, it's so perfect. I feel like I must have had them in mind when I painted the rooms - even though I didn't know it!" - D.S
NOVA SCOTIA, CANADA
"I received Erin Hanson's book Open Impressionism in the mail today and my first thought was 'it's so heavy!' Upon opening the package, I found a superb quality book with a large collection of beautifully reproduced paintings sprinkled with well-written text. As an amateur painter, I really appreciate the history of the development of her style, as well as a, peek into the artist's life." - A.L.M.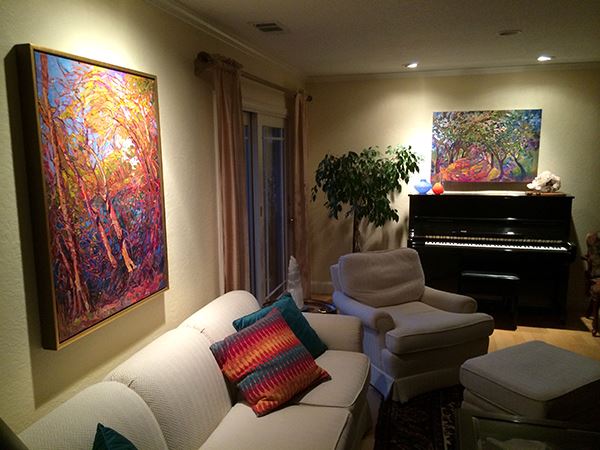 LAFAYETTE, CA
"We absolutely love Whispering Woods, even more vibrant and captivating than we anticipated. It pairs wonderfully with The Path and makes our living room 'pop.' The frame sets the work off nicely, and we will soon be framing The Path to match. Love your work, and yes, a third (or more), is likely in our future! PS: Thanks so much for the coffee table book as well. It's beautiful, and we bring it out every time someone comments on your work." - S & E.S.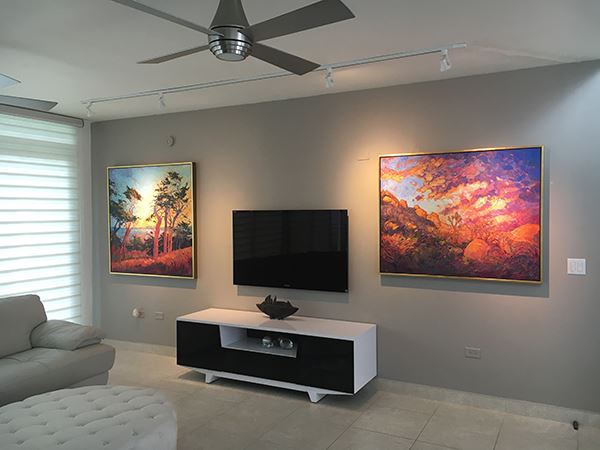 GURABO, PUERTO RICO
"Here are the promised images. Being in front of either one of these masterpieces transports me in my mind to inside the painting. I can feel the terrain, the wind, as it moves the vegetation in a 'Van Gogh' way, and enjoy the sunset. Needless to say, you have a very rare and special talent. Also, the purchasing process was so customer oriented that I believe you set the bar so high few galleries will be able to replicate it. Again, thank you for creating such beautiful artwork." - P.K.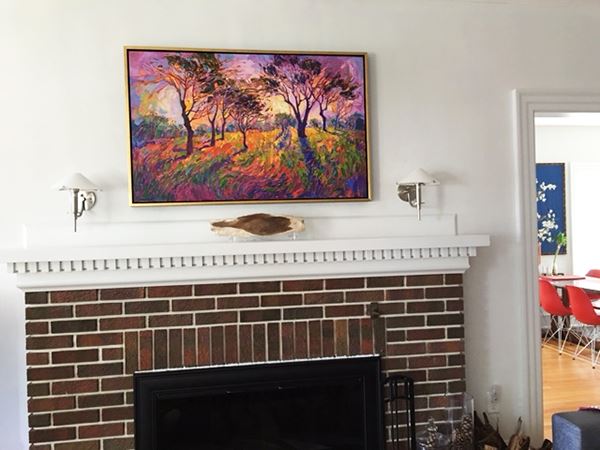 DOVER, DE
"I received the painting Crystal Grove on Monday and got it hung last night. I love it. It changed the feel of the entire living room." - K.T.
FEDERAL WAY, WA
"We are very excited about our new painting. It's really lovely. As you can see our granddaughter loves it too! Thank you so much and it was wonderful meeting you!" - K.V.A.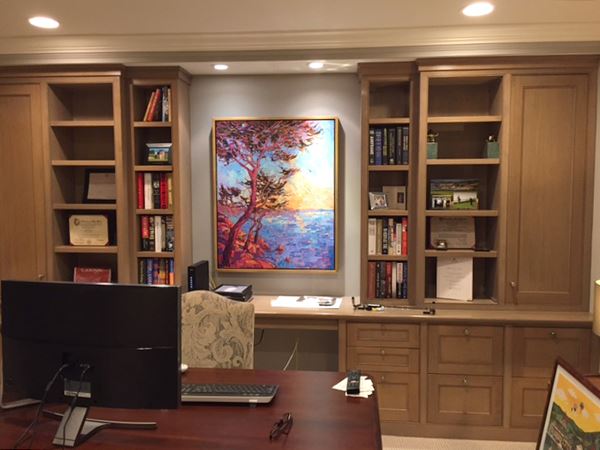 ATHERTON, CA
"The painting looks amazing!" - A&C.M.
NOVA SCOTIA, CANADA
"I received Erin Hanson's book Open Impressions in the mail today and my first thought was 'it's so heavy!' Upon opening the package, I found a superb quality book with a large collection of beautifully reproduced paintings sprinkled with well-written text. As an amateur painter, I really appreciate the history of the development of her style as well as a peek into the artist's life.
"Once I got past the cliché 'wow, wow, wow, wow', I found myself slowly relishing each page. Erin's work makes my heart speed up as my mind calms. A very special experience. This is a book to be taken in sips lest one drown with delight.
"I've yet to see every image in detail and certainly will take many hours exploring the surprising use of colors and light. And I've decided if I had Against the Blue or Crystal Light on a wall I might never leave that room!" - A.M.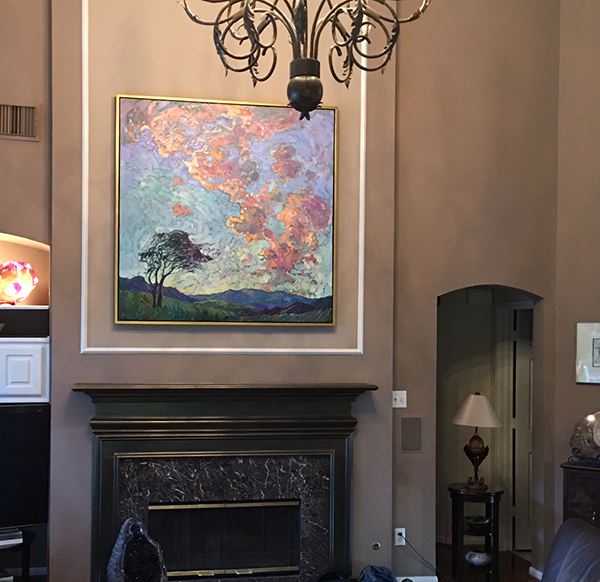 THE WOODLANDS, TX
"We are so happy to have Motion of Light hanging in the center of our home. We are enjoying our first MOL sunrise with our morning coffee. Your stunning painting will be a daily inspiration to us and we can't wait for our family and friends to see it. Thanks so much for getting it to us quickly and safely." - G&R.W.
LOS ALTOS, CA
"I love Rainbow Wash! Not sure of the final hanging spot - but it's beautiful. I love how it reflects light. Thank you for your gift of art to this world." - M.Y.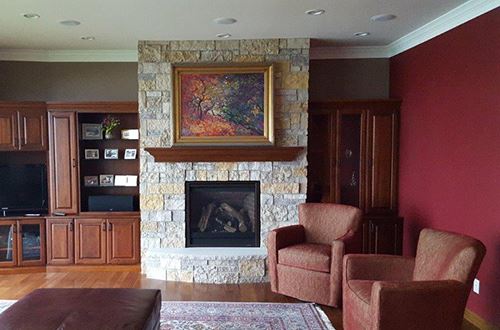 ROCKFORD, IL
"We received Cottonwood Path last week and were able to open the package and see the painting over the weekend.
"It is remarkable -- we are very happy and excited to have it in our home! You do such incredible work!" - D.J.

CANARY ISLANDS, SPAIN
"Just to let you know that the painting arrived safely this afternoon and I LOVE IT !!! It's everything I hoped and looks great in its new home. Your website photography is excellent and with very accurate colour rendition.
"Thank you for all your help and reassurance. Spending that much money on a painting and an artist that I had never actually seen in the flesh, so to speak, was very intimidating but you made it as easy as it could be. I look forward to seeing more of your work in the future." - C.W.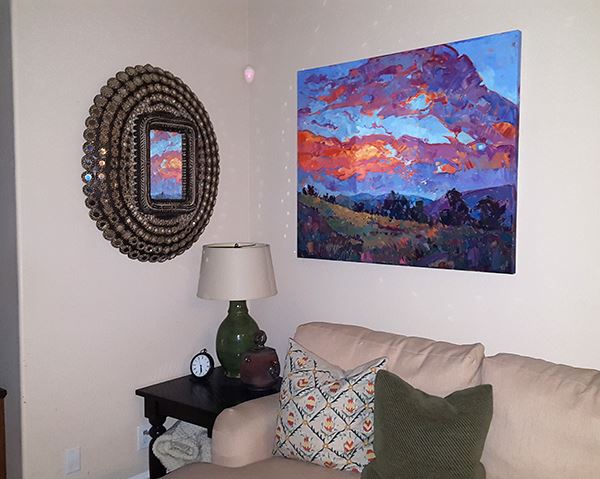 HENDERSON, NV
"I just wanted to thank you, your painting arrived and it is BEAUTIFUL! It glows on the wall and I am thrilled. Worth the wait. :)"
ST. LOUIS, MO
"UNBELIEVABLE! They arrived yesterday and everything we had hoped…colors are a perfect match to the photo." - S.G.
LAWRENCEVILLE, GA
"You will recall I was trying to keep my purchase of Saguaro Light a secret from my husband so that I could surprise him with it in July for our 33rd wedding anniversary. Well, my secret is out. I didn't realize he had been watching your web site in an effort to buy a print. He was so disappointed that he had not bought the original and just had to have a copy to admire. Well, on New Year's Day, he saw that the prints had been released and I caught him figuring out which size he was going to order. I tried to steer him off but he wouldn't have it. I finally went into my home office, got a Christmas gift box, and folded up a copy of the invoice. I handed it to him and told him I had inadvertently forgotten to give him his Christmas present.
"I wish you could have seen his face when he opened it. His mouth flew open and he just sat there staring at me in disbelief (mouth agape). He was so excited and said it is the best Christmas present he has ever gotten. I'm actually glad I told him about it. Now we can look forward to receiving it together." - D.G.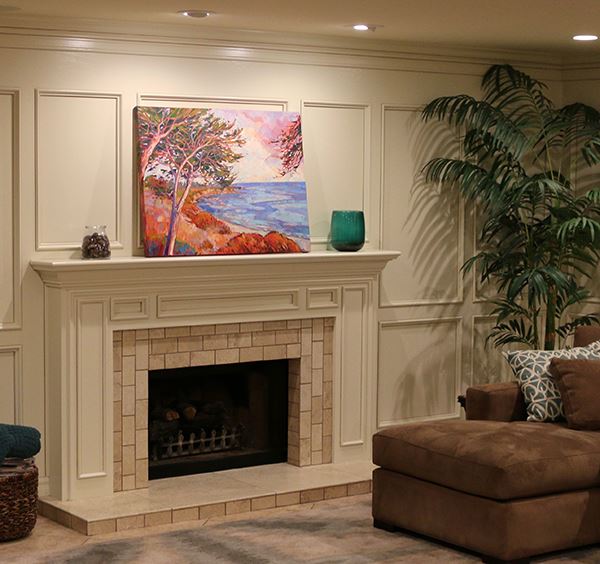 AGOURA HILLS, CA
"You had requested some pictures of your paintings in place. Well it has taken us this long to get the room painted to benefit your artwork. We would like to come and visit your new gallery some time." - J&K.R.


BOSTON, MA
"Erin - the painting is more spectacular than we ever expected - Thank you! You are very talented and I hope you know that deep down inside. We love it!" - C&P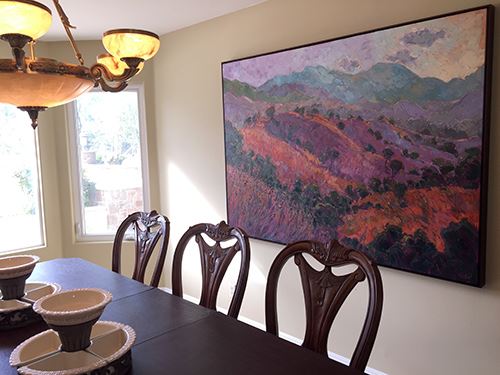 NORTHRIDGE, CA
"Such amazing paintings....thank you! I really couldn't be happier. The handful of people who've seen them so far have been awed by their beauty.
"Looking forward to seeing 'what's new' on your web site, and visiting you at your gallery down the road." - R.D.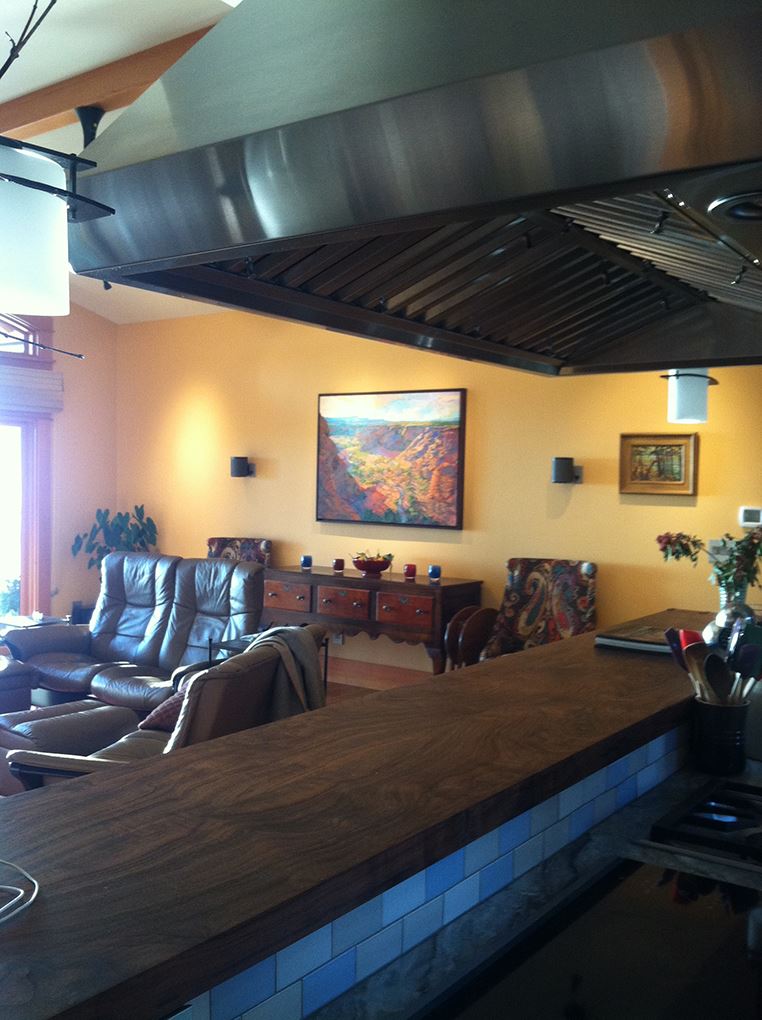 BELLINGHAM, WA
"Hi Erin, your beautiful painting arrived safe and sound! We love it thank you!" - D&H.J.


"We got the painting today and it is even more beautiful than I imagined. Knowing how much I love your style I trusted the image on your web site and we were not disappointed. Add to that the amazing frame you put it in and we were just blown away by how it impacted our room!! Needless to say, we absolutely love it!!" - A.H.

SCARSDALE, NY
"We are enjoying your Spring Fling masterpiece. Here are some long awaited photos. Hope that your summer is off to a great start!" - A.G.
NEW YORK, NY
"You are an amazingly gifted artist. Your vibrant pictures are not only well composed, with visually exciting and interesting color choices, but also executed with a sure hand. You can feel the vibrancy of your brushstrokes, a sense of immediacy, certainly the word tepid is not in your vocabulary.
"It certainly appears that there is much thought process that goes into your work. The end result is a landcape that comes alive. Your pictures command attention. I am very pleased and privileged to own one of your magnificent paintings. Your pictures call to mind the work of Conrad Buff, Louisa McElwain, and an artist whom I'm sure you wouldn't mind being compared to, Van Gogh. Yet, you've found your own voice, a unique style that lets people know, this painting was done by Erin Hanson." - K.R.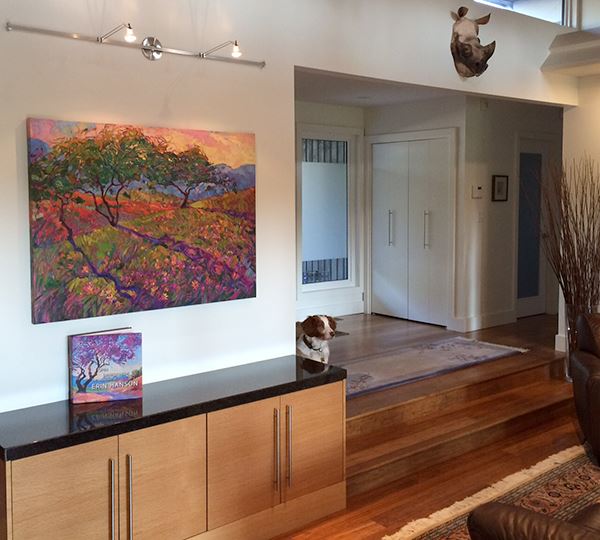 BRITISH COLUMBIA, CANADA
"Hi Erin. We have hung your Wildflowers in our 'place of honour' in our living room. We love it!!! The colours are exactly as we expected and the subject of flowers is especially meaningful to Pam who loves gardening." - K&P.S.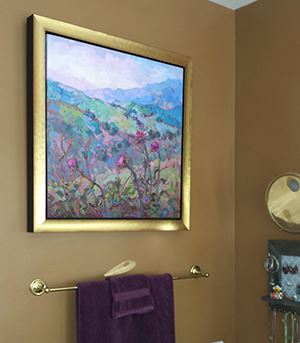 NORTHRIDGE, CA
"My home has been transformed into an abundance of color and movement thanks to your artistic genius, Erin. When I view your works, I am consumed by feelings of awe and respect of the grandeur of Mother Nature. Your brush strokes mesmerize the soul and transport one to a place of majestic, yet quiet, solitude. The playful dance of colors in each piece captures the essence of my love of the Southwest. Thank you for sharing your gift with us – for such a gift it is!" - S.D.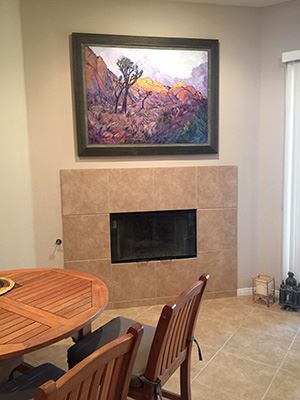 DESERT HOT SPRINGS, CA
"Always loved the golden hour at the end of the day and that fleeting moment where the blue sky drifts into that hue you have captured." - S.C.


SPRINGFIELD, OR
"The painting arrived today....it is in perfect condition and hanging on my wall. Erin, it is bigger and more beautiful than I imagined. I wish you could see the smile on my face. It is PERFECT in my home and represents so much of who I am. I can't thank you enough. I am so glad I found you. I will be checking your website regularly to see what new work you create." - K.B.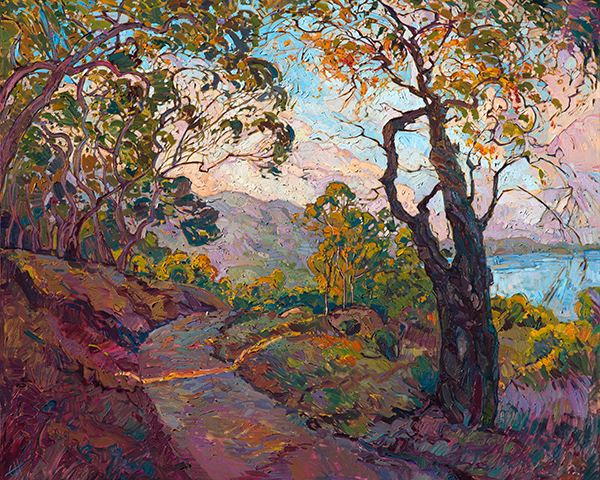 NEW YORK, NY
"Your California Trail arrived today in perfect condition. It's even more beautiful than we'd hoped, and we just love it. You've clearly created a niche in the art world where only you and your talent live. Brava." - M.T.


RUSSIA
"I accidentally came across one of your paintings today, and it literally blew me away! Then I saw your name under it and googled you. My heartbeat went really fast when I saw all your works! My hands are nearly trembling and I don't have coherent words to tell what I think of your work. It is just AMAZING and ridiculously FANTASTIC! Just keep drawing and I wish you to get even more great ideas for your pictures. I've been in a kind of apathy lately and you inspired me to try and draw something on my own! I thank you for that." - O.R.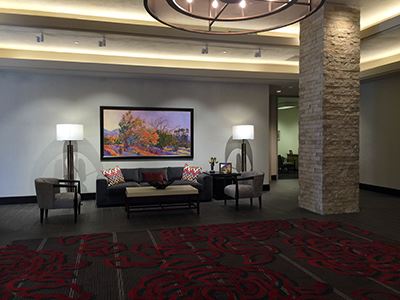 LA QUINTA, CA
"Hi Erin, WOW!!!!!! The painting was beautiful in the pictures but in person, you can feel the movement...OMG!!!! GORGEOUS!" - L.C.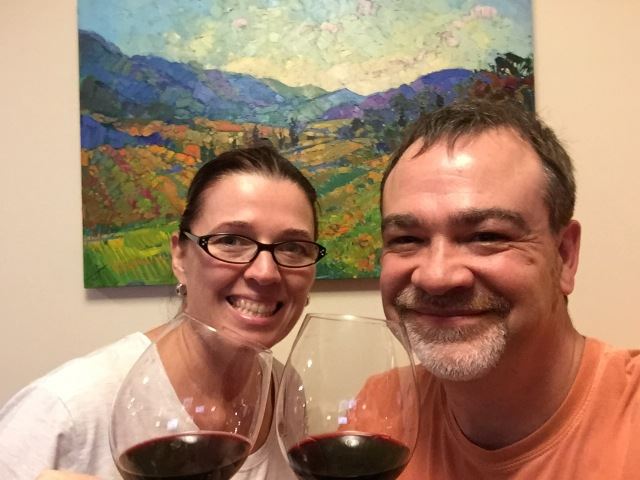 OVEIDO, FL
"So the official unveiling of Napa In Color occurred several days ago... I opened a bottle of Sodaro wine (the winery depicted in the painting) and unveiled (more of a "ta-da"), to the absolute delight of Allison, and myself. It is gorgeous! So vibrant! Beautiful! ...and immediately recognizable." - E.N.

NOVATO, CA
"We love the painting, Utah Aspens. Right now, it hangs on a wall between our dining and living rooms. I have attached a photo but I need to work with an electrician to install suitable lighting to highlight the painting. In the meantime, we love the painting and all of its texture and movement. It really transforms how you feel when you enter the rooms - or maybe I'm biased because I'm always looking forward to seeing it. :)" - K.B.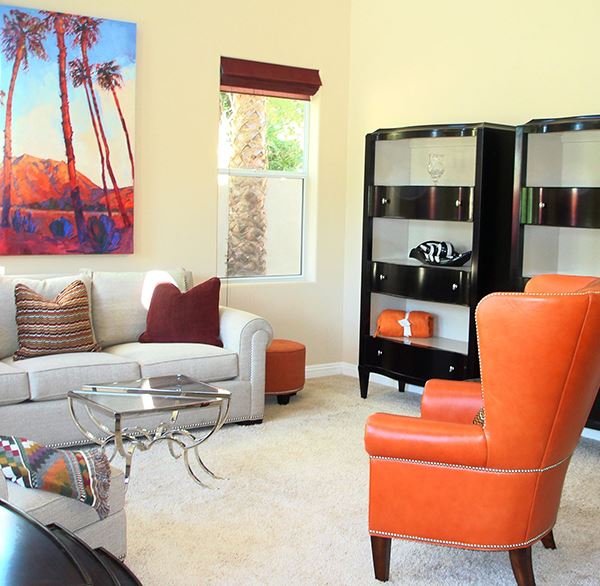 LAS VEGAS, NV
"Just to give you an idea of what I found that went well with your painting." - R.O.


SANTA CRUZ, CA
"I saw you recently at the Capitola Wine and Art Festival. I told you that I thought you were the best in the show. I particularly liked Ocotillo Moon. When I got home I emailed my daughter about your art, and two weeks later Ocotillo Moon shows up at my house. Wow, I feel truly blessed by your painting hanging in my house." - D.F.

PORTLAND, OR
"Dear Erin, My wife was thrilled with the painting. We are so glad to have an original of yours in our house. We placed it on a small wall between the dining room and kitchen, near a window. The changing light from the window makes us feel like we own many paintings by you. Every hour it's different. Seeing how much inspiration a small original painting by you gives, we definitely need a larger one elsewhere in the house. We have many original paintings, calligraphy, tapestries, sculptures, and rugs we have gathered over the years, by artists from all over the world. But there is something about your Open Impressionism that is so exciting. So honest, and yet complex. So alive. Thank You for sharing your genius and command of color and medium." - M&S.H.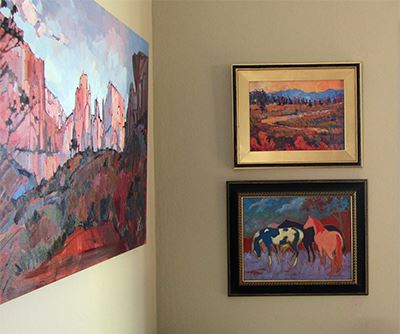 CAPITOLA, CA
"I've got mine all settled in... I paired it with what I call my Gauguin Horses... right next to Pink Zion. I love how the orange in the landscape picks up the orange in the horse... color play. Beautiful." - M.J.


SOUTH PASADENA, CA
"Hi Erin, Thank you so much for the painting! It is absolutely gorgeous. I am so lucky to have your work...Your paintings make my life so beautiful." - A.D.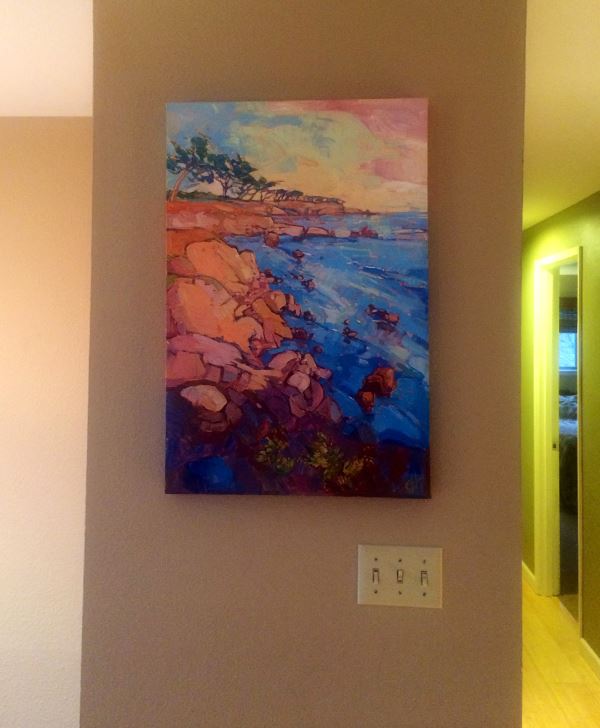 BELLEVUE, WA
"We received your wonderful coffee table book today. What a lovely surprise. Stella reminded me to send you a pic of our painting. We enjoy it many times each day." - A.E.

"When Erin Hanson was born, she was visited by the spirit of Claude Monet, who, slowly leaned over the sleeping child as she slept, and then kissed her on both of her closed eyes, and said unto her…'to you my child, I bestow the most precious gift of all…the gift of seeing colours'…
"I have many favourite artists who're mastery of colour and technique I so much admire, but you, Erin, go right to the top of my list (pride of place). Your mastery would have made the master himself weep with joy." - B.H.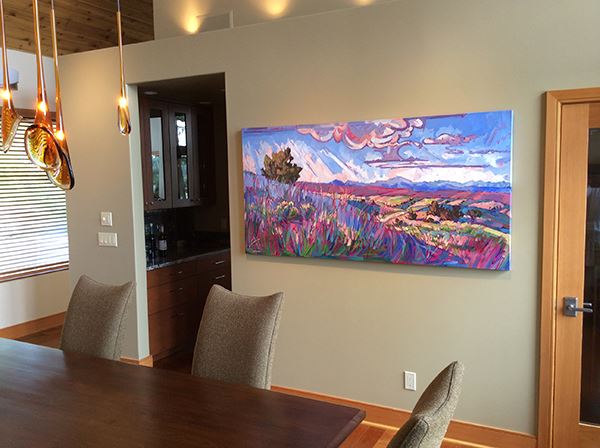 DOVER, ID
"Attached are some photos of your artwork in our lake house. My whole family loves your art!" - D.W.

PIEDMONT, CA
"Thank you so much, Erin, for the beautiful book. What a surprise! I had no idea that reproductions could be so true to your work. You must be so pleased with this book. And, as you know, the cover painting is one of my favorites. We are enjoying our painting so much. We pass it on the stairway many times every day and we see new things in your work each time. My granddaughters have been staying with me after school and I can't help thinking that Emma has decided to take drawing as her elective in high school next year because of your painting. She and her sister Gracie have made many comments about your wonderful work. Thank you again, Erin." - K.E.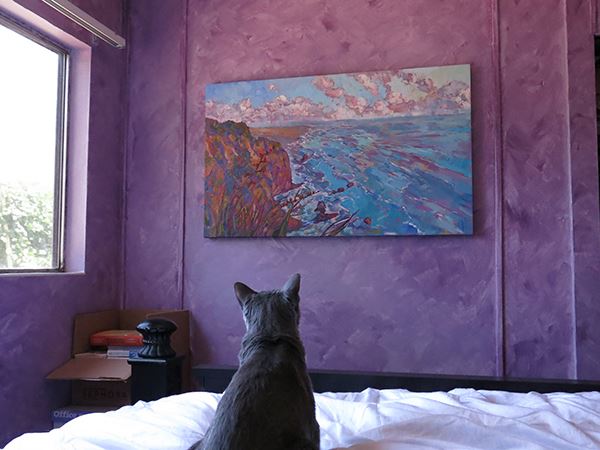 SPRING VALLEY, CA
"My mom and I hung the painting on Saturday. I absolutely love waking up & falling asleep at the beach every day now. Haha. Thank you once again!" - B.S.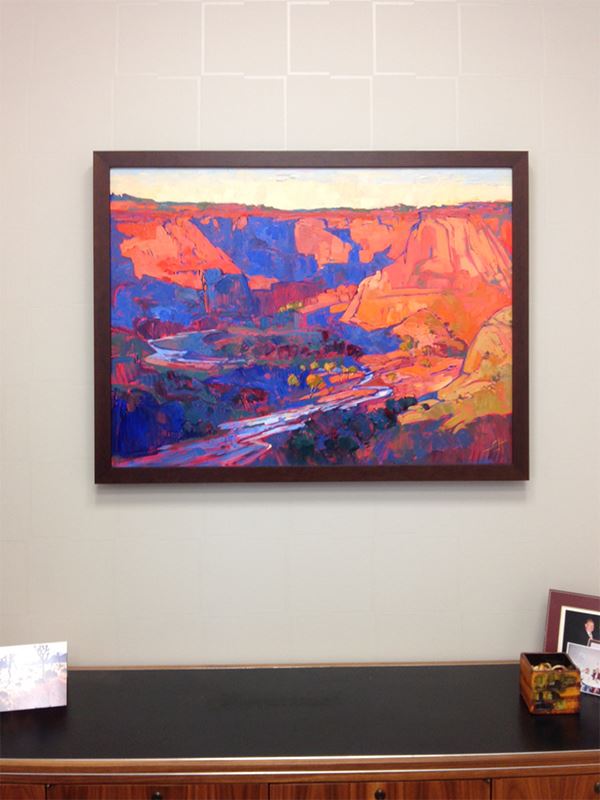 MONTREAL, CANADA
"Just a word of thanks for Canyon Wash. I had it framed and am getting loads of compliments. I had it behind my desk but decided it was more inspiring in the front part of the office where I can view it on a consistent basis!! Some may call it daydreaming I call it inspirational!" - M.S.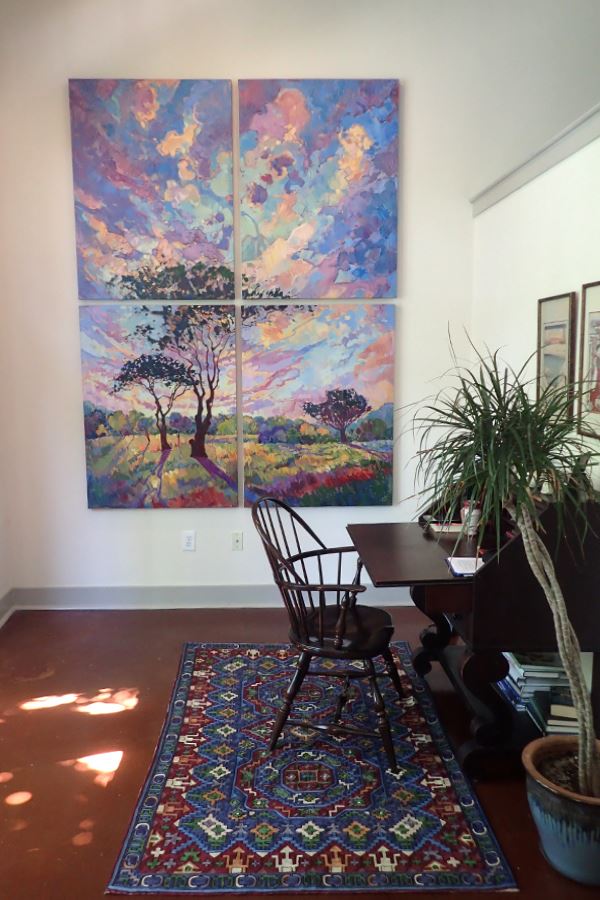 IRVING, TX
"...best thing that has happened gives me joy being home... thanks again!" - P.S.

SANTA CLARITA, CA
"Dear Erin - I wanted you to know that I received my painting on Friday and I LOVE it. Thank you so much for shipping it so quickly. My room is complete now! Have a wonderful rest of your weekend." - H.C.
NORTHRIDGE, CA
"You bring so much happiness to others, Erin. That's what makes life so beautiful - to be able to give and receive such goodness. I am honored to join you on your most colorful journey. I wouldn't miss it for anything! Rest assured, I will always be able to find room for another of your creations. In case it's not obvious enough, I'm hooked! Hugs to you, my dear. " - S.D.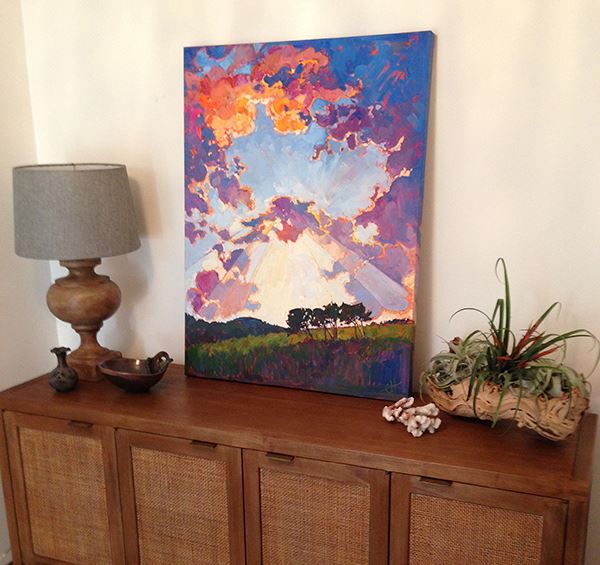 NEWHALL, CA
"The painting is lovely. I love the use of color as always." - H.R.

NEW YORK, NY
"I can't say enough about Erin Hanson's skills as an artist... her work is so vibrant, expressive and beautifully composed, there is no wonder that she is garnering much interest, and that her pictures are in museum collections. There is something truly special about her work. Erin's paintings embody the New West. Her painting of California and the desert Southwest resonate with human warmth, vitality, and honesty, and are infused with technical brilliance as well. In all my years as a curator and collector, I have rarely come across an artist of her caliber." - K.R.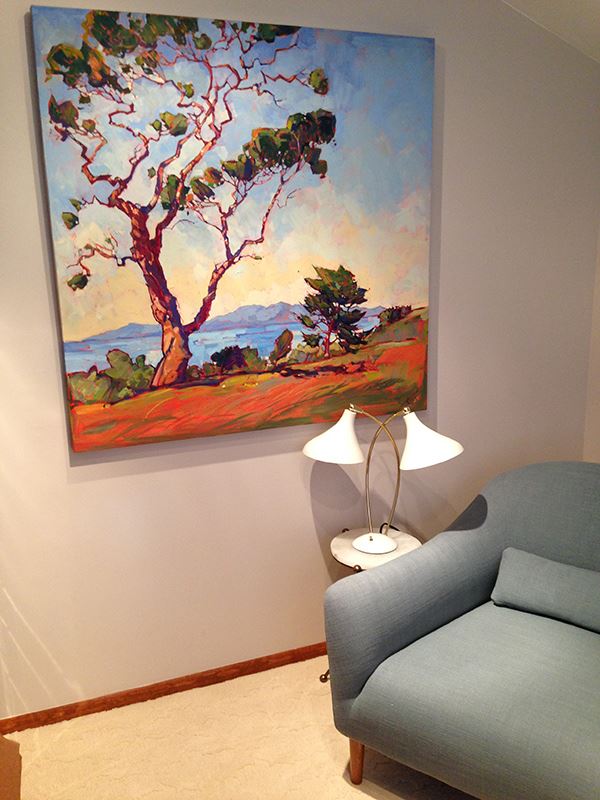 NEWHALL, CA
"Long time no talk! A movie is shooting at my house soon. 40 people toured it today and everyone was raving about your paintings!" - H.R.

PORTLAND, OR
"Erin, After 50 years in the art world, all I can say is Wow. You are the most impressive living artist I know. I studied art, taught art, had my own studio, worked in the typesetting and book production industry in 4 countries. I never have I seen such success at putting emotion into painting. It's what I have striven to teach my students no matter the medium or subject. Palm Oasis is one of your best examples to me. It's not what colors I saw, it's not what I caught on camera. But it is what I felt being inside there! You have inspired me! Thank You!" - M.H.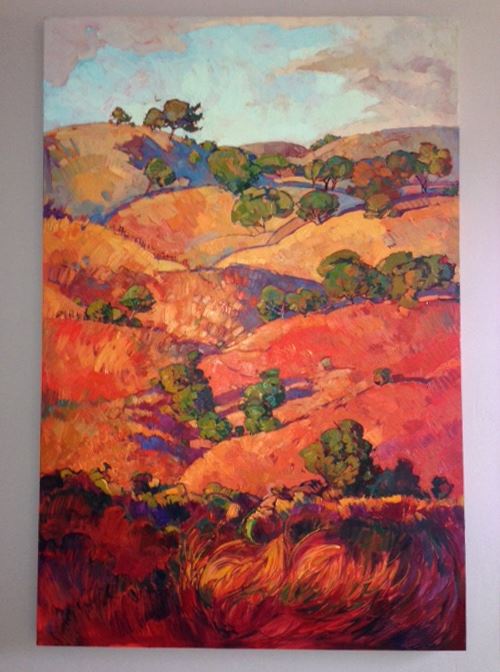 SAN DIEGO, CA
"Hi Erin. Hope it has been a great week for you. It is lovely to cohabitate with this lovely piece of paradise! See you again next year!" - P.P.

SAN JOSE, CA
"The painting arrived today, I had my wife close her eyes while I unwrapped it - 'wow' was the first thing she said. We're loving the colours and composition. Thanks so much." - M&L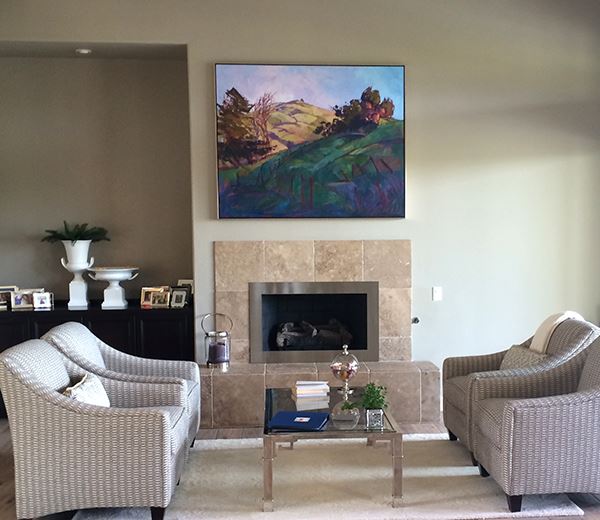 LA QUINTA, CA
"Erin, thanks for the photo of our painting. I just love it!" - K. & K.

NEWHALL, CA
"So I guess it is easy to say I am obsessed with your painting! I love love love you and your work!!! And yes, today's purchase makes #10! Thanks again, Erin, for sharing your tremendous talents with the world!" - H.R.

PASO ROBLES, CA
"I want to tell you how much I am enjoying my painting. It is hanging in my living room where I prepared a whole wall to show it off. I love the way you make the eyes go to the oak, the clouds, the fence, the shadow, the foreground all draw your eyes to the oak. Hope you know what a special artist you are and how much you are appreciated." - H.S.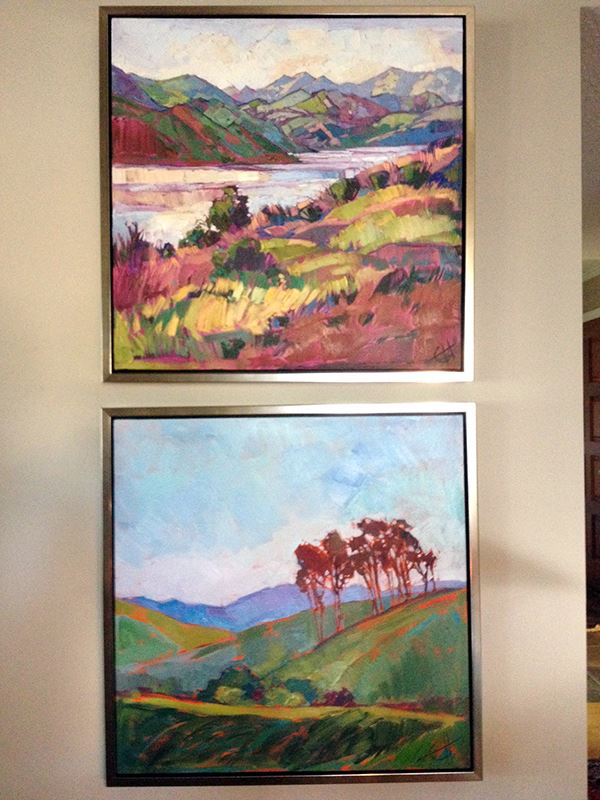 NANOOSE BAY, CANADA
"Said I would send you pictures after we shadow-box framed your paintings and were hung in our home on Vancouver Island. Enjoy!" - L&R.G.


"I just wanted to send you a message to let you know that your art is gorgeous. I don't have anything poignant to say, except that I've been on your website for what seems like hours, and I feel like I've barely scratched the surface. What you do with colors is amazing. I'm a very visual person, which isn't everyone? I see a landscape in person and it's a very moving, emotional experience. Normally, when I see a landscape painting, I might admire the technique or how it compares to real life, but it's rarely moving. Your landscapes, and I'm not even sure I can call them that, because they're so much more, speak to me on that deep level. That is all. Keep painting, because gorgeous. I'm so glad I found your work today." - L.S.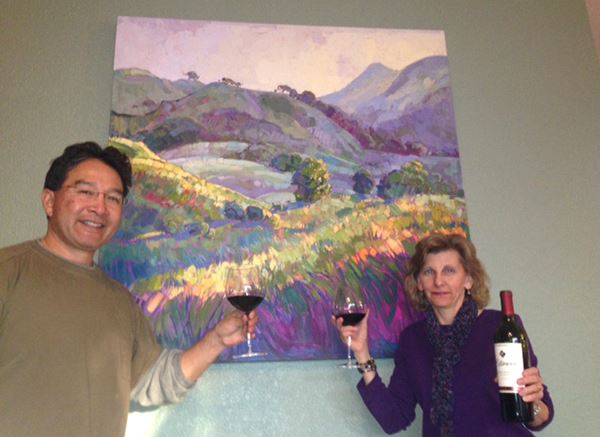 DES MOINES, IA
"We are now just getting around to confirming delivery of our painting and sending you a picture of it hanging in our family room. We really enjoy the painting, love looking at it every day, remembering our great trip and meeting you at the Palm Springs Art Fair." - M&B.H.

MILWAUKEE, WI
"You are the next Van Gogh. Centuries from now your name and your art should be talked about in the same way Van Gogh's work is talked about, or Picasso, or Monet... Or Rembrandt for that matter. Throw some Andy Warhol in their too, while we're at it.
"I really do hope your work can be celebrated throughout time... In wonderful places, such as: Art history books (throughout the academics). In grades schools, middle schools, high schools, collages & art institutes, galleries, museums and more! All around the world!
"Your paintings hold so much life inside of them. They seem to explode with brilliance. Crystal Light & Crystal Light II dance with a sense of longing-ness and ghostliness in them, as if they are dreaming of a long lost love while being blown in the wind. Autumn Blues seems to lose its leaves through a cool canyon with a stained glass sky. Your painted landscapes pour-out their beauty, each one more captivating than the next. Borrego Color & Borrego Gold both suck the breath out of me. I can feel the vastness of a Southwestern morning or an evening sunset as I remember the long day. Your paintings are poetry which there can be no words. They exist only as a feeling. A place not only in the heart but throughout one's whole body.
"Thank you for sharing your gift." - D.R.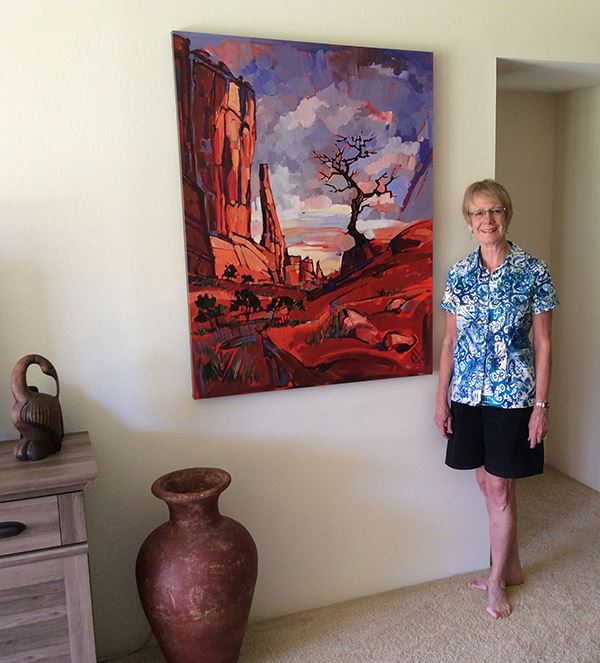 WEST LINN, OR
"We wanted you to know that we love the big canvas print of Gnarled at Arches that we ordered through Fine Art America. Jeez, it got here in about four days and the color and quality are excellent. You can hardly tell it is a canvas print and not an original!" - J.H.

NORTHRIDGE, CA
"Hi Erin: It was grand fun at your gallery today. You made quite an impression on Joey. He couldn't stop talking about how unique your works are.
"I brought the 2 pieces into my office. Wanted to show them off. One of the lawyers I work with told me that Colors of Ocotillo was the most beautiful piece of art she has ever seen in person. She asked me twice if she could have it, then begged me to hang it here in the office." - S.D.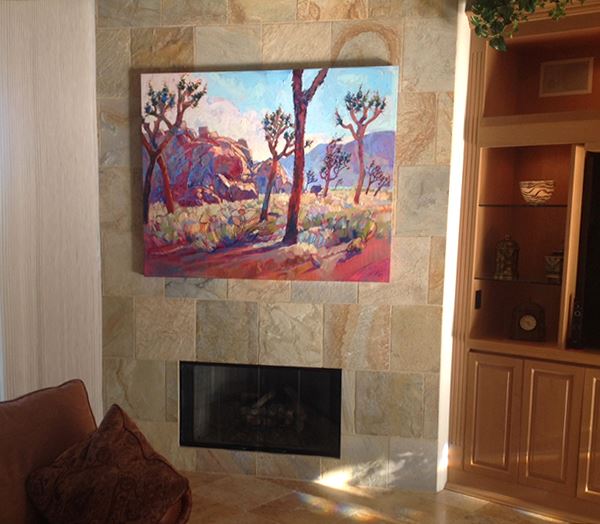 LA QUINTA, CA
"Hi Erin, we really appreciated your warm card and also getting to know you a little bit. We thought you'd like to see a photo of your painting hung in its permanent position. It's perfect!" - B&J.A.

BENICIA, CA
"The painting just arrived and we love it! In fact, we just hung it and it looks great. Your paintings have so much passion. I love that about them. I wish my house was bigger so I would have more walls!" - L.F.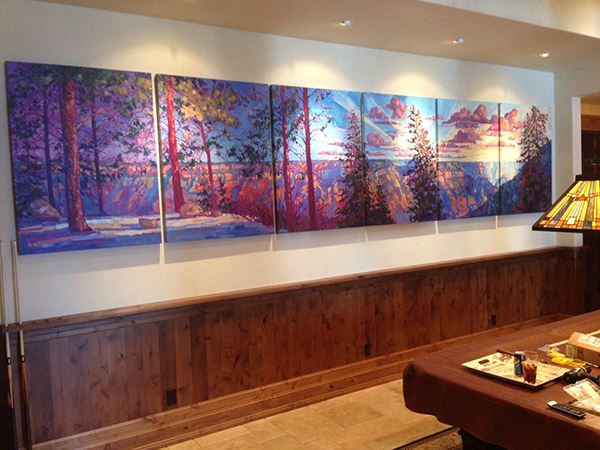 BIG FORK, MT
"We hope you had a great time...and want to return!" - J&C.H.


CAPITOLA, CA
"I am delighted, enchanted, moved, transported, with your work. The generosity of the colors, brush strokes, and expansive vistas are all a reflection of the heart of the artist." - M.J.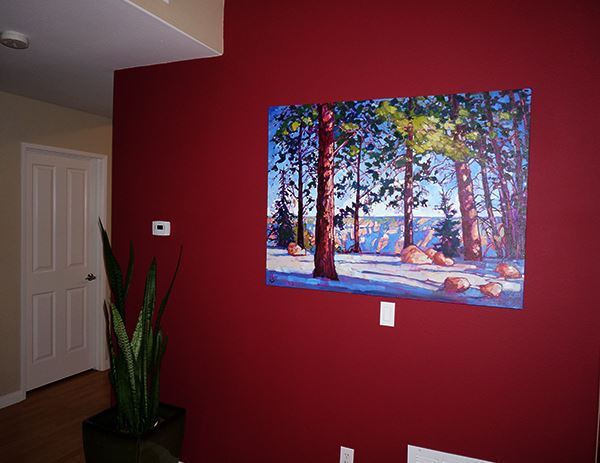 "Do you remember where we were going to hang in the dining room? Well, it ended up that it looks great against our red accent wall in the family room. We got a spotlight for it, and it's wonderful that we are able to admire it so often. It's the perfect place for it." - S.A.

BURBANK, CA
"Thank you for the wonderful demonstration of your process. I enjoyed listening to your stories, great tips on color selections and seeing your work in progress. All and all - a tale of wonder and color! I look forward to visiting again on Dec. 7th and seeing the completed tree painting. Until then Happy Thanksgiving and thank you for your generosity!" - M.R.

PASO ROBLES, CA
"It was great chatting with you & watching your painting demo last weekend. I've attached a pic of the painting hanging in my house." - S.G.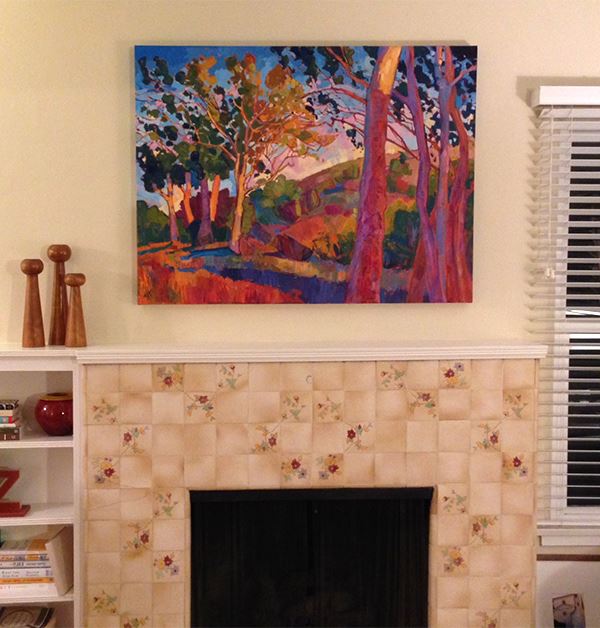 HERMOSA BEACH, CA
"Hi Erin, I met you at the Hermosa Beach Art Walk a few years ago. I am finally living in a place where I'd like to feature your beautiful art over my fireplace. I purchased your book when we met and have been dreaming of the day when I could buy one of your paintings." - M.F.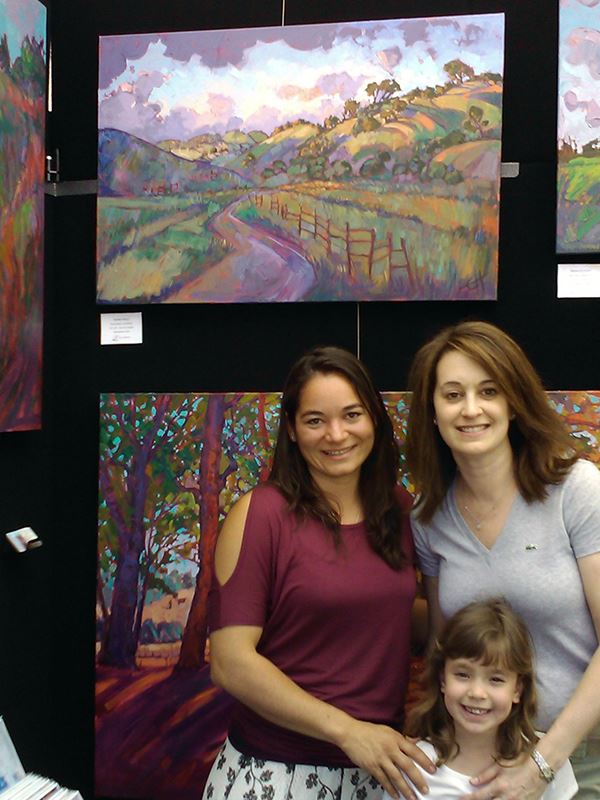 PALM SPRINGS, CA
"I've been meaning to email you for some time. I went to your show in Palm Springs in late March with my aunt and daughter and bought the attached painting along with a smaller one. The attached is my favorite piece of art in my whole house and the centerpiece of the dining room. I got it framed and no one comes into the house with commenting on it! I routinely check out your website and have fallen in love with many, including Crystal Light (the lighting, texture, and color scheme are exquisite)." - M.B.

FAIRFAX STATION, VA
"Lynn says she loves the painting...said it looks even better than the pictures!" - S.G.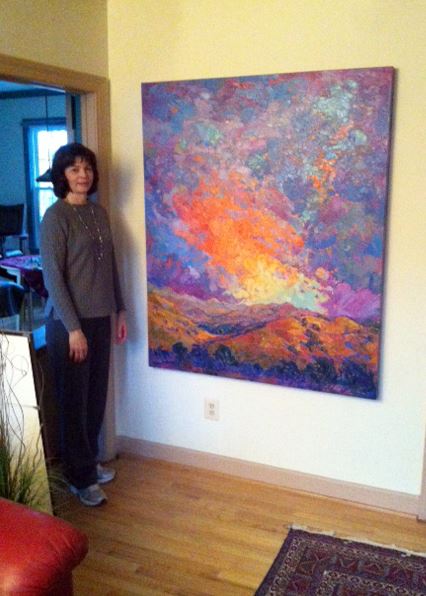 HERMOSA BEACH, CA
"As I turned a corner in the unpretentious beachside bazaar, I came face to face with landscapes that seemed to radiate firelight and sky, a kind of gentle, luminous, warm joy that appeared to make the canvases pulse before me. Something of Monet, but on fire. Something of Van Gogh, but with the benefit of some restraint, and still there was something completely new and vibrant and spellbinding in them. These masterful worlds I had discovered were injected with the feeling of a place, not just its likeness and it was that living emotional energy that burned in these works.
"To meet the artist was also a delight. Petite but formidable, she radiated the same generous, lovely, joyous warmth present in her paintings. Somehow unbroken, like her confident brush strokes, she communicated sincerity. As if from an earlier era untarnished by the cynicism of the world, she spoke directly and without guile. She was honest, that was what I came away with, I later decided. These pictures were of the places she deeply loved, and painting was her way to love them, to take them in and keep them safe and by doing so, become part of them.
"I bought a book that had been made about her work, but it must be said that the energy in her paint cannot be captured in photographs. The canvases are large and tend to wrap you in an embrace completely impossible in print. These were no sentimental visions of some Victorian yearning for a better time, they were the "song-lines" of a tribal heart that can speak to the Earth. They were objects that captured thoughts and gave them a place to live." - D.G.

SANDY, UT
"I bought your Zion Summer oil painting online a couple of days ago. It arrived today. It's beautiful. We absolutely love it. Many years ago, I worked at the park doing research in the Virgin River that flows through Zion Canyon. I remember being riverside very early in the summer mornings and seeing all the colors you used in your painting. It pulls me back to that amazing time and place. What a wonderful gift you have." - K.S.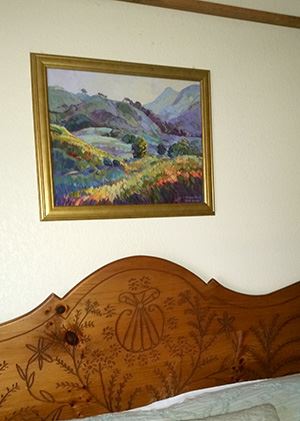 LA QUINTA, CA
"Wonderful to see you today at the La Quinta festival. Attached is your framed work Jeweled Hills. I am really enjoying having your art in my home." - C.B.


"Absolutely incredible and stunning! I feel like I can walk right into the scene. I am almost speechless. Thank you SO much!" - E.S.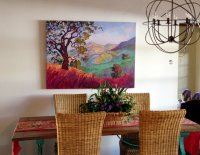 NEWHALL, CA
"My new favorite! Looks awesome in the kitchen! The colors are perfect!" - H.R.


LA QUINTA, CA
"We have 3 and love them all." -- M. & R.


BALTIMORE, MD
"I saw your gallery's painting in the most recent issue of Southwest Art Magazine. The painting is extremely creative. When I saw it, I knew, instantly, that I was looking at the work of a very talented artist." - J.B.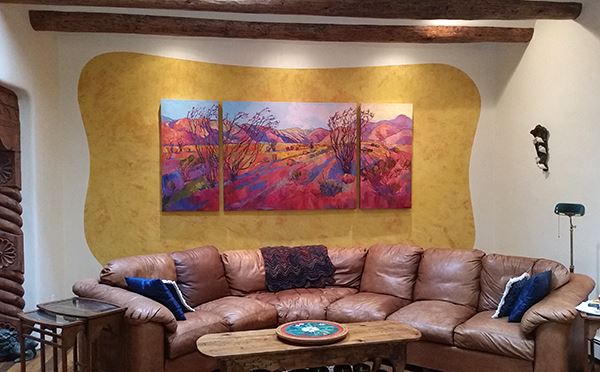 SANTA FE, NM
"Erin, You just made Malia's day! She was almost in tears; loves it! It looks like it will go well with the wall, which is yellow with touches of red and orange - from one of the roses in the garden which has touches of red on the petal tips." - B. & M.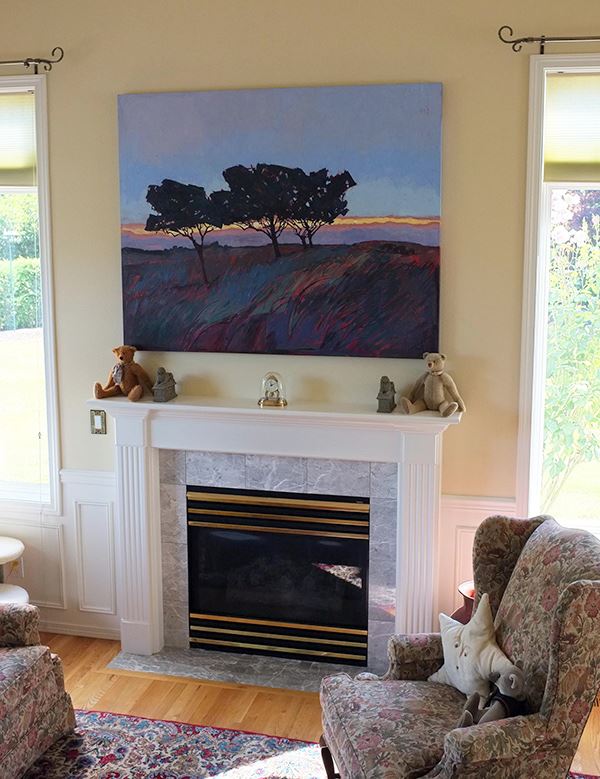 WOODINVILLE, WA
"Erin, just wanted you to know I love it more and more every time I see it. (And I still can't get over how well it ties the room together -- a nice bit of serendipity.) Especially like how it changes with the changing light. Makes me feel quite inspired. So, thank you again!" - D&R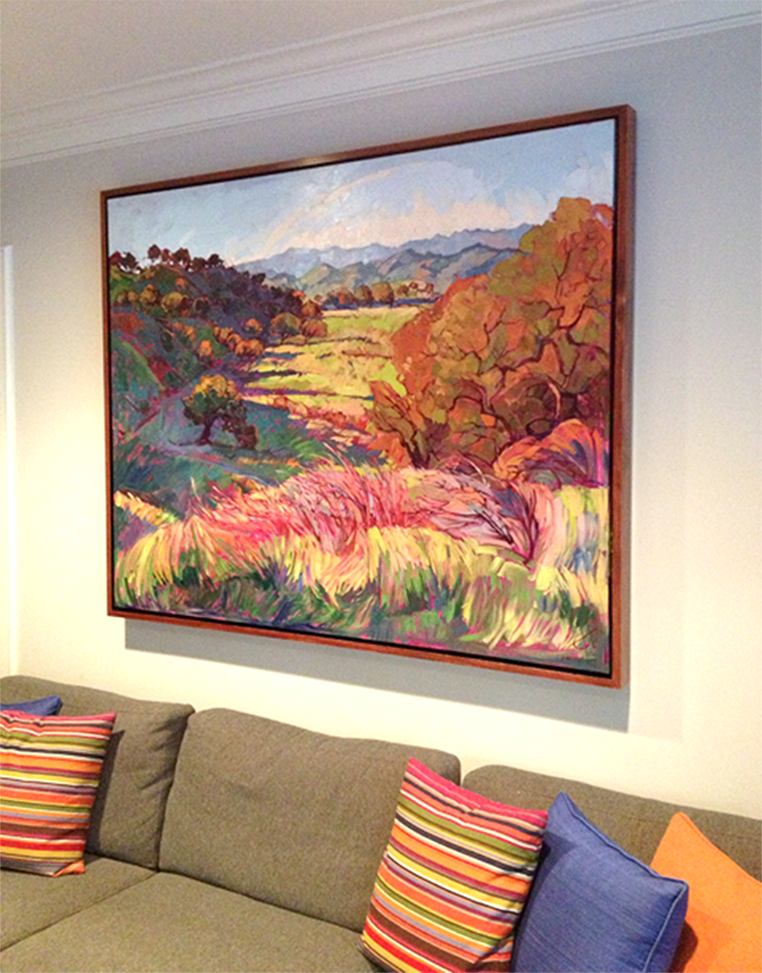 HOUSTON, TX
"I framed the painting in time for M's birthday party (last night). It was a big hit with everyone who came to the party. I thought you might want to see how it turned out. We are very pleased with it." - D&M


CHARLOTTE, NC
"Below is a poem I wrote. I thought about the fire that is set ablaze in your desert paintings.

"Let the heart dare.

"From the fields of meaninglessness,
emerges beauty.
What we cannot clearly name
is not necessarily barren.

"The heart goes its ways.
Love's tenacity is a seed.
Love can birth dreams from rocks.

"What we cannot see
is not necessarily a blinded truth.
Let the heart dare.
Let the heart speak.
The heart is a fire in fields we might shun.
That fire is set ablaze
by lands arid and forgotten.
The heart desires what is not yet born.
Let it dare." - Chris Saade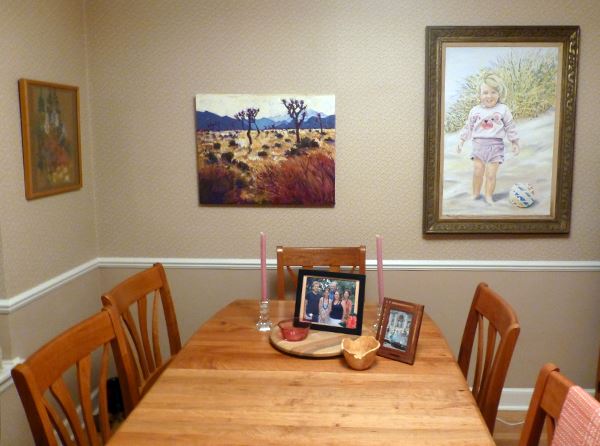 MADISON, WI
"The Joshua Tree painting we have hanging in our dining room has more subdued colors. We bought it because it reminded us of the hikes we so enjoy taking when we visit Palm Springs. The crazy thing about that painting, though, is that when the late afternoon / early evening light hits the painting, the color jumps right off the wall. I can recall only one other painting I have seen that has the same effect: Gustav Klimt's The Kiss, which is much more gold than any art book makes it appear to be. Your paintings have a similar ability to come alive.
"Also, for me, your landscapes are like music captured in nature. You are a unique artistic talent and someday I hope to see your paintings hanging In art museums. You can be that good. Of course, in my opinion, you already are that good." - B.H.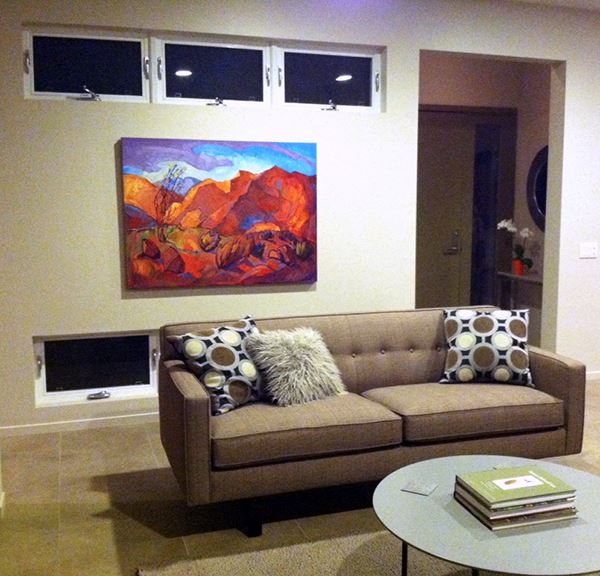 BORREGO SPRINGS, CA
"Yes, I am going to use all caps...I LOVE IT!!! IT IS MAGNIFICENT!!! For now I cannot do anything but stare at it! Happy New Year!!!" - S&L


NEPEAN, CANADA
"So glad to receive my Oak in the Wash this afternoon, it is in perfect condition. Thank you so much! Love the rolling hills and oak tree and blue sky and everything in it. It is making me so warm in the cold weather, even I can feel the sunshine from California. All in a word: it is fantastic." - N.H.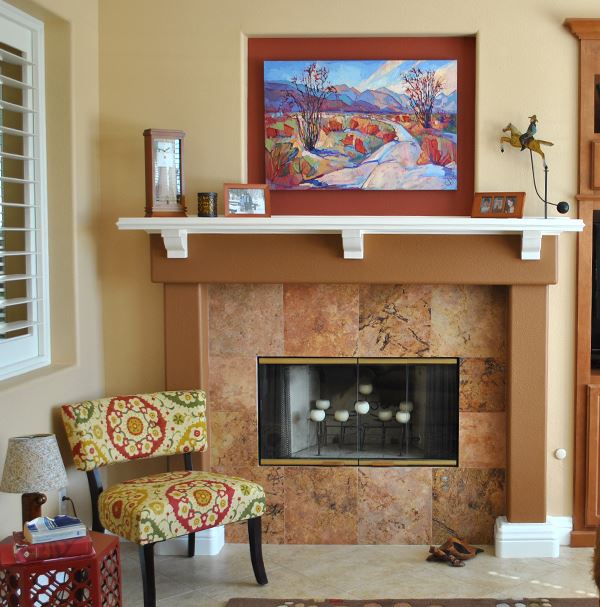 SAN DIEGO, CA
"We love Borrego Shadows. It and a smaller painting we got in La Quinta really brightened up our house and were the impetus to move around furniture, pictures, etc., and now I love the way our home feels. I especially enjoy how the painting changes the way it looks depending on the amount of sun coming in the windows and the time of day. We look forward to seeing you at some other shows and following your career. You are very talented, and I hope that you are blessed with much success and happiness! Thanks for sharing your love of nature and your talent with us." - D&L



PASADENA, CA
"Got the paintings today. They are gorgeous! Thank you very much. I am becoming quite a collector of your art since I now have six of your paintings :-) I just can't help myself - they are all so beautiful." - A.D.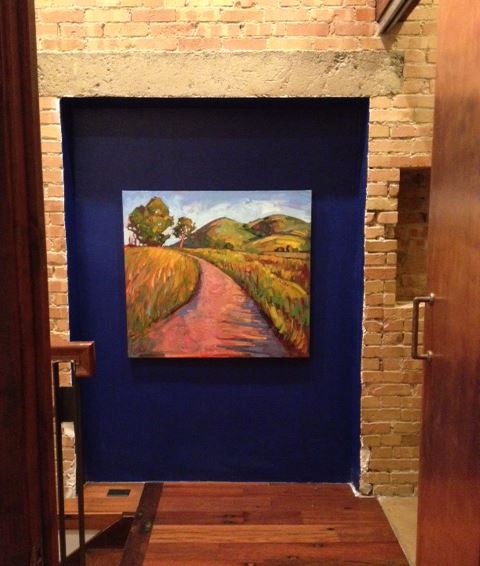 SALT LAKE CITY, UT
"Thank you for sending Fields of Gold to Salt Lake City for me. It arrived in perfect condition. (I always worry about shipping). I am attaching a picture of the painting at its new home. It's absolutely perfect to me in a perfect spot. It makes me very happy." - L.W.


PORTLAND, OR
"I so much enjoyed meeting you and seeing your work up close at the Salem Art show. I look at your painting as the best of Western Art with your innovative use of color, and your ability to capture an inner dimension. Wang Wei, the great Chinese poet and painter called it shan-shui. His original paintings have all been lost, except for copies, while his poetry continues to describe tranquil landscapes, the Tao, or the Way.

"I guess that is why I like Impressionism, esp. as expressed in your work, with thousands of visible brush strokes. The blank canvas goes from emptiness to tens of thousands of things emerging from your creative source. Wang-Wei's sparse poetry asks you to fill in the grammatical emptiness. I believe your use of impressionist broad strokes and the mosaic colors is a way we too must fill in consciousness, ie. reality, emotion, and inner experience that all go far beyond the whole. I know you will and are evolving your style. But I hope you always continue to paint some paintings with the mosaic colors. I love the subjects of your works just put up on your web site." - M.H.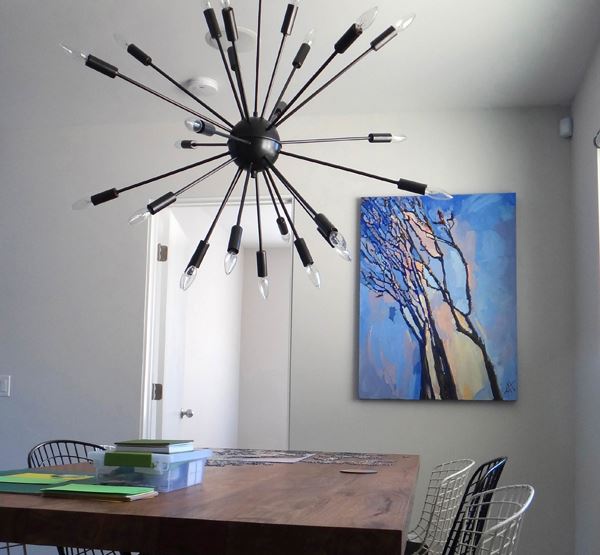 PALM SPRINGS, CA
"Everyone loves our first painting in the house. As promised here's a picture. Your biggest fan in Palm Springs" - A.Z.

RALEIGH, NC
"I stumbled across your website in a web search and wanted to email to tell you that I have been totally inspired by your work!! I have a degree in geology and am an amateur gold prospector rock hound by hobby....or obsession! I am also an aspiring artist and love to paint the worlds that I love, rock formations, mountains, ranges, deserts, and all the wonderful places that I prospect for gold and minerals. I have truly fallen in love with your work and go to your site often to gain inspiration from your paintings. I can actually see myself hiking around some of those areas depicted in your work." - R.L.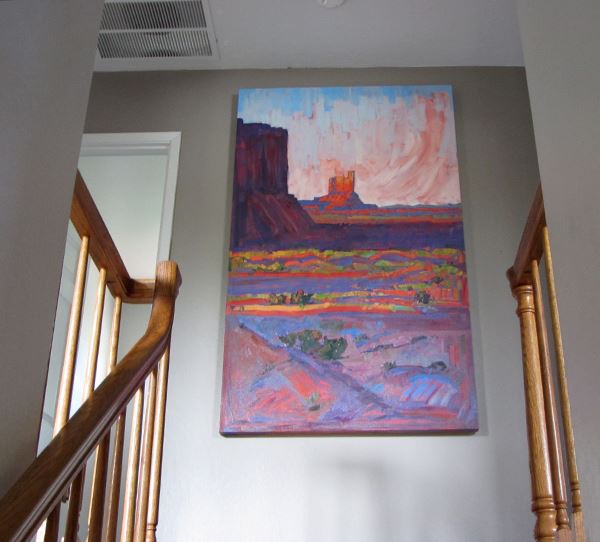 CAPITOLA, CA
"I have attached a few pictures (not too great, but you get the idea... :~) I love that when you come in you see it, and when you come upstairs you see The Last Ray painting in Derek's room and Utah's Monument together. I am looking for a color to paint the wall that Last Ray is on so to present it better. I just love the picture, it is exciting in its presentation and interpretation." - M.J.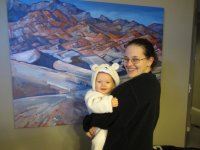 LAS VEGAS, NV
"My wife and I purchased Valley of Fire III and Sunny & Steep while visiting Valley of Fire last month. We both wanted to pass to you how incredible both pieces are. Originally, we were trying to pick between the two and couldn't decide, so both are on the wall now. We are visiting Arches/Bryce/Moab/Zion this week, and I hope none of your paintings are there otherwise Laura and I will come home broke. Thank you for your incredible art, and we wish the best to you." - D&L.S.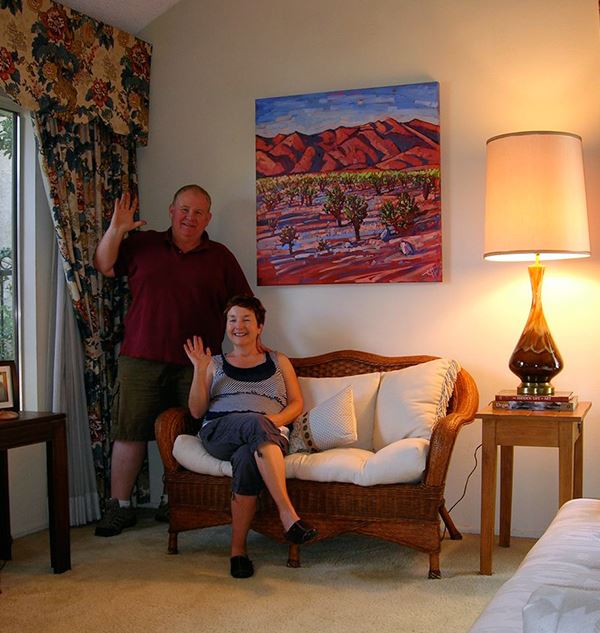 CALABASAS, CA
"Attached are some snapshots of the homecoming. We thought it might go in our family room but discovered it was meant to be in the living room where we sit every morning with our coffee. We're so pleased and honored to have your painting in our home!" - D&G


PACIFIC PALISADES, CA
"We are pretty excited! Everyone who has come to the house and seen your art (well, I guess it's officially "ours" but you know what I mean) has loved it. I have had a couple of people actually gasp when they see the one in the family room. We are looking forward to seeing the mantlepiece and the other piece. Hurry up and dry! ... We hung the other painting in our bedroom...and it's perfect. You would think that we chose the colors of our room based on the painting. It could not have fit better had we commissioned it. So beautiful." - C.A.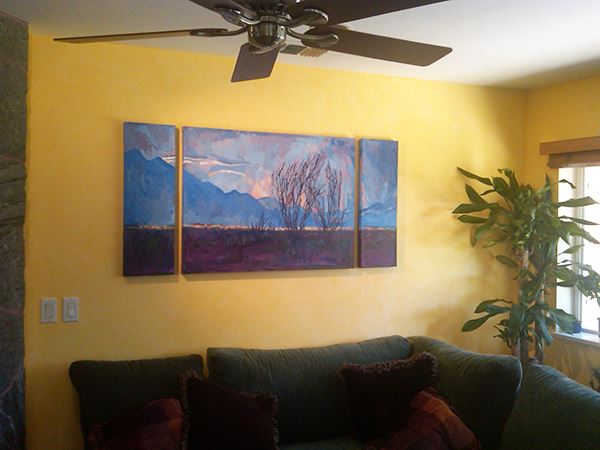 LOS ANGELES, CA
"Thanks again, Erin--it looks fabulous!" - C&N


LAS VEGAS, NV
"Just a note to let you know that I'm happy I got to talk to you. Not only are you a great painter, you are a wonderful person also. I will take your advice and do a painting a week!" - C.D.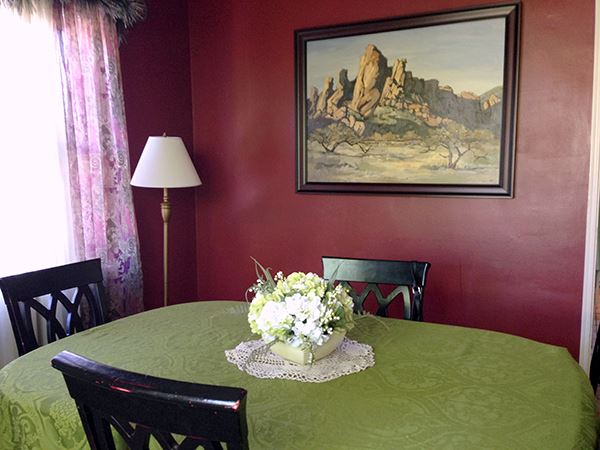 TUJUNGA, CA
"We LOVE our painting! The new wall color really sets off the painting!" - M&N.H.