Frequently Asked

Questions
Questions Index
1. How long have you been painting?
2. Where did you go to school?
3. What is Open Impressionism?
4. Where can I buy your artwork?
5. What payment methods do you accept?
6. Do you charge sales tax?
7. How much is shipping?
8. What is your return policy?
9. Can I commission an oil painting?
10. How should I hang my painting?
11. Can I purchase a painting on layaway?
12. What sort of lighting should I have for my painting?
13. How do I contact the artist?
14. Can I buy prints of your work?
15. What is a Textured 3D Replica?

Privacy and Cookies FAQ
1. Privacy
2. Fraud Protection and Compliance with Law
3. Service Providers
4. Security and Legal

---
Questions for Erin Hanson
Q: How long have you been painting? 
Erin Hanson has been painting since she was a young girl. By age 7, she was painting in watercolors, acrylics, pen and ink. At age 8, she started studying oils at her school, and at age 10, her father hand-crafted her a pine easel, which she still uses to this day. Always wanting to grow up to be an artist, Erin was very diligent in her studies of painting techniques. Growing up in a family of musicians, it was second nature for her to understand that "practice makes perfect." When she was a young teenager, she worked for a few years at a mural company, painting giant 40-foot murals in acrylics. Of course, her style has taken a while to evolve, and it wasn't until 2008 that her painting style consolidated into the loose, colorist, open-impressionist style that it is today.
Q: Where did you go to school? 
Erin Hanson graduated from Delphi Academy in Los Angeles with a semester scholarship to Otis College of Art and Design. Hanson graduated from UC Berkeley with a degree in Bioengineering. 
Q: What is Open Impressionism?
Hanson's style of painting, known as Open Impressionism, is the result of over 20 years of painting and experimenting with the medium of oils. Her style has developed through a concatenation of studies and passions, starting with a love of trees and plein-air paintings, working as an acrylic muralist, moving through Japanese painting and comic art, and finally landing on painting rocks (while rock climbing them in Red Rock Canyon for two years.) The chunky, abstract style that emerged from painting rocks has had the most direct effect on her present-day pieces.
Erin Hanson's style could be called contemporary impressionism, with a hint of abstract expressionism and a dash of plein-air style. Hanson describes her work as "Open Impressionism," implying that the traditional boundaries of impressionism are being pushed into a new style altogether and also conveying the sense of capturing wide-open space on her canvases. Erin likes to paint with lots of heavy impasto brushwork, using the texture of the paint to communicate form and movement instead of relying only on color and shape to tell a story. She paints wet-on-wet with fast, bold strokes without layering or overworking the paint once it has been placed on the canvas. This creates a wonderful spontaneous feel to her paintings. Her vivid underpaintings create a glow and gleam to her paintings that catch the eye immediately. Erin Hanson believes that art should be pushing traditional boundaries into something new and exciting, the artists themselves constantly experimenting with new techniques and new ways to capture that elusive beauty called "nature." An artist should never become comfortable and predictable in his or her style but always be fighting to improve. Therefore Open Impressionism should be a growing field of new artists pushing the boundaries of taught technique and didacticism. 
Q: Where can I buy your artwork?
There are several ways you can purchase artwork by Erin Hanson. This website will allow you to purchase original oil paintings and prints using a debit or credit card online securely through Paypal.
A great way to see Erin Hanson's artwork in person is to visit her booth at one of the many art shows she attends. You may also make an appointment to visit The Erin Hanson Gallery in McMinnville, OR. Visit her studio and production facilities in McMinnville, Oregon, for the best way to see her newest work (still drying on their racks) before anyone else! Erin Hanson also participates in solo exhibitions, pop-up galleries, and studio shows.
You can purchase made-to-order prints of Erin Hanson's artwork through this website. These canvas prints are the finest reproductions of Hanson's work available, printed with the highest quality archival inks and papers, all personally selected by the artist. Erin Hanson recently developed a cutting-edge method of reproducing her work with full texture; her 3D Textured Replicas are the next best thing to an original oil painting.
Erin Hanson prints, replicas, and original artwork are available for international shipping (except where restrictions apply).
Q: What payment methods do you accept?
We accept all forms of credit and debit cards, as well as checks. Credit cards are processed through Square Payments or Paypal. You may call us with a credit card number (all credit cards are accepted), or we can email you an invoice with a link to pay securely online. The phone number to reach The Erin Hanson Gallery is 503-334-3670. 
Q: Do you charge sales tax?
We only charge sales tax rates for all artwork and goods that are shipping to California or are purchased at a show in California.
Items purchased in other states at an art fair or gallery event will be charged the local sales tax rate for that city, as applicable. If you purchase a painting that will be shipped to another state or out of the country, you will not be charged local sales tax.
Resellers: If you intend to resell the painting, as an interior decorator for example, you need to provide your reseller's certificate form to be exempt from sales tax.  
Q: How much is shipping?
We are currently offering free domestic shipping for original paintings, 3D Textured Replicas, and canvas prints. If your artwork is shipping to the United States, your shipping is complimentary. Large works of art will be shipped in a wooden crate to prevent damage during shipping. We ship via FedEx Ground or FedEx Freight.
We charge a nominal shipping fee for items purchased from our gift shop (books, calendars, and 16x20 paper print rolls.)
If your artwork is shipping internationally, please contact us for a shipping quote, or use the shopping cart checkout page to calculate the cost. All international shipping quotes include all import and export fees and duties.
Q: What is your return policy?
30-Day Money-Back Guarantee
Return policy for artwork: We guarantee you will love your Erin Hanson original painting, replica, or print! If you are not completely satisfied with your purchase, you may return the artwork in its original condition within 30 days of receipt, and we will gladly provide a refund, replacement, or exchange.

Returns or exchanges can be sent to:
The Erin Hanson Gallery
1805 NE Colvin Court
McMinnville, OR 97128


If your print arrives damaged in any way, please email prints@erinhanson.com, and a replacement will be sent to you immediately.
Q: Can I commission an oil painting?
Please contact The Erin Hanson Gallery to inquire about commissions. Erin accepts commissions on projects that interest her. 
Q: How should I hang my painting?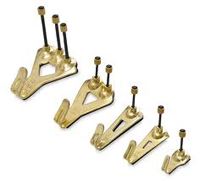 Your painting will arrive framed and ready to hang. There will be a hanging wire already fitted to the back of the painting. The best way to hang your painting is to use two hooks set about 6-12 inches apart (this helps to keep the painting level.) Home Depot and other hardware stores sell great picture-hanging hooks (link here) that are cleverly angled so they can support the weight of a painting on a single nail.
Q: Can I purchase a painting on layaway?
We partner with Art Money and Affirm to provide financing for original artwork, prints, and replicas. Financing details are available at check-out.
Erin Hanson has also been offering layaway successfully for many years. The terms are flexible and can be discussed with the gallery. Usually, we split the total cost of the painting into 6 or 12 payments, and the first monthly payment would be taken as the holding deposit. If you fall in love with a painting, Erin would love to work with you to make it easy to purchase! Contact: info@erinhanson.com
Q: What sort of lighting should I have for my painting?
Your painting will look different depending on what lighting you have for it. Natural ambient light will create a nice feel for your painting during daylight hours, subtly changing as the sun rises and sets during the day. At night, however, you will be fully reliant on artificial light. I am sure you have noticed how great paintings look in a gallery setting. Art galleries will use warm or cool-toned spot lighting to highlight the colors in certain parts of the painting, intensifying the light on the painting's center of attention. You can imitate this effect in your own home by installing halogen directional spot lighting in the ceiling above your painting. These lights are surprisingly inexpensive to install (an electrician can install them in a few hours), and if you wish you can purchase the fixtures yourself online. There are many options for low-wattage spotlights and LEDs, as well. We recommend Soraa LED bulbs, which we have personally tested and use in The Erin Hanson Gallery.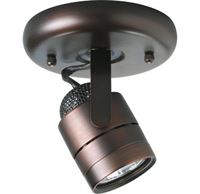 Many houses are already fitted with some sort of recessed ceiling fixtures. These can be adapted to directional spot lighting with minor handyman work. Even without direct lighting on your painting, however, the artwork will still look great with nearby incandescent lighting. The one thing you want to avoid is hanging your painting behind a hanging chandelier, which will cast a direct glare spot in the middle of the painting, without highlighting the natural colors and texture of the painting. A light that is angled from above will allow you to experience the thick brushwork, perceive each subtle variation in color, and truly enjoy the painting in a whole new light. 
Q: How do I contact the artist?
Please contact Erin Hanson via email, contact@erinhanson.com, or phone her gallery at 503-334-3670. You may also use the contact form on this website. Unless Erin is backpacking in Zion or rock climbing in Maple Canyon, she will get back to you the same day. 
Q: Can I buy prints of your work?
Erin Hanson offers a wide variety of prints, including state-of-the-art 3D Textured Replicas (available in both open and limited editions), canvas prints / giclees (available framed, stretched, or as a roll) and paper prints (16 x 20").
You can purchase prints of Erin Hanson's works on the website here.
Erin Hanson's 16 x 20" paper prints are available for purchase at her gallery and are also available at most of her outdoor and indoor art festivals and fairs.
Q: What are Textured 3D Replicas?
Erin Hanson's new 3D Textured Replicas are the most realistic reproduction of her original oil paintings available. Erin Hanson is the first artist to pioneer and launch state-of-the-art reproductions using German and Swiss 3D mapping and printing science.
Exactly how are Erin's 3D Textured Replicas created?
The Erin Hanson Gallery recently purchased a large-format Cruse scanner that was custom-made for us in Germany. This huge machine takes up an entire room, and it scans paintings face-up, so nothing ever touches the surface of the painting. The scanner creates a detailed 3-D model of the painting using repetitive scans and 5 different angles of light.
The scanner software then creates a 3-dimensional, topographical map of the painting. Next, this 3D model is sliced into very thin layers, only 0.15 mm thick. These slices are then sent to our 3D printer, and the layers are printed using UV-cured ink that slowly builds up texture, micro-layer by micro-layer. After 12 to 15 or more layers, the texture of the print accurately matches the texture of the original oil painting.
There are only two printers in the world that are on the cutting-edge of 3D print technology in the field of fine art reproduction: Canon and SwissQ. Both printers use 7 colors of ink (CMYK plus 3 additional colors) for incredible color reproduction. This ink can be built up layer-by-layer because each layer is instantly cured to a hard finish using UV light. Many layers applied in this way can create textures up to 2 cm tall. Even the texture of the canvas is captured and reproduced in these replicas!
Cruse's business manager Martin Paffrath commented, "While the whole world is talking about the possibilities that the latest technology offers, there is one artist in San Diego who is already doing it. When we first had contact with Erin Hanson, none of us would have thought that she would become a pioneer in printing 3D art reproduction in this short time. We are very proud our Scanner is a part of the workflow used to make such realistic reproductions of her amazing paintings."

How is the texture created?
Unlike other "3D prints" that are on the market right now (which spray clear texture over the print, creating a computerized embellishment over the color layer), Erin Hanson's 3D Textured Replicas have the color printed on top of the texture layer. In other words, the texture layers are built up until there is a white 3D model of the painting. Then, the final layer of full-color ink is applied, which sits on top of the 3D model. A final layer of varnish is added, making the replica look even more like an original oil painting, while also proving a layer of UV protection to the ink.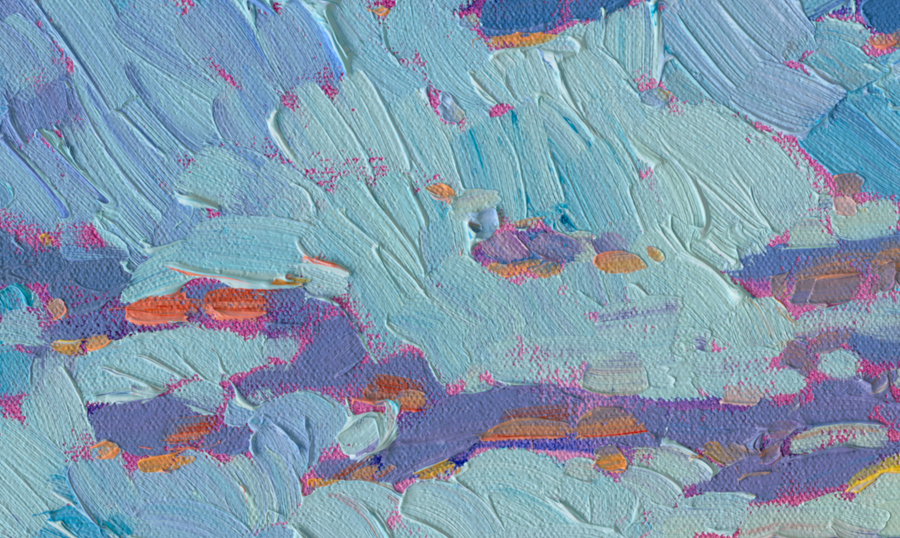 How is the color created?
Erin Hanson's new scanner captures her original paintings in 48-bit color. For comparison, Photoshop usually processes images in 8-bit color from a Canon 5D digital camera - so the scanner captures 6 times more color information than a high-end SLR camera.
The new, state-of-the-art printers we are using are able to print a much wider color gamut than standard CMYK inkjet printers because they use an additional three colors that allow the printers to reproduce vibrant purples, oranges, and reds.
Here is a comparison of the new scanner images we are capturing (left) vs. the high-res images we were getting before using a Canon 5D Mark III 50-megapixel camera (right), which was Canon's highest resolution SLR camera purchased a year ago.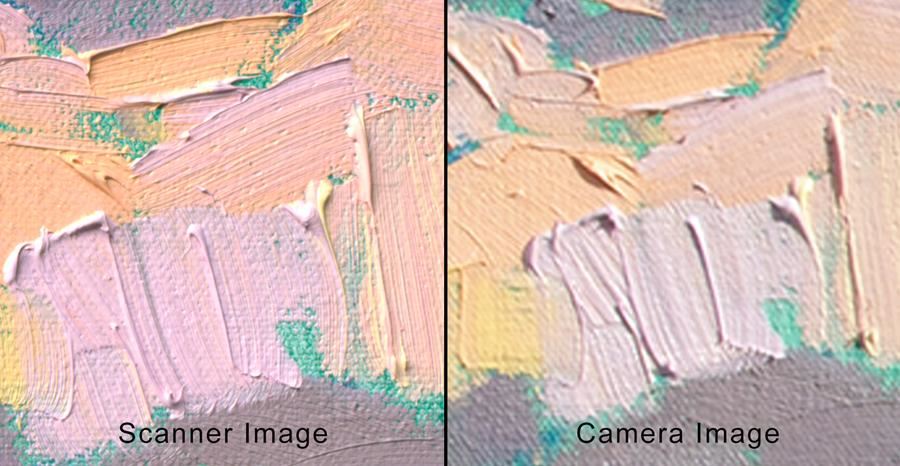 Will these replicas be limited editions?
We are offering both limited-edition and open-edition replicas of Erin Hanson's paintings. The limited edition replicas are offered in the same framing options we use for her original oil paintings. These prints are limited to an edition of 100, and they are hand-signed and numbered by the artist in gold enamel, and you receive an accompanying Certificate of Authenticity.
The open edition 3D Textured Replicas are offered in the same frames as our stretched canvas prints.
Which Erin Hanson paintings will be made available as 3D Textured Replicas?
You can see the currently available pieces here. We are only able to offer 3D Textured Replicas for paintings that we have been able to scan. In the future, most of Erin's new paintings will be made available as 3D Textured Replicas.
What sizes are being offered?
Each 3D Textured Replica is offered in the same dimensions as the original oil painting, and we also have one size 25% smaller and one size 25% larger than the original. We cannot offer other sizes, since the texture of the brush strokes starts to get distorted when too small or too large in comparison with the original.
What frames do you offer for 3D Textured Replicas?
Our 3D Textured Replicas are printed onto Dibond (aluminum panels with a foam core center). Erin recommends framing these pieces in her custom-made "EH Frames," which are the same frames she uses for her original oil paintings. The EH Frame has a 23kt antiqued gold top and dark brown sides with a pebbled texture. We also offer contemporary white or black floater frames, and plein air style frames.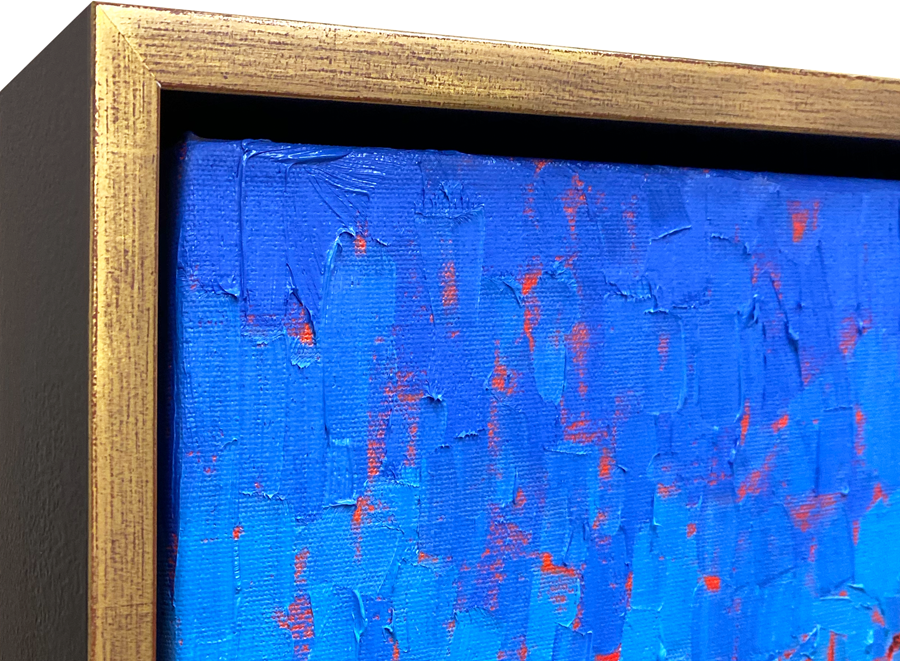 How do these 3D Textured Replicas compare to canvas prints?
Erin is using the same scanner to create a whole new level of quality for her 2D canvas prints. Here is an example of a canvas print that is only printed in 2-dimensions, but as you can see there is a beautiful illusion of texture: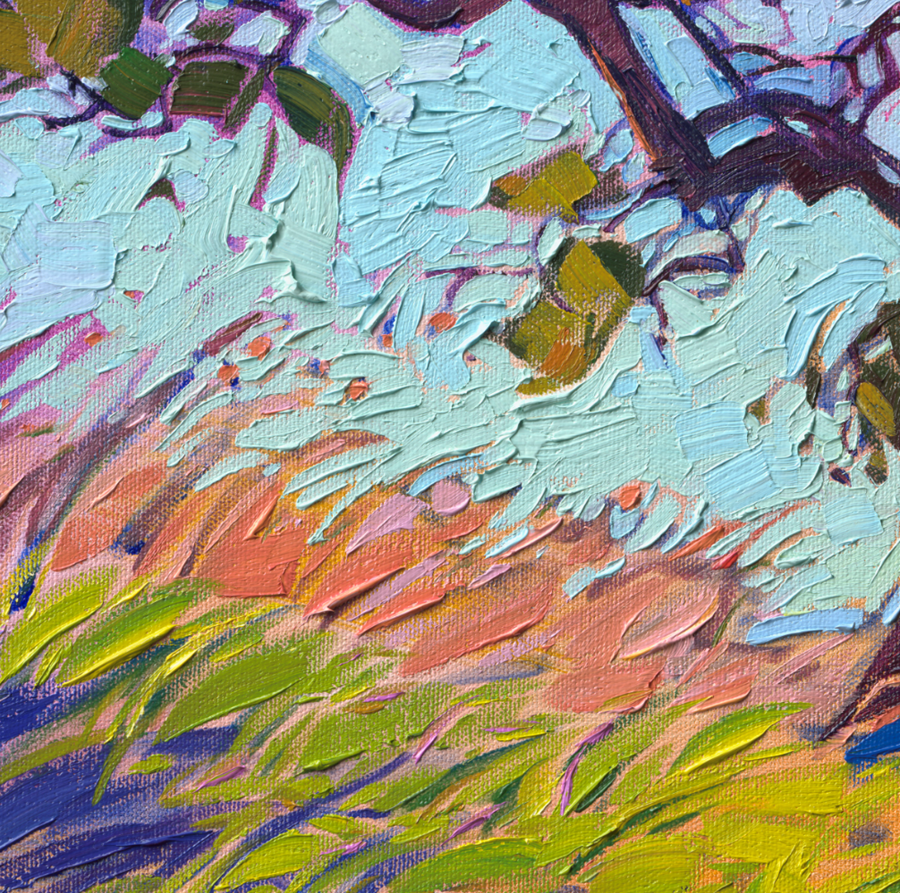 The most common thing we hear when people see Erin's flat canvas prints in person is "Wow - I thought it was a real painting!"
The new 3D Textured Replicas will have the same color that you are seeing in the 2D canvas prints, but they will be printed onto a 3D model of the painting.
How do the 3D prints compare to original oil paintings?
From a few feet away, Erin's 3D Textured Replicas look almost identical to the original oil painting. With your face up close, you can see the brush strokes aren't as sharp as the real thing, and you can see some of the pixelation of the ink. The original has the genuine painted Erin Hanson signature, while the print has a shiny gold enamel signature and the limited edition number in one corner.
Looking at a print and a painting side by side, the original oil painting glows with internal luminosity and changes constantly depending on the angle and the lighting it is viewed in; the print looks more like an acrylic painting.
An original oil painting is truly a one-of-a-kind creation that has a physical and spiritual connection to the artist. The 3D Textured Replicas cannot capture this essence of an original oil painting, although it is undeniably the closest reproduction that modern technology can offer.
What is the future of 3D printing?
As 3D printing technology continues to advance over the coming years, there may come a time when it becomes impossible to differentiate between a print and an original. There are rumors of a company that has managed to make a 3D replica of a van Gogh painting that has the museum curators stumped when trying to determine which is the print and which is the original.
In looking forward to the future, decades from now, with the possibility of black-market copies that can be passed off as original oil paintings, Erin Hanson is now embedding a tiny RFID chip (Radio Frequency Identification) behind the signature of every original oil painting. Collectors will be able to bring their painting in to The Erin Hanson Gallery to have their paintings scanned and validated as original Erin Hanson paintings.
Will 3D printing affect the value of original oil paintings?
As more and more art lovers purchase 2D canvas prints and 3D textured prints of Erin's work, the original oil paintings will continue to increase in value. Already the price of Erin Hanson's originals has increased exponentially over the past 20 years, and the value of her original oil paintings will continue to increase as more and more fans of impressionism discover Erin's work.
If you are a collector of original artwork yourself, you know the value of original paintings. Making high-quality reproductions widely available to art lovers who cannot afford original paintings will only increase the world's appreciation of fine art, increase the demand for impressionism, and thereby increase the value of Erin Hanson's original oil paintings.
Take the example of "Starry Night" by van Gogh. Which do you think would sell for more at auction, "Starry Night" or the lesser known but still beautiful "View of Arles with Orchards"? Indeed, since millions of prints have been sold of "Starry Night" (not to mention countless umbrellas, cell phone covers, tote bags, shower curtains, and journal covers), "Starry Night" has become one of the most recognizable paintings in existence, and its value is currently estimated at over 100 million dollars. Selling prints of an original increases its notoriety and, therefore, its value. The more people who own a reproduction of a painting, such as Erin's work "The Path," the rarer the original becomes, and the desire and the demand for the original increases radically.
---
Legal F.A.Q.
Q: Privacy Policy  
This privacy notice discloses the privacy practices for The Erin Hanson Gallery, which operates www.erinhanson.com. This policy will explain how our organization uses the personal data we collect from you when you use our website.
Topics:
What data do we collect?

How do we collect your data?

How will we use your data?

How do we store your data?

Marketing

What are your data protection rights?

What are cookies?

How do we use cookies?

What types of cookies do we use?

How to manage your cookies

Privacy policies of other websites

Changes to our privacy policy

How to contact us

How to contact the appropriate authorities
What data do we collect?
Our Company collects the following data:


Personal identification information (Name, email address, phone number, etc

.

)

Emails and texts sent to and from The Erin Hanson Gallery

Survey responses

Purchase information (We do not store credit card information unless you explicity allow us to do so in a layaway situation. Your credit card number would be destroyed as soon as the layaway is completed.)
How do we collect your data?
You directly provide The Erin Hanson Gallery with most of the data we collect. We collect data and process data when you:


Register online or place an order for any of our products or services.

Voluntarily complete a customer survey or provide feedback on any of our message boards or via email.

Use or view our website via your browser's cookies.
Our Company may also receive your data indirectly from the following sources:
How will we use your data?
Our Company collects your data so that we can:
Process your order and manage your account.

Email you with special offers on other products and services we think you might like.

Send you Erin Hanson's Color & Light magazine (for collectors and buyers only), as well as other postcards or promotions

Note: You may opt-out of our email or physical mailing at any time.
The Erin Hanson Gallery will never sell or rent your personal information to third parties. With your consent, we will use Google or Meta (Facebook and Instagram) tracking cookies (see our cookie policy below).
When The Erin Hanson Gallery processes your order, it may send your data to, and also use the resulting information from, credit reference agencies to prevent fraudulent purchases.
How do we store your data?
The Erin Hanson Gallery securely stores your data online through the following websites:
OnePage CRM (personal information that was voluntarily given, with associated purchase information and notes, emails and texts sent back and forth between you and The Erin Hanson Gallery.)

Dropbox (all company files, including records of artwork purchases)

Quickbooks Online (name and contact information with associated purchase information)

Survey Monkey (voluntarily given personal information and answers to survey questions)

EZ Texting (used to send opted-in texts with new paintings fresh from the easel; phone numbers and text conversations are saved)

RingCentral (our VOIP phone system, stores phone numbers and text conversations)

Campaign Monitor (stores names and emails of subscribers and people who have unsubscribed, so they will not be emailed again)

Google Gmail, Sheets, and Docs (names of buyers and associated purchase information, email communications)

FedEx, Pitney Bowles, UPS (shipping addresses stored for order fulfillment)
The above information is stored on computers that are used by employees of The Erin Hanson Gallery in McMinnville, Oregon. The premises are kept under security alarms. Any remote computers used by employees or subcontractors of The Erin Hanson Gallery are password protected.
We use this information to analyze our business statistics and income sources, in sales communications, and for ordinary business operations.
The Erin Hanson Gallery will keep your personal information (name, email, phone number, communications back and forth, survey responses, and purchase information) for the length of time that you are an active buyer or lead.
We are the sole owners of the information collected on this site. We only have access to/collect information that you voluntarily give us via email or other direct contact from you. We will not sell or rent this information to anyone.
We will use your information to respond to you, regarding the reason you contacted us. We will not share your information with any third party outside of our organization, other than as necessary to fulfill your request, e.g., to ship an order, or to conduct ordinary business.
Marketing
The Erin Hanson Gallery would like to send you information about products and services of ours that we think you might like.
If you have agreed to receive marketing, you may always opt out at a later date.
You have the right at any time to stop The Erin Hanson Gallery from contacting you for marketing purposes. If you no longer wish to be contacted for marketing purposes, please email us at linda@erinhanson.com or call us at (503) 334-3670.
What are your data protection rights?
The Erin Hanson Gallery would like to make sure you are fully aware of all of your data protection rights. Every user is entitled to the following:
The right to access - You have the right to request The Erin Hanson Gallery for copies of your personal data. We may charge you a small fee for this service.
The right to rectification - You have the right to request that The Erin Hanson Gallery correct any information you believe is inaccurate. You also have the right to request The Erin Hanson Gallery to complete information you believe is incomplete.


The right to erasure- You have the right to request that The Erin Hanson Gallery erase your personal data, under certain conditions.
The right to restrict processing - You have the right to request that The Erin Hanson Gallery restrict the processing of your personal data, under certain conditions.
The right to object to processing - You have the right to object to The Erin Hanson Gallery processing of your personal data, under certain conditions.
The right to data portability - You have the right to request that The Erin Hanson Gallery transfer the data that we have collected to another organization, or directly to you, under certain conditions.
If you make a request, we have one month to respond to you. If you would like to exercise any of these rights, please contact us at our email: linda@erinhanson.com
Call us at: (503) 334-3670
Or write to us: 1805 NE Colvin Ct, McMinnville OR 97128
What are cookies?
Cookies are text files placed on your computer to collect standard Internet log information and visitor behavior information. When you visit our websites, we may collect information from you automatically through cookies or similar technology.
For further information, visit allaboutcookies.org.
How do we use cookies?
The Erin Hanson Gallery uses cookies in a range of ways to improve your experience on our website, including:
Keeping you signed in

Understanding how you use our website

Saving your shopping cart on your local device

Showing you other artwork you might like

Tracking if you have already subscribed

Suggesting content that might be the most relevant

Remembering your favorites
What types of cookies do we use?
There are a number of different types of cookies our website uses:
•Functionality - The Erin Hanson Gallery uses these cookies so that we recognize you on our website and remember your previously selected preferences. These could include what language you prefer and location you are in. A mix of first-party and third-party cookies are used.
• Advertising - The Erin Hanson Gallery uses these cookies to collect information about your visit to our website, the content you viewed, the links you followed and information about your browser, device, and your IP address. The Erin Hanson Gallery sometimes shares some limited aspects of this data with third parties (like Google or Meta) for advertising purposes. We may also share online data collected through cookies with our advertising partners. This means that when you visit another website, you may be shown advertising based on your browsing patterns on our website.
We may place a "cookie" on your computer's hard drive so we can recognize you as a return user and personalize your experience. A cookie is a piece of data that enables us to track and target your preferences. The cookie will be stored on your computer's hard drive until you remove it. We may also use temporary or "session" cookies to help you shop. These cookies will expire when you place an order. You can have your browser notify you of, or automatically reject, cookies. If you reject our cookies, you may still use the Site, but you may be limited in the use of some of the features. In addition, we may use IP addresses to analyze trends, administer the Site, track traffic patterns, and gather demographic information for aggregate use, as well as in combination with your personally identifiable information for credit fraud protection and risk reduction.
Similarly, when you visit this Site or view one of our emails, we may use pixel tags (also called "clear" gifs), tracking links and/or similar technology to note some of the pages you visit on our Site and personalize your experience. We may also use pixel tags to determine what types of email your browser supports. We may use the information collected through pixel tags, tracking links and similar technology in combination with your personally identifiable information.
Erin Hanson and Red Rock Fine Art, Inc. does recognize your ISP (internet service provider), however, we cannot identify you as an individual. If you make an on-line purchase we do collect information (such as sales statistics and traffic patterns) to help improve your shopping experience. We keep all information confidential.
We also use web beacons to help deliver cookies and gather usage and performance data. Our website may also include web beacons and cookies from third-party providers.

These include:

• Google Analytics – we use Google Analytics to collect data about website usage. This data does not include personally identifiable information.

• Google Remarketing – we use Google's Remarketing cookie to market products and services we think may be of interest to you. You may see our advertisements on Google's Display Advertising Network of partner websites and Google's own search results pages. We aim to carefully select the products and services we remarket to you, and do so based on the pages you have visited on our website. To opt out of Google Remarketing, set your Google Ad Settings here: https://tools.google.com/dlpage/gaoptout.

• Facebook Pixel - We may display interest-based ads to you when you are using Facebook or Instagram through data collected during your visit. We do not share any of your personal information, including your shopping history, with Facebook. You may choose to opt out of Facebook Pixel You have a variety of tools to control cookies, web beacons and similar technologies, including browser controls to block and delete cookies and controls from some third-party analytic service providers, and to opt out of data collection through web beacons and similar technologies. Your browser and other choices may impact your experiences with our products. You can change your browser's settings so that the browser will tell you when cookies get sent to it. Or it can refuse cookies altogether. Check the Help section in your browser for more info.

To view more information on how to delete or block cookies from specific browsers you may visit the resources below:

Apple Safari
Google Chrome
Mozilla Firefox
Microsoft Internet Explorer
How to manage cookies
You can set your browser not to accept cookies, and the above websites tells you how to remove cookies from your browser. However, in a few cases, some of our website features may not function as a result.
Privacy policies of other websites
The Erin Hanson Gallery website contains links to other websites. Our privacy policy appliesonly to our website, so if you click on a link to another website, you should read their privacy policy.
Changes to our privacy policy
The Erin Hanson Gallery keeps its privacy policy under regular review and places any updates on this web page. This privacy policy was last updated on 13 August 2023.
How to contact us
If you have any questions about The Erin Hanson Gallery's privacy policy, the data we hold on you, or you would like to exercise one of your data protection rights, please do not hesitate to contact us.
Email us at: linda@erinhanson.com
Call us at: (503) 334-3670
Or write to us: 1805 NE Colvin Ct, McMinnville OR 97128
How to contact the appropriate authority
Should you wish to report a complaint or if you feel that The Erin Hanson Gallery has not addressed your concern in a satisfactory manner, you may contact the Information Commissioner's Office.
Security
We take precautions to protect your information. When you submit sensitive information via the website, your information is protected both online and offline.
Wherever we collect sensitive information (such as credit card data), that information is encrypted and transmitted to us in a secure way. You can verify this by looking for a closed lock icon at the bottom of your web browser, or looking for "https" at the beginning of the address of the web page.
While we use encryption to protect sensitive information transmitted online, we also protect your information offline. Only employees who need the information to perform a specific job (e.g, billing or customer service) are granted access to personally identifiable information. The computers/servers on which we store personally identifiable information are kept in a secure environment.
Notification of Changes
Whenever material changes are made to this policy, a revised privacy policy will be placed on this website.
If you feel that we are not abiding by this privacy policy, you should contact us immediately using the contact information provided on this website.
Q: Fraud Protection and Compliance with Law
We may disclose any information, including personally identifiable information, we deem necessary, in our sole discretion, to comply with any applicable law, regulation, legal process, or governmental request. We may also exchange information, including personally identifiable information, with other companies and organizations for credit fraud protection and risk reduction.
Q: Service Providers
We may retain other companies and individuals to perform functions consistent with our Privacy Policy on our behalf. Examples include customer support specialists, web hosting companies, fulfillment companies (e.g., companies that fill product orders or coordinate mailings), data analysis firms, and email service providers. Such third parties may be provided with access to personally identifiable information needed to perform their functions, but may not use such information for any other purpose.
Some images used on display tags and promotional items were created by www.freepik.com and www.pngtree.com.
Q: Security and Legal  
Erin Hanson and Red Rock Fine Art, Inc. seek to protect the security of your personal information both online and offline. All credit card transactions are secure. Every on-line order is encrypted and sent through a secure server, using SSL technology to prevent information from being intercepted.
Confidential information such as your credit card number will be used only to fulfill your order. To protect your privacy, we will ask you to enter your credit card number and expiration date each time you place an order with us. This way, even if someone else accesses the account information stored on your computer, they won't be able to use your credit card.
We may use the information you provide in aggregate (non-personally identifiable) form for internal business purposes, such as generating statistics and developing marketing plans. We may collect, store or accumulate certain non-personally identifiable information concerning your use of the Site, such as information regarding which of our pages are most popular. We may share or transfer non-personally identifiable information with or to our affiliates, licensees and partners.
If you elect to participate in any promotions, sweepstakes, surveys, questionnaires or other events during your visit to our Site, the rules or terms and conditions for those events may indicate that your personally identifiable information will be shared with third parties. By choosing to participate and submitting your personally identifiable information with respect to such events, you consent to disclosure of your personally identifiable information to such third parties.
E-mail is not encrypted and is not a secure means to transmit credit card numbers. We will only display the last 4 digits of your credit card number on your account.
This Privacy Policy applies only to the information collected on this Site. Our Site may contain links to or from other websites and you should be aware that we are not responsible for the privacy practices of other websites. We encourage you to read the privacy policies of other websites linked to the Site.
Erin Hanson and Red Rock Fine Art, Inc. reserves the right to revise this Privacy Policy in the future by posting changes at this location and we may make changes at any time without notification.