Nebraska Public Media Interview with Erin Hanson
Friday LIVE: Extra: Bone Creek Museum of Agrarian Art
Thursday, July 27, 2023
Erin Hanson was recently interviewed by Genevieve Randall of Nebraska Public Media's show "Friday Live." They discussed Hanson's exhibition Erin Hanson: Color on the Vine at Bone Creek Museum of Agrarian Art.
Dates: July 15th - November 2nd, 2023
Listen to the interview here and read the transcription below.


How did you become acquainted with Bone Creek in David City?

About ten years ago, a collector of mine, Ken Ratner, had a traveling exhibition of his personal art collection. It was something like one hundred pieces of art. One of my paintings was included in the show, so that's how I first heard about Bone Creek.

I was always drawn to the idea of a museum that focused exclusively on agrarian art. Since I loved to paint vineyards, I felt like it was a perfect marriage of interests.


We've had more and more vineyards across Nebraska here too. I hope you get to see a few of those.

No kidding! That's interesting. Well, you know, I've been to vineyards in Texas and Virginia and the dry deserts of Southern California, and now I live in Oregon wine country, so they are popping up everywhere!



They really are! For our listeners, Erin, how would you describe your work? And are you still limiting yourself to five pigments?

I am, indeed!

Using a limited palette is a big part of what makes my style stand out. I call my style of painting "open impressionism." I premix all my colors, so I create very juicy, vibrant hues, and then I place them side by side on the canvas. So, I don't overlap or blend or smush my brush strokes around. And this creates a very interesting effect in the oil paints. They have a lot of texture; they're very vibrant. You can recognize an Erin Hanson painting from a mile away. They look very different from other oil paintings.

I call my technique "open impressionism."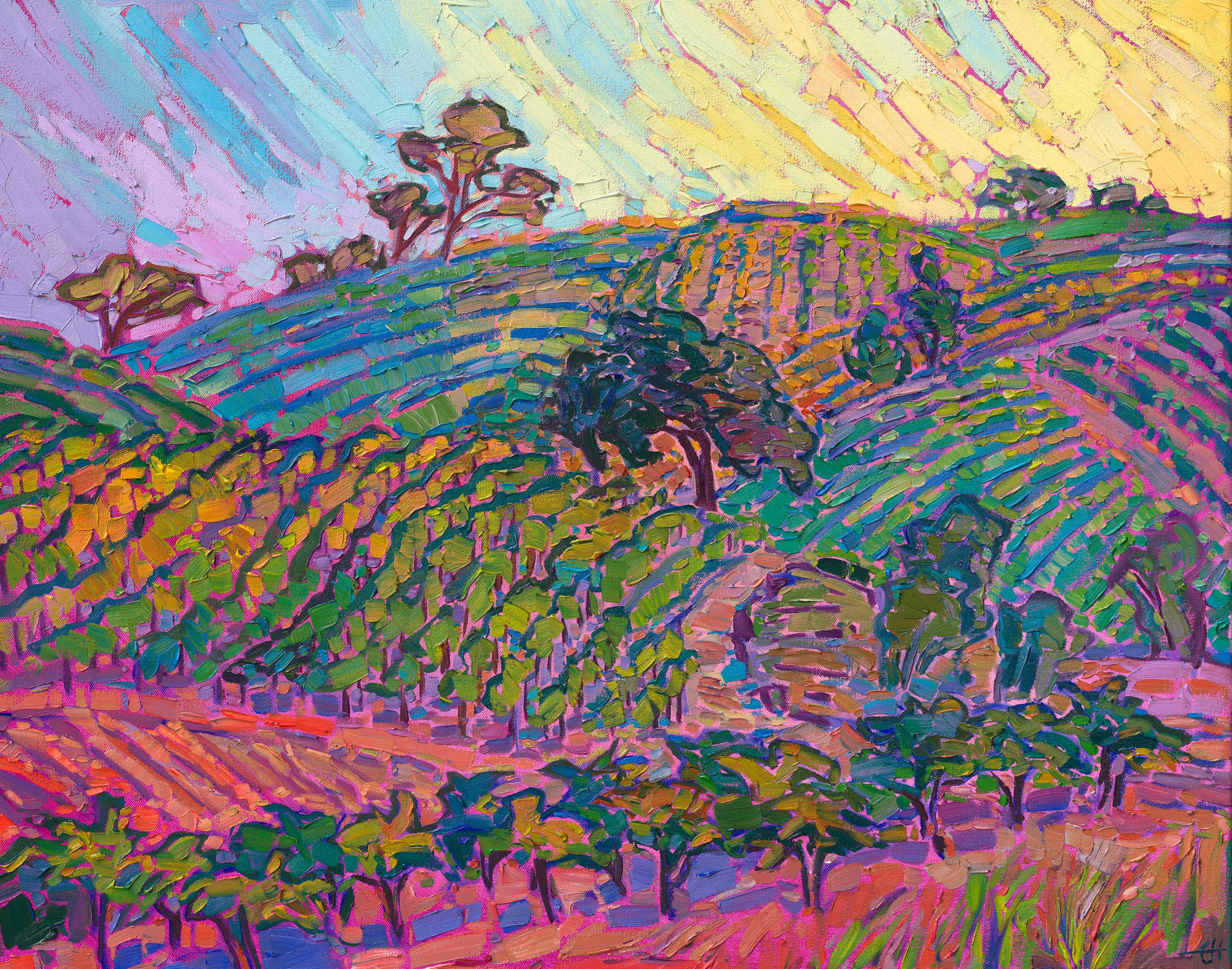 Vineyard Light by Erin Hanson, 2022

How did you arrive at that name?

I had been painting for many years. I had done a few hundred paintings in the style, and I didn't really know what to call my style – I didn't know I had a unique style – I was just painting.

Enough people said, "Wow, I've never seen artwork like this. What do you call your style?" I was always inspired by Monet and van Gogh and their use of color to paint natural landscapes, so I knew I was an impressionist. But really, my work is more abstract and expressionistic as opposed to strictly impressionistic. So, I had this idea of "open impressionism" because it's a more open, contemporary, modern look at impressionism. But it is a continuation of the impressionists of the past.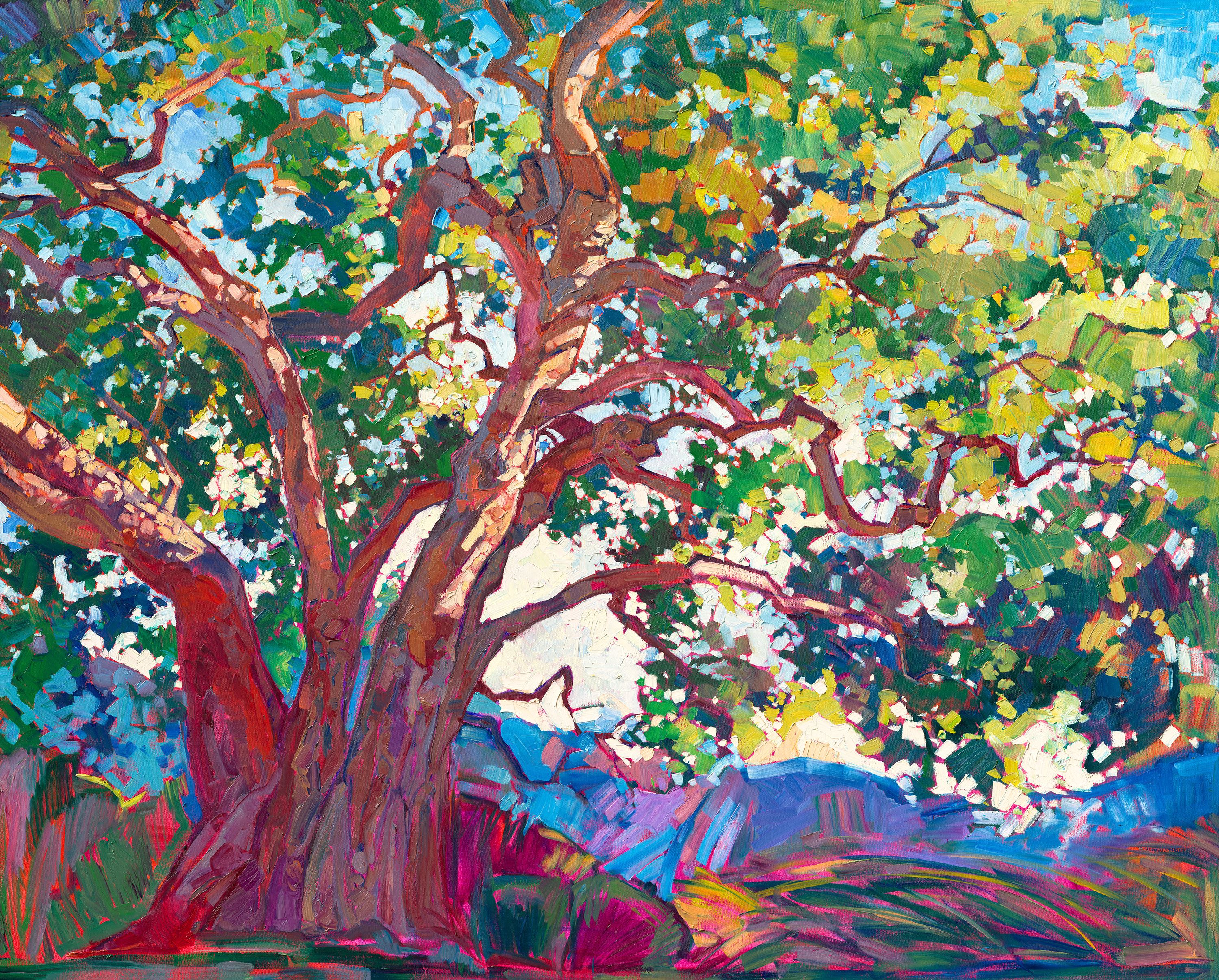 House Oak by Erin Hanson, 2013

Not only are you an artist, but Erin, you're an expert rock climber and an experienced backpacker. You've camped all over the western states in this country. I've read that your adventures have definitely influenced your work.

Absolutely. In fact, it wasn't until I became a rock climber that I even decided to become a landscape painter. I had moved out to Las Vegas, and they have gorgeous red rock cliffs there, and I started climbing every week. I fell in with a group of professional rock climbers, and they took me under their wing. In a few years, I was climbing 5-12s, leading routes, and I learned crack climbing.

I was so inspired by the colors I was seeing.

Since we lived in Las Vegas, we had to climb early in the morning because otherwise, it would get too hot, and you would slide right off the rocks. Early morning was when you would see the most beautiful colors outdoors. So, I started painting the colors I was seeing: rich purples and bright blues contrasted against vibrant oranges, apricots, and yellows.

That's what got me inspired to start painting, and I decided I would do one painting every week and see where my career took me. I have stuck to that decision for the past fifteen years.


That's a lot. So, fifty-two paintings a year!

Exactly. And now that I do this full-time, I paint even more than that. I've actually painted and sold over three thousand original oil paintings.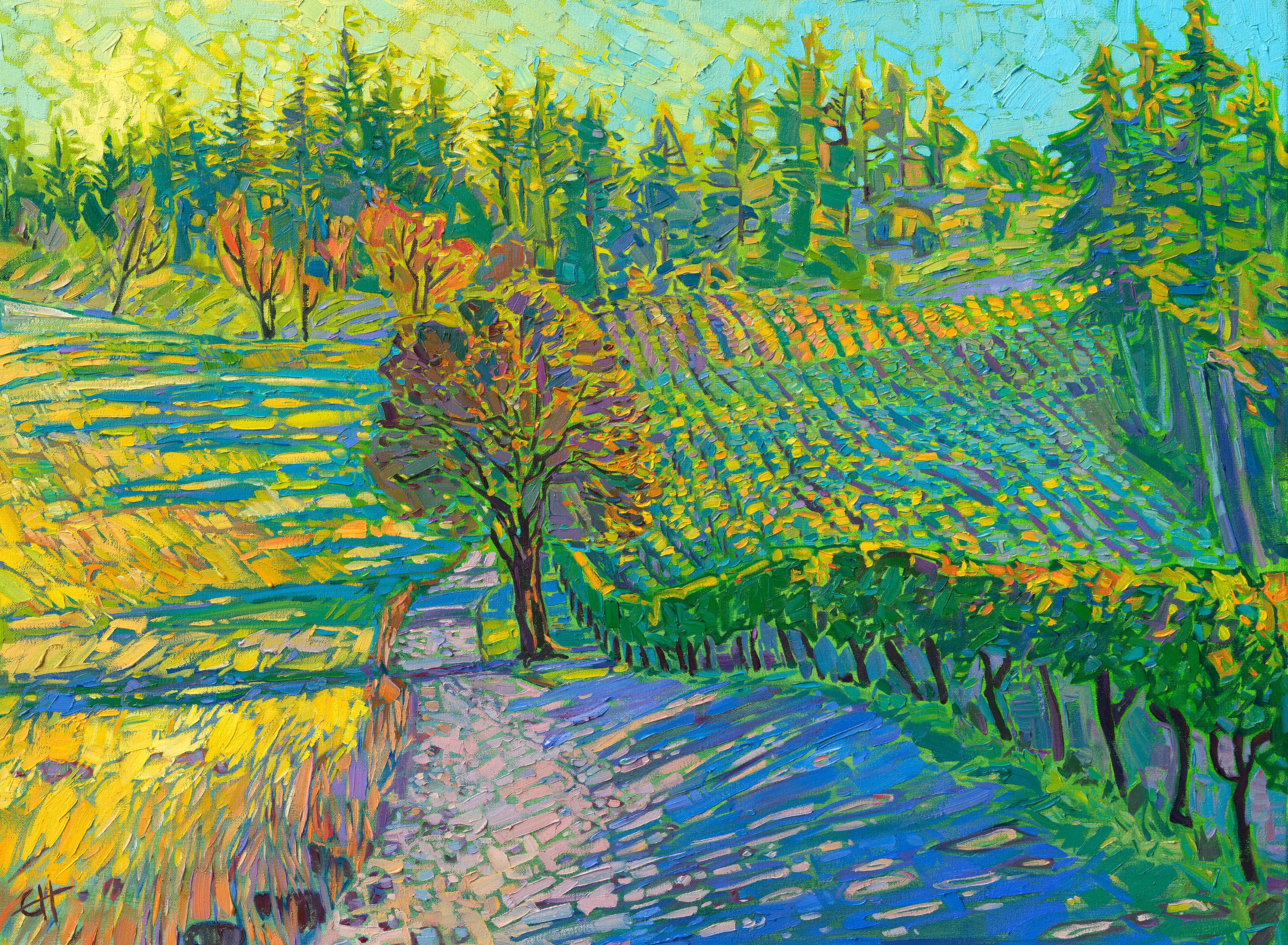 Vineyard Shadows by Erin Hanson, 2023
When you're painting, do you work from memory, or do you like to take photographs and then paint from those?

I work from photos I've taken in the field. But, as you know, having an iPhone, a photo is never as good as real life. So, I have to take my photo and reverse engineer it back to how it actually felt to see that scenery in person -- see that sunset big and huge across the sky, not tiny printed out on a little 8x10 photograph. So, that's my challenge as an artist. It's "How do I recreate the experience of being out of doors?"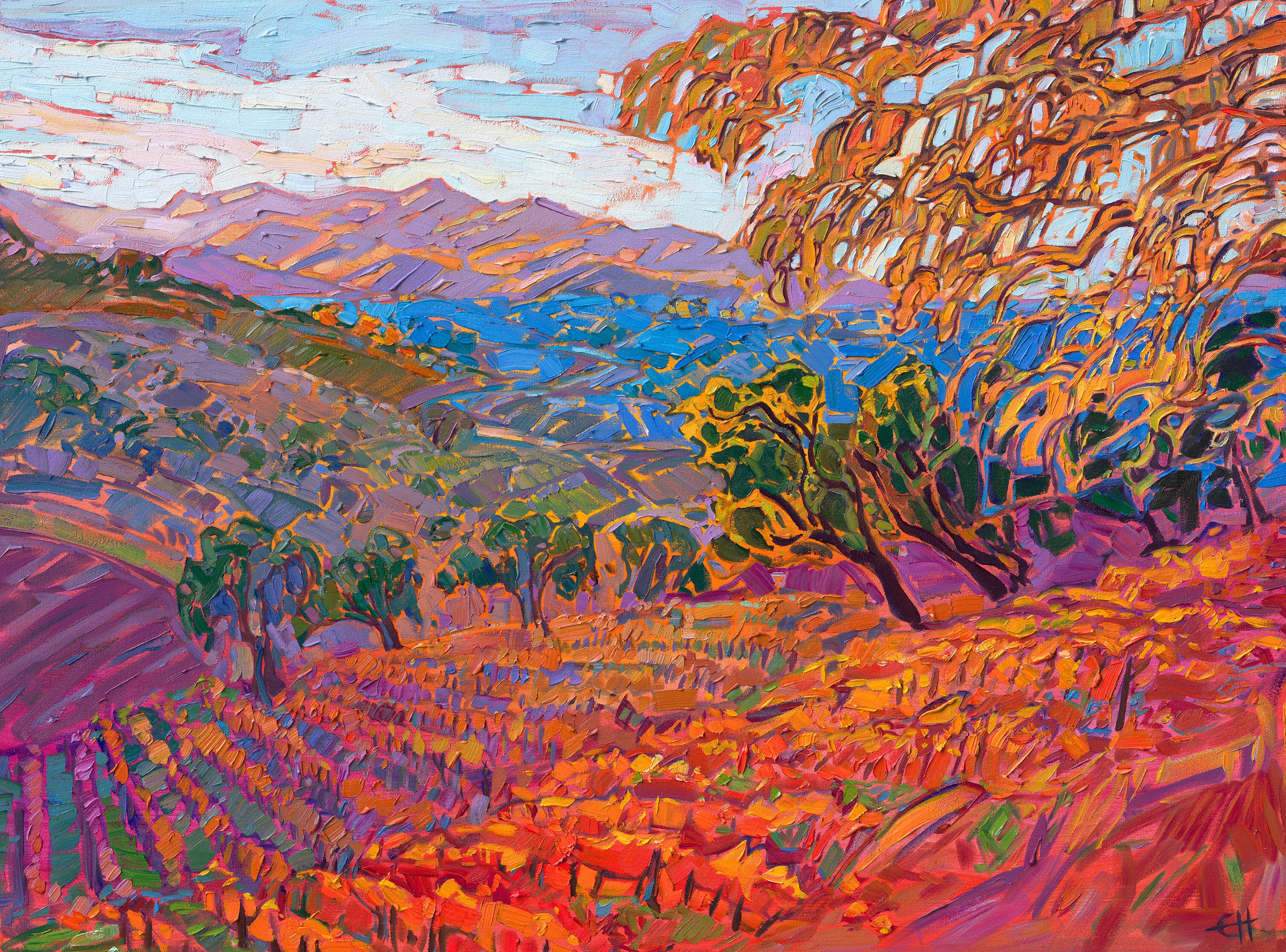 Golden Light by Erin Hanson, 2023
I think we've all had that experience with phones. Where we try to take a photo of something, and it just doesn't do it justice.

It's so true! I get so many emails of sunsets people have sent me. They say, "This was the most beautiful sunset I've ever seen!" and it just doesn't quite capture it, you know?


You began painting at a pretty early age – you were eight is what I found – and you haven't stopped. What advice would you give – or maybe have you given to – young artists or even parents of budding artists?

I always wanted to be an artist growing up, I even worked in a mural studio as a teenager, and I got told by so many adults that it was too hard to make a living as an artist, that I was a smart girl, and that I should go become a doctor or do something smart with my life and not take up art as a career.

So, I actually went and got my degree in bioengineering from UC Berkeley, and when I graduated, I just decided I didn't want to spend my life in a lab working for someone else. I wanted to create my own business and create my own career. I started a business that was able to support me while I was a budding artist.

I think the biggest trouble artists run into is: they know they want to be an artist, they go to art school, they become an excellent painter, they graduate, and they immediately expect their art to start supporting them and paying their rent and their insurance and their food and whatever. But it takes a number of years to build up enough collectors to support yourself as an artist.

So, the best advice I can give to artists is don't expect to make enough to live on right off the bat.

But DO NOT GIVE UP!

Start doing outdoor art festivals. Do as many festivals as you can. Create your own direct communication with your collectors – stay in touch with the people who buy your art. Keep your day job while building up your online social media presence and doing many art festivals – as many as you can. You can do them on the weekend and keep your day job.

The thing that finally turned me into a professional artist was I realized that every day I was spending not painting, I was losing money. My day job I was doing at the time, I was actually losing more money if I spent time working at that job than if I painted. Because I knew I would sell everything I painted.

That's my advice. Don't expect to be able to support yourself right away. But that does not mean you cannot make a living as an artist. It is easy to do. I personally know hundreds of artists, and that's what they do full-time. That's how they support themselves.


When you're doing something that you're passionate about, how do you protect yourself? You know what I mean? I think a lot of people in jobs that they work for passion have a tendency to overwork themselves. Or to not feel the same way about it. When your "self" is tied up in the job, rather than someone who just works in order to put food on the table.

It's true. It's easy to get tied up. Until I had a baby four years ago, I worked eighty hours a week. It's what I did. I painted during the week, and I did shows on the weekends. But now I have ten employees, I have an 18,000-square-foot warehouse, and I sell thousands of prints every year, so we have a huge print-producing department. I have an employee who varnishes my paintings, frames my paintings; she does all the behind-the-scenes stuff, so I don't have to do it.

But it's great. You can really build up a team, and if you're not good at marketing, a lot of these artists I see who are making a living, it's a husband/wife team, and maybe one of them is better at the marketing, and the talking to people and updating the website, and maybe the other spouse just creates the art. So, it can be done, and it is so rewarding to be able to wake up and be excited to go to work every day and to do what you love and get paid for it.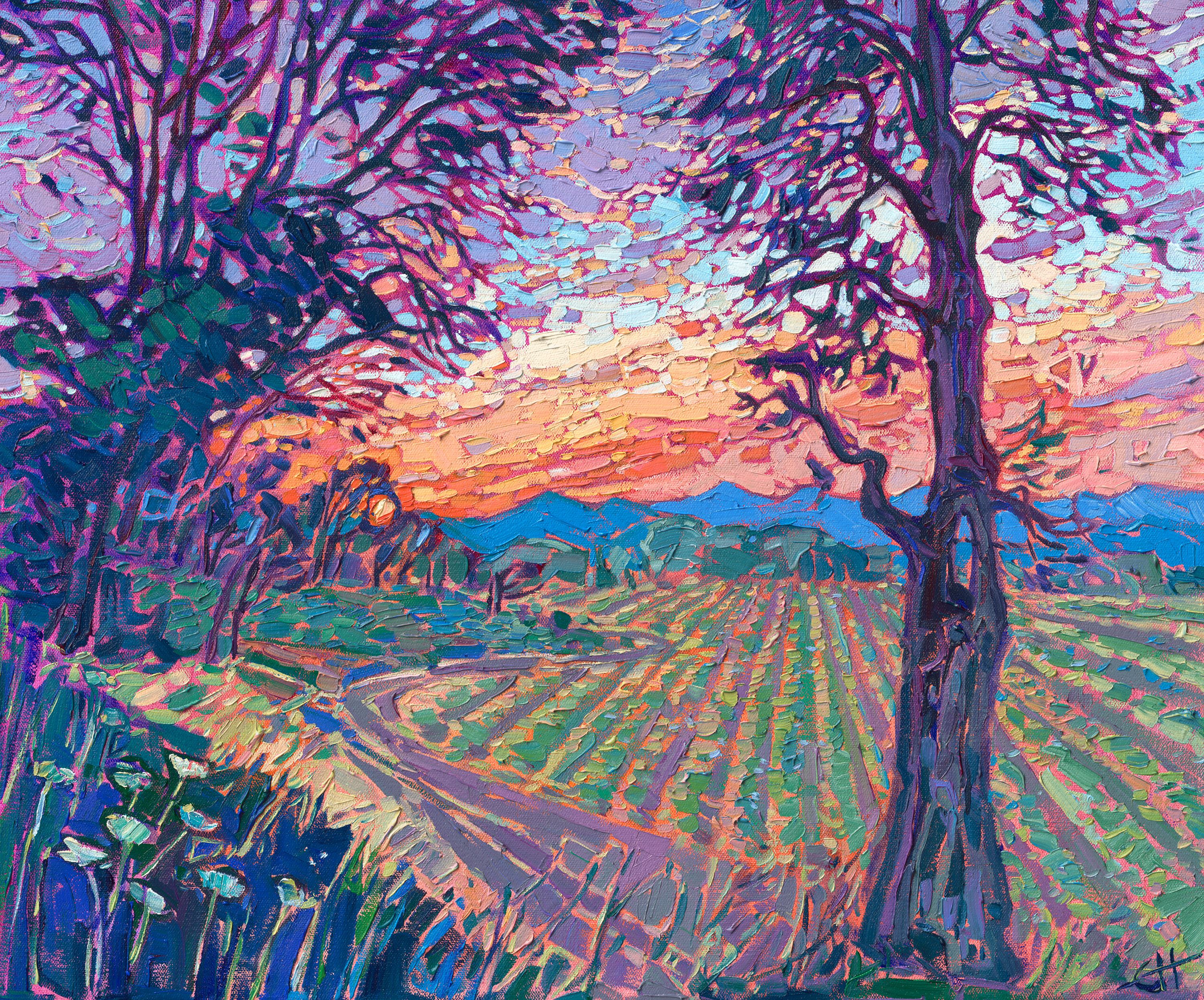 Cultivated Light by Erin Hanson, 2023

Before I let you go, Erin, you have seen quite a lot in your many travels. If you were to recommend one or two national parks to visit, for example, what would you recommend?

First thing that pops into my head is Zion National Park in Southern Utah. It's so great because of where it's located. Within a day, you can also go to Bryce Canyon, Monument Valley is right there, and the whole landscape – just driving, like the drive between the national parks should be a national park. It is stunning.

If you go in the fall, the colors are just out of this world.



Show Details
To enjoy the Color on the Vine exhibition in person, be sure to visit Bone Creek Museum of Agrarian Art before November 2nd. If you can't make it to David City, Nebraska, enjoy the exhibition online right here.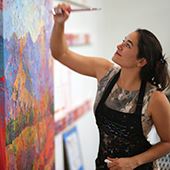 ERIN HANSON has been painting in oils since she was 8 years old. As a young artist, she worked at a mural studio creating 40-foot-tall paintings on canvas, while selling art commissions on the side. After getting a degree in Bioengineering from UC Berkeley, Erin became a rock climber at Red Rock Canyon, Nevada. Inspired by the colorful scenery she was climbing, she decided to paint one painting every week for the rest of her life. She has stuck to that decision ever since, becoming one of the most prolific artists in history. Erin Hanson's style is known as "Open Impressionism" and is now taught in art schools worldwide. With thousands of collectors eagerly anticipating her work and millions of followers online, Hanson has become an iconic, driving force in the rebirth of contemporary impressionism.

---
---