Go Leaf-Peeping on Paths Less Traveled with Erin Hanson [Part 2]
Go Leaf Peeping with Erin Hanson Throughout the United States
Monday, October 25, 2021
When you think about "leaf-peeping," your mind likely immediately goes to the traditional locations for autumnal foliage. Most American leaf-peeping tourist destinations are found in the northeastern United States in New Hampshire, Maine, Vermont, and other northern states. You probably don't think of Southern California or Utah as leaf-peeping destinations.
However, when you visit beautiful states in all seasons, as Erin Hanson does, you will discover that there are hidden gems all around America that burst with color during the fall season.
Come on a journey with Erin as she explores the leaf-peeping paths less traveled around the United States.
Leaf-Peeping in Utah
Utah trees abound with color in the autumn. This state is filled with national parks, hidden valleys, and alpine drives. If you look up "scenic drives" in Utah, you will find popular destinations like Provo Canyon and Alpine Loop.
Erin has spent years exploring Utah's national parks and she has exhibited several times in Zion National Park and St. George Art Museum. So, you can imagine that she has captured at least a few autumns in this brilliant state.
Cedar Breaks National Monument
Cedar Breaks is known for its incredible views and its glorious red rock amphitheater. However, this national monument is also covered in bristlecone pine and quaking aspens.The variety of trees, colorful rocks, and golden foliage make it an incredibly vibrant place to visit in the fall.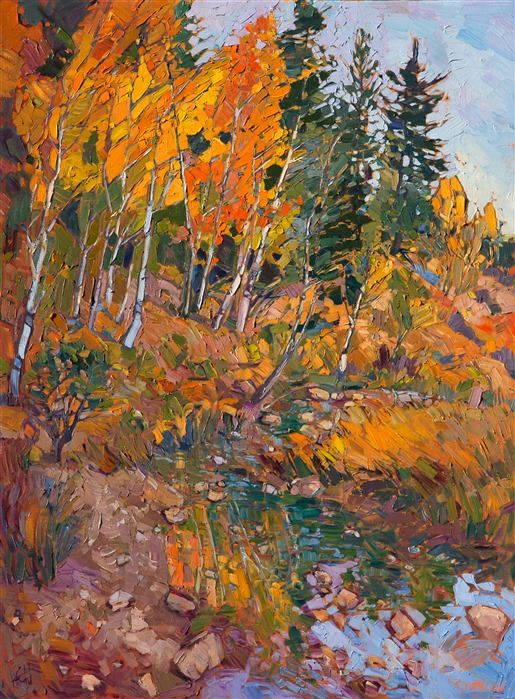 Utah in Gold by Erin Hanson, 2015
Hiking in Cedar Breaks National Monument inspired this painting of October-hued cottonwoods. A peaceful and secluded breakfast beside this quiet brook allowed a restful moment of contemplation and awe for the stunning surroundings.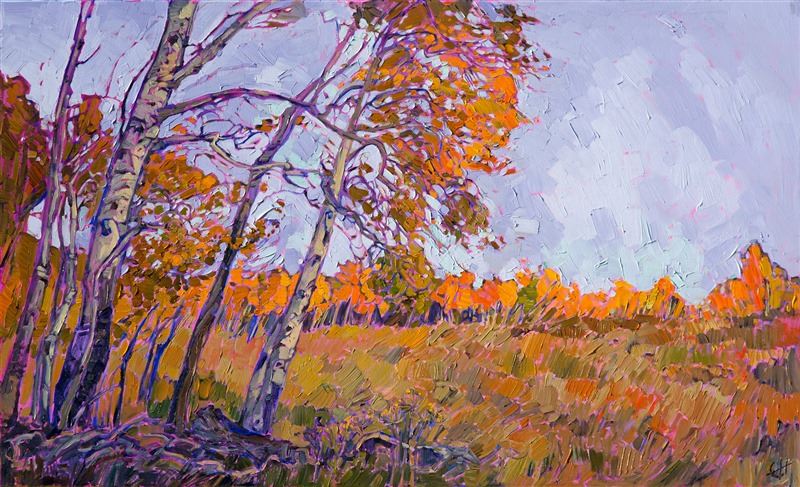 Aspen Light by Erin Hanson, 2016
This painting of Cedar Breaks National Park captures the contrast of the autumn aspens against a lavender-hued, cloudy dawn sky. This painting is alive with texture and motion, the brush strokes forming an impressionistic mosaic of color.
Southern Utah
Utah is filled with incredible landscapes, hiking spots, and natural places. Erin, an avid hiker, camper, and rock climber, has traversed the entire state. However, one of her favorite regions is in Southern Utah. There, you will find an incredible variety of landscapes. One autumn took her to the south of Utah for some hiking, and she came across a gorgeous, rain-drenched path that perfectly encapsulates the variegated leaves seen throughout autumn.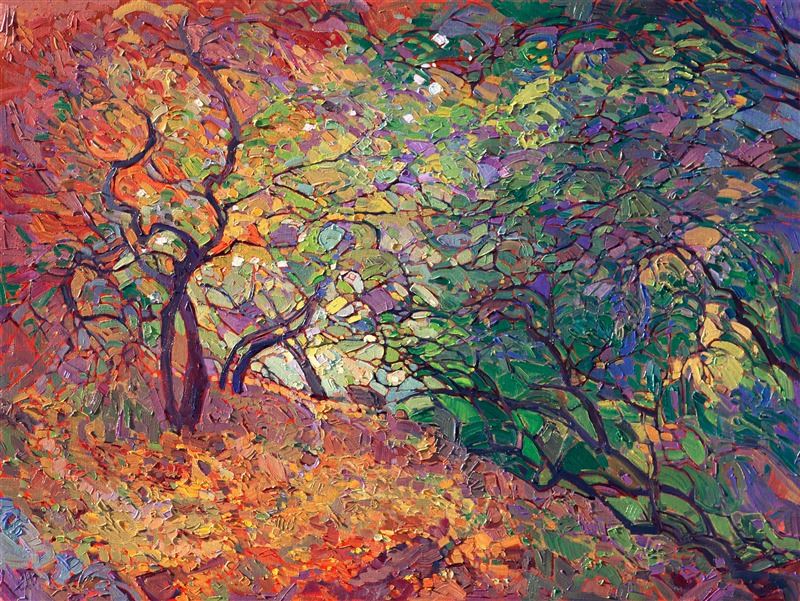 Cottonwood Path by Erin Hanson, 2015
Inspired by a hike through southern Utah, this painting captures the low, overhanging branches of the gnarled cottonwoods. In early autumn, the cottonwoods had mostly dropped their leaves, and the red dirt path was covered in coin-shaped golden drops of color. The day had been drenched in rain, saturating all the colors and covering the canyon floor with a fresh bed of leaves.
Zion National Park
Zion is filled with Erin's favorite warm colors. Red, peach, and cream sandstone cliffs soar above valleys filled with sparkling streams, cottonwoods, rabbitbrush, and ephemeral pools. These colors become even more brilliant in the fall when leaves turn and contribute to the vibrant reds already found in Zion National Park.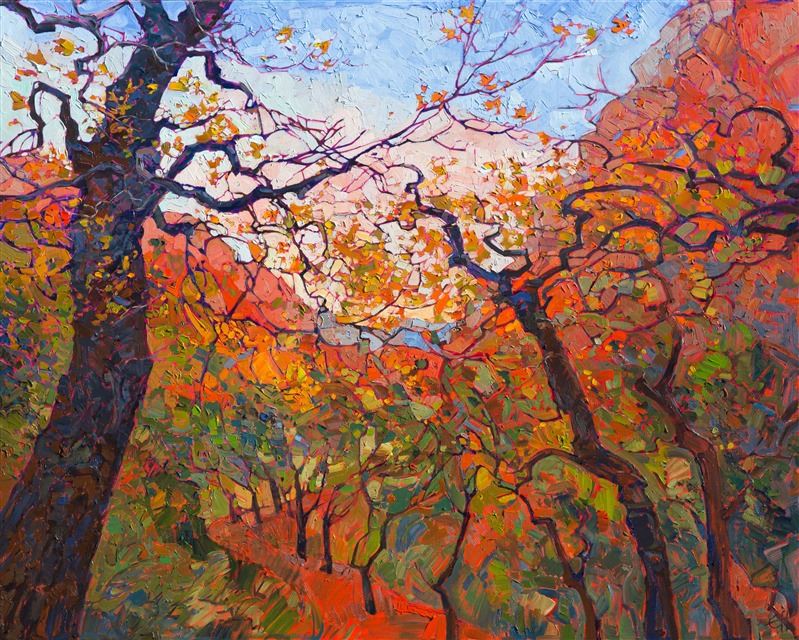 Autumn Tapestries by Erin Hanson, 2015
Tapestries of color and contrasting light come to life in this oil painting of Zion National Park. The red rock cliffs blend and dance with the changing colors of the rainbow-hued cottonwood trees. Thickly applied brush strokes capture the eye in an ever-changing mosaic of texture.
Autumn Zion by Erin Hanson, 2015
Another backpacking-inspired painting from the long 50-mile trek across Zion, this painting brings back memories of days surrounded by nothing but preserved land and wide-open vistas. This is a painting of Hop Valley, near Kolob Canyon.
Leaf-Peeping in New Mexico
Traveling south of Utah, Erin visited New Mexico in the late fall. While this was a bit after peak leaf-peeping season, we wanted to share one piece she created in Santa Fe, New Mexico, perfectly showcasing the transition between fall and winter.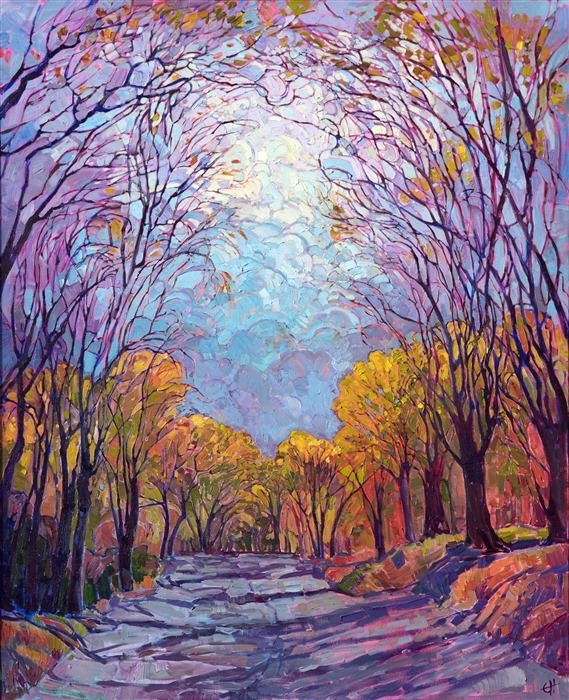 Embroidered Light by Erin Hanson, 2016
This painting was inspired by a chilly drive through the tree-lined lanes of Santa Fe, New Mexico. The tall cottonwoods stretched high overhead, creating an embroidered tapestry with their crisscrossing branches.
Leaf-Peeping in Colorado
From New Mexico, we head east with Erin, exploring the beautiful state of Colorado. With a variety of landscapes from the Colorado Rockies to the Great Plains, Colorado is filled with beautiful colors during leaf-peeping season. Below are just a few examples of the brilliant autumnal hues you can find in Colorado during the fall.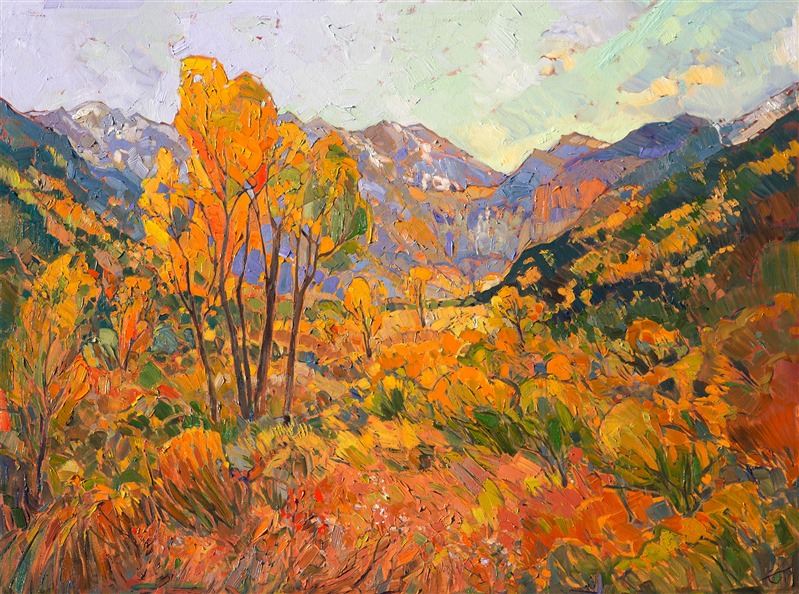 Autumn Gold by Erin Hanson, 2015
This painting was inspired by October explorations in Colorado, seeking out the brilliant color changes of the aspens and cottonwoods. The brush strokes are thick and impressionistic, creating a mosaic of color and texture across the canvas.
Colorado Heights by Erin Hanson, 2019
Driving high in the Colorado Rockies in search of autumnal leaves, Erin saw this vista spreading before her, awash in all the colors of autumn. She used wide, expressive brushstrokes to capture the feeling of being out in the open air, surrounded by vibrant, vivid colors.
Leaf-Peeping in California
California contains a myriad of landscapes, from coastal-scapes to desert-scapes, from mountain ranges to farmland, and more. It is, after all, the third-largest state in the US. However, if you ask most people about landscapes in California, they usually think of palm trees, the ocean, or wineries. There is so much more to the state than these particular landscapes, and here we will explore the autumnal scenes you can find throughout the 163,000+ miles that this state spans.
Sierra Nevada Mountains
The Sierra Nevada mountain range forms the backbone of the AmericanWest. This iconic mountain range runs from California to Oregon, which means that it spans all kinds of landscapes and provides ample opportunity for leaf-peeping in the autumn.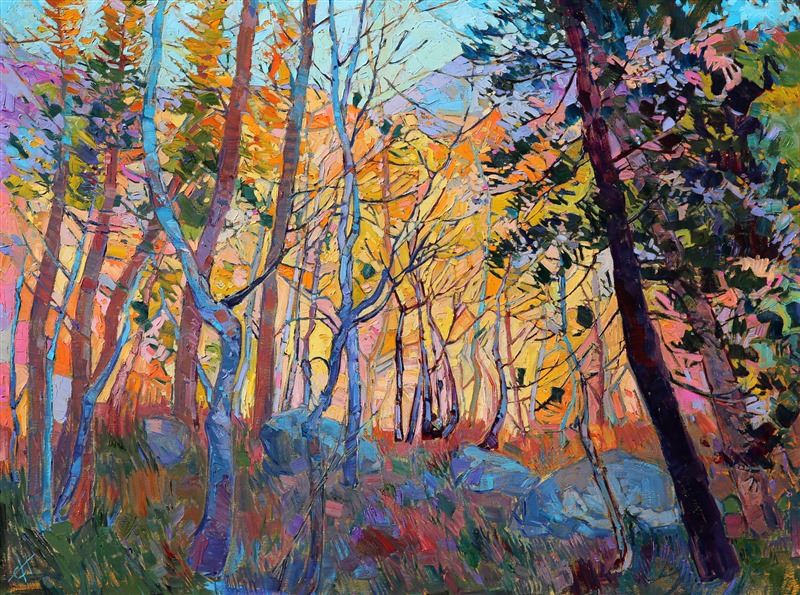 Colors of Sierra by Erin Hanson, 2014
This painting was inspired by a November, snow-dusted backpacking trip in the eastern sierras. As the last rays of sun closes over the landscape, the late autumn birch trees turned the color of crystal flame. Erin camped that night between the pines and granite boulders on the canyon floor.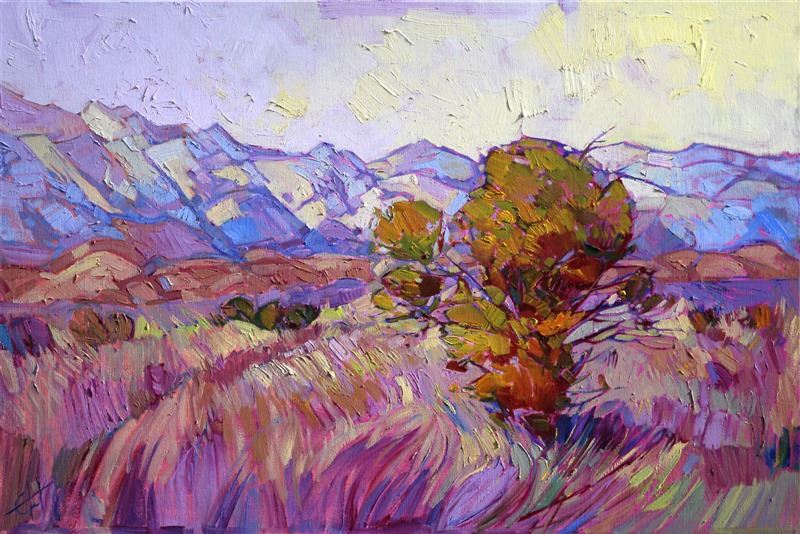 Autumn in Lavender by Erin Hanson, 2014
Backpacking in the eastern Sierras near Lone Pine inspired this calming painting of the Sierra range. The dusky greens are set off by rich lavender shadows. This painting really captures and communicates the wide range of colors that can be found during late fall/early winter.
Southern California
When most people imagine Southern California, they think of palm-lined streets, a concrete jungle, and the ocean. There are so many more natural spaces to be found in this part of the world, even in Los Angeles. In LA, you will find hiking trails, horse trails, and acres upon acres of National Forest. It's truly a beautiful place and has plenty of trees that turn in the fall.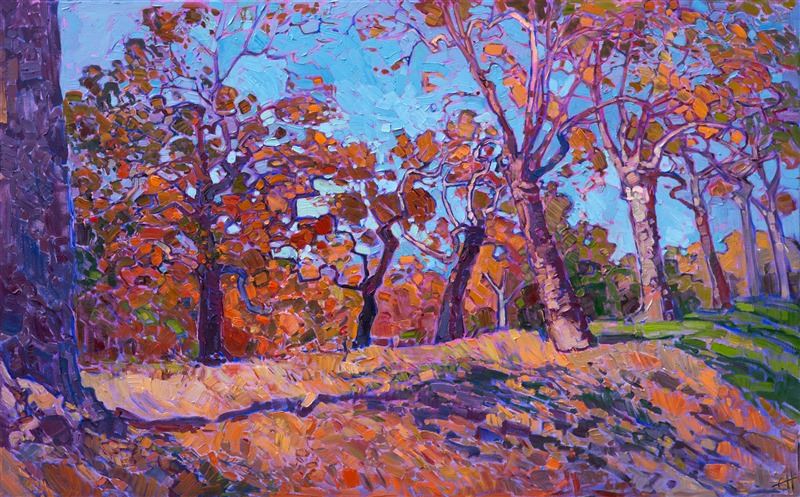 Autumn Orange by Erin Hanson, 2016
This painting was inspired by September sycamores growing in southern California. Their burnt orange color against the early autumn sky was an intriguing contrast. This painting celebrates the natural beauty that can be found anywhere around one, even in a concrete city like Los Angeles.
Central California
The stretch of land between Los Angeles and San Francisco is filled with farms, wineries, forests, and more. The most commonly visited areas in this long, varied space are Santa Barbara, Monterey, Sequoia National Forest, and other famous locations. One of Erin's favorite places to visit in Central California is the rolling vineyards of Paso Robles. There is something incredible about the power of grapevines as they push themselves out of the earth and wind in abstract patterns along a supportive trellis.
Grapes also turn beautiful colors in the fall, their leaves vibrant and varied. Enjoy the autumnal vines and views in the artworks below.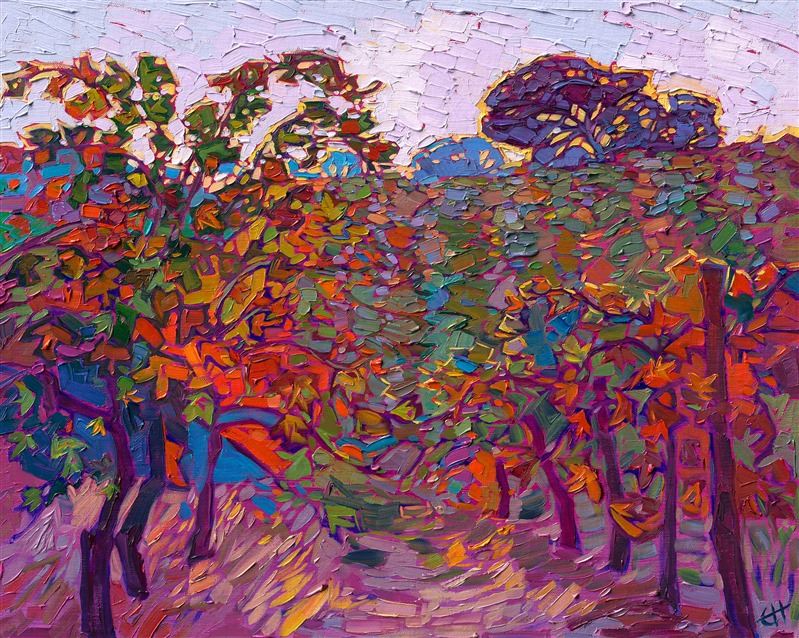 Autumn Vines by Erin Hanson, 2020
An impressionistic flurry of autumn color, this petite oil painting captures the beauty of PasoRobles wine country in the fall. A periwinkle sky glows with hints of sunshine yellow, while the rows of vines glow with subtle color changes ranging from pumpkin orange to royal purple.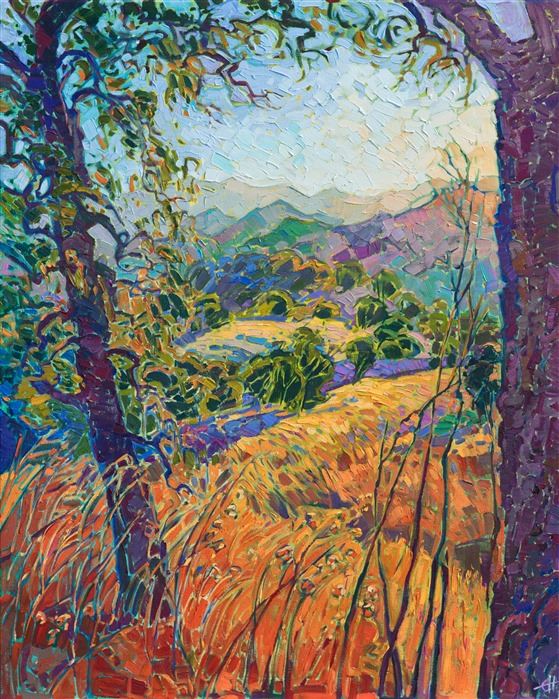 Autumn Hills by Erin Hanson, 2018
This painting was inspired by the hill-top view at Adelaida Winery, in Paso Robles, California. This modern impressionism painting was created with thick, painterly brushstrokes and expressive color. The autumn summer light casts a warm glow across the landscape, highlighting the distant coastal mountain range.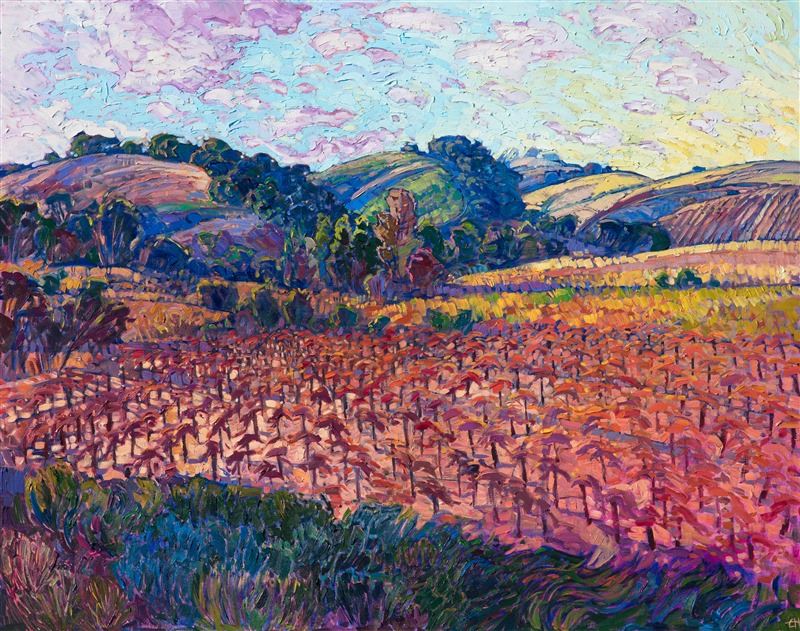 Autumn Vineyards by Erin Hanson, 2018

The rich, warm colors of autumn spread across this vineyards scene from central California. The vivid reds and yellow seem to glow upon the canvas. Each brush stroke is loose and impressionistic, bringing a sense of motion and vibrancy to the painting.
Napa Valley
While wineries dot California, the county nestled above San Francisco Bay is the most famous area for wine tourists in the United States. One simply has to say "Napa," and most oenophiles will know where the speakers are referring.
Like the Centra Valley, Napa's vineyards and landscapes are filled with autumnal color in the fall. Brilliant displays of turning leaves grace vines, oaks, and poplars. Take a look at two views of an autumnal Napa Valley below.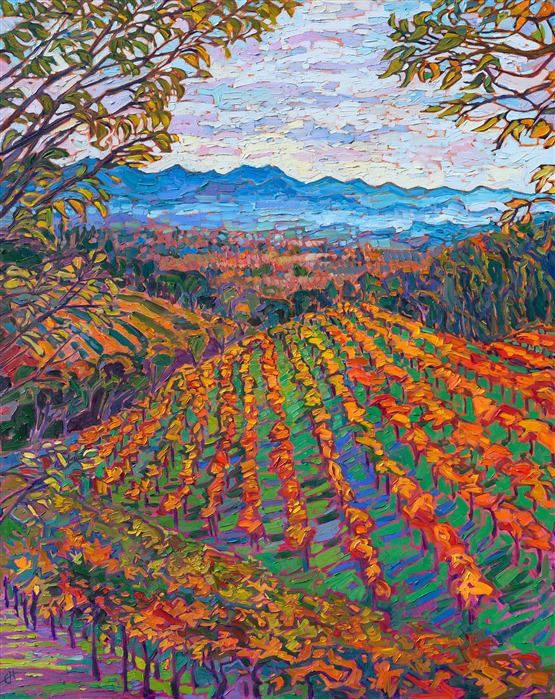 Napa Mist by Erin Hanson, 2021
Cool blue mist gathers in the valley of Napa wine country, as the early morning sun illuminates rows of autumn-hued vineyards. The brush strokes in this impressionistic painting are thick and colorful, capturing the feeling of being out-of-doors.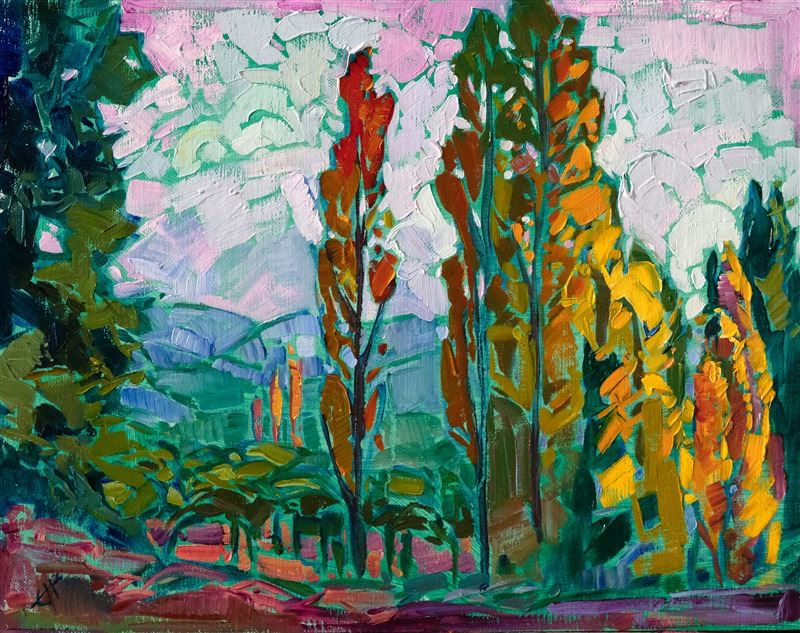 Dawning Autumn by Erin Hanson, 2019
A row of poplar trees turning hues of autumn catch the afternoon light in this oil painting of Napa, California. The brush strokes are loose and impressionistic, creating a mosaic of color across the canvas.
Leaf-Peeping in Oregon
Oregon is filled with a vast variety of landscapes, from wine and farm country to desertscapes to coastal expanses. This state, which now headquarters The Erin Hanson Gallery, is filled with incredible color during the fall. Since the move in early 2021, Erin has painted several local landscapes, and will likely continue to do so as ephemeral fall colors fill the countryside.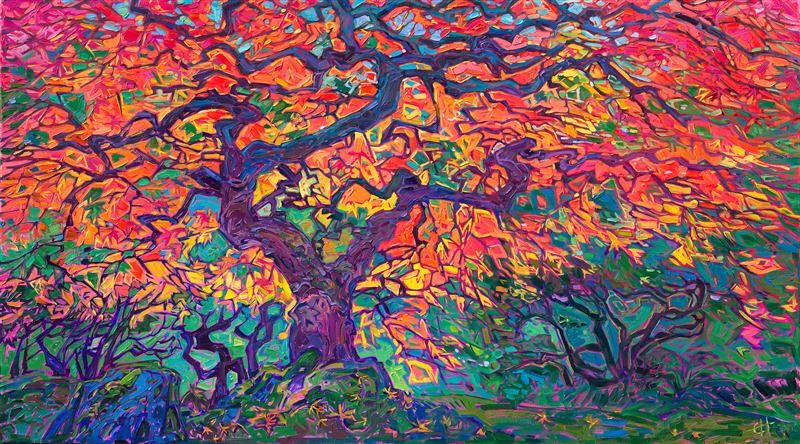 Maple Zen by Erin Hanson, 2021
The famous maple tree at the Portland Japanese Garden is captured here in vivid hues of red, orange, and gold. The gnarled, twisted branches create abstract shapes between the autumn leaves. Each brush stroke is thick and impressionistic, creating a mosaic of color and texture across the canvas.
Would you like to explore more autumnal works by Erin Hanson? Click here to explore all Erin Hanson pieces that celebrate fall colors.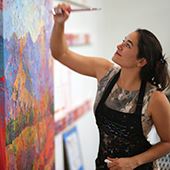 ERIN HANSON has been painting in oils since she was 8 years old. As a young artist, she worked at a mural studio creating 40-foot-tall paintings on canvas, while selling art commissions on the side. After getting a degree in Bioengineering from UC Berkeley, Erin became a rock climber at Red Rock Canyon, Nevada. Inspired by the colorful scenery she was climbing, she decided to paint one painting every week for the rest of her life. She has stuck to that decision ever since, becoming one of the most prolific artists in history. Erin Hanson's style is known as "Open Impressionism" and is now taught in art schools worldwide. With thousands of collectors eagerly anticipating her work and millions of followers online, Hanson has become an iconic, driving force in the rebirth of contemporary impressionism.

---
---