An in-depth look at the painting "Rays of Light"
Painting In-Depth Look
Tuesday, July 30, 2019
I first discovered the unique desert landscapes of the Coachella Valley over 12 years ago. I had started doing art festivals in downtown Palm Springs and soon fell in love with the beautiful colors and dramatic backdrop of the San Jacinto mountains.
I have countless memories of waking up before dawn to set up a show and experiencing the unbelievable color shifts as the first rays of dawn illuminated the mountains behind me. I learned to love painting all the varieties of palm trees that grew in the valley, from short shaggy palms to elegantly slim palms that stretched high into the sky. Each day, after manning my festival booth, I would wait eagerly for the sun to set and would rush to the east side of the Coachella Valley, where I could watch the magical color change on the far eastern mountain range.
One of my favorite places to explore these unique desert landscapes are the many palm oases around Palm Springs and Indio. These hidden miracles of water and life are tucked away amid dry, arid mountain crevices. You would never know they existed until they appear suddenly in front of you, a bright green explosion of verdant plant growth. From ferns to shaggy palm trees, these plants gather around the running waters that spring from the San Andreas fault line.
I have painted several works inspired by these oases. You can see the pieces here.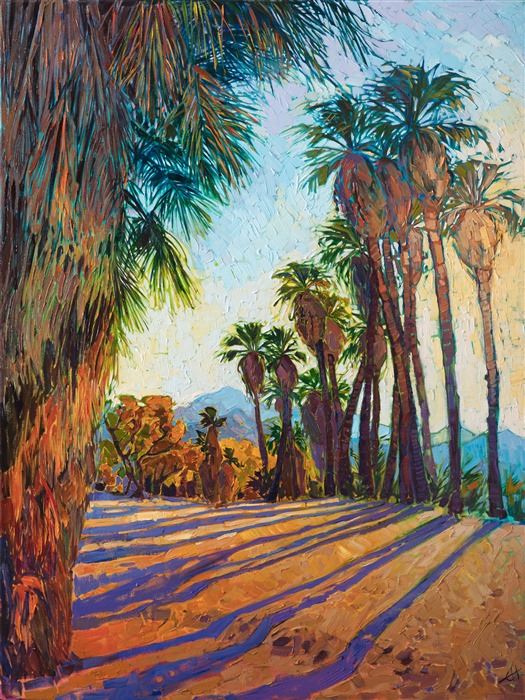 In "Rays of Light," I was inspired by an early morning hike in Indian Canyons near Palm Springs. The early morning light created a soft yellow glow all across the landscape, and the distant mountain peaks glowed shades of blue and lavender in contrast. The groves of palm trees grew tightly packed together, the ground strewn with their fallen fronds. Abundant ferns and yellow blooms peeked between the palms. The loose brushstrokes and thickly applied oil paint capture the movement and spontaneity of the scene.
"Rays of Light" is available to view in person at my gallery in San Diego. The piece has been framed in a contemporary gold floater frame.
Here is a digital "in-room mockup" of the painting, so you can get a sense of the size of the piece: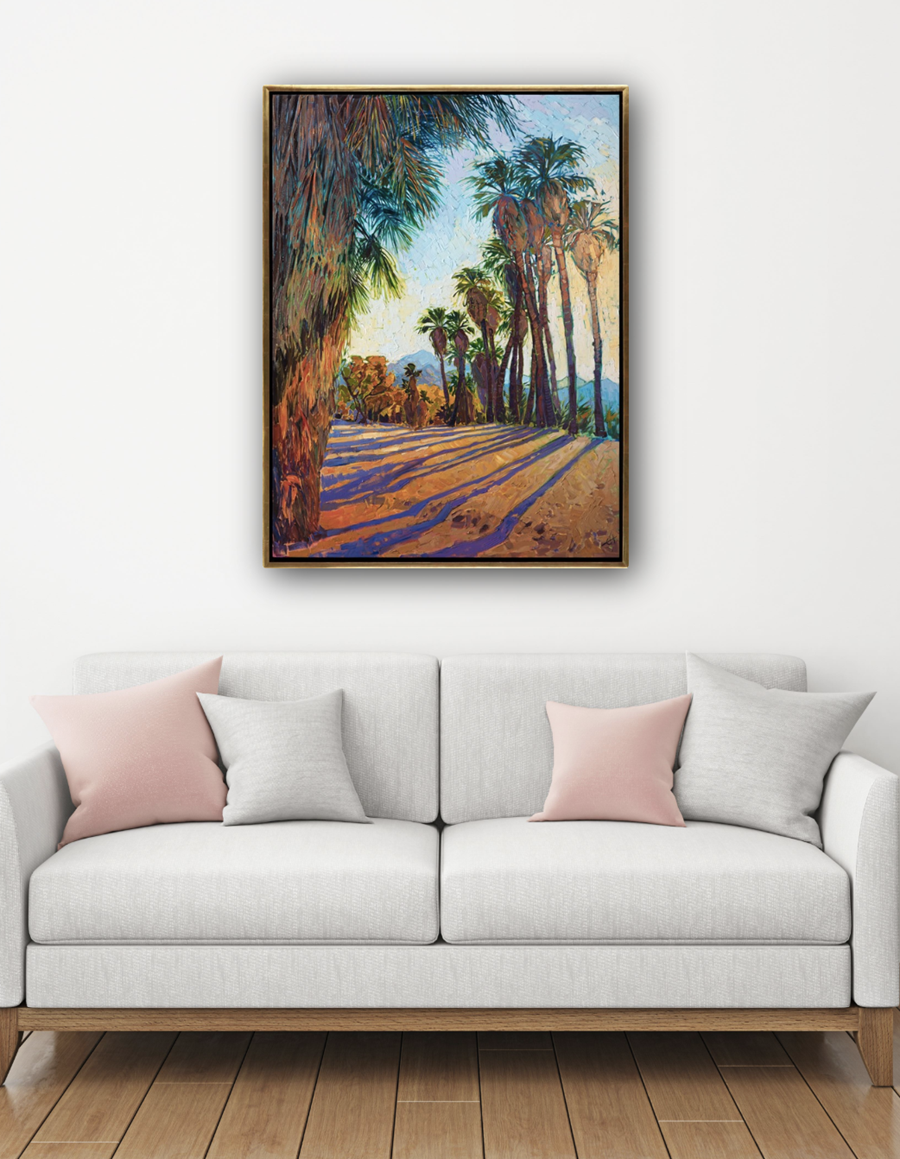 Rays of Light
Oil on canvas, 30 x 40 inches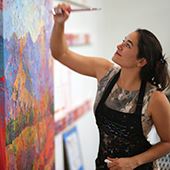 ERIN HANSON has been painting in oils since she was 8 years old. As a young artist, she worked at a mural studio creating 40-foot-tall paintings on canvas, while selling art commissions on the side. After getting a degree in Bioengineering from UC Berkeley, Erin became a rock climber at Red Rock Canyon, Nevada. Inspired by the colorful scenery she was climbing, she decided to paint one painting every week for the rest of her life. She has stuck to that decision ever since, becoming one of the most prolific artists in history. Erin Hanson's style is known as "Open Impressionism" and is now taught in art schools worldwide. With thousands of collectors eagerly anticipating her work and millions of followers online, Hanson has become an iconic, driving force in the rebirth of contemporary impressionism.

---
---