Memory Lane: The History of Open Impressionism
Wednesday, December 16, 2020
In 2007 I coined the moniker "Open Impressionism" to describe the style of painting that I had been evolving. Open Impressionism was born after painting (and climbing) desert rocks for many years. The chunky, abstract shapes of the rocks informed my brush as I captured their sharp shadow lines and flat planes of color. I apply the word "open" to denote a more open and modern approach to impressionism (I use wide, thick brush strokes instead of the traditional narrow brush strokes, for example); also the word "open" is appropriate because my paintings are inspired directly by the open air and natural beauty of the outdoors. My paintings focus on the changing effects of light, in the spirit of the past impressionist masters.

What makes Open Impressionism unique? I create my paintings without layering, unlike traditional oil painters, who build up their paintings with many layers of semi-transparent paint. Because I do not paint in layers, my work is looser, more immediate, and alive -- each brushstroke exists exactly as I originally placed it -- I do not overlap or change my brushstrokes after the paint hits the canvas. After creating thousands of paintings in this style, I am able to "get the brush strokes right the first time" as I place them on the canvas. (Of course, I do a fair amount of pre-planning before I ever pick up a brush, which assists my confident brushwork!)

My Open Impressionism paintings take advantage of the brightly colored underpaintings I lay down before I begin painting -- the underpainting peeks through between my brush strokes, adding unexpected glimmers of color and light throughout the piece. This effect gives my work a stained glass or mosaic look.

I hope you enjoy the look down memory lane below. I have selected a few Open Impressionism pieces from the past 13 years for you to view.
- Erin Hanson
---
A Walk Down Memory Lane
2007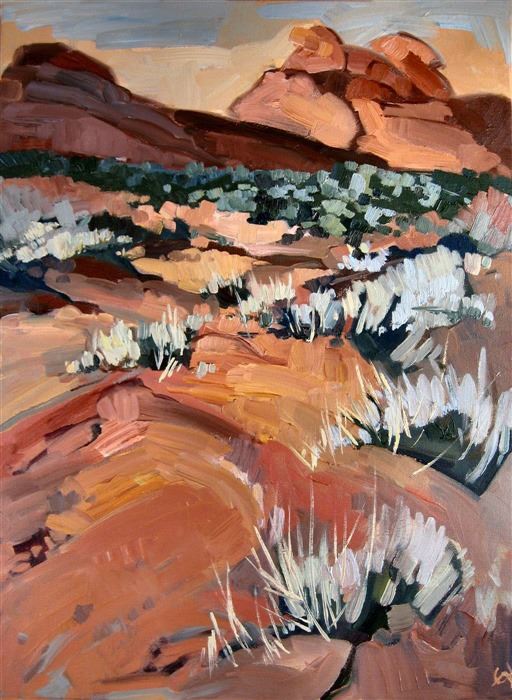 Valley of Fire, 30 x 24 inches
Original oil painting of Valley of Fire State Park, the late afternoon light casting a pink glow over the landscape.
---
2008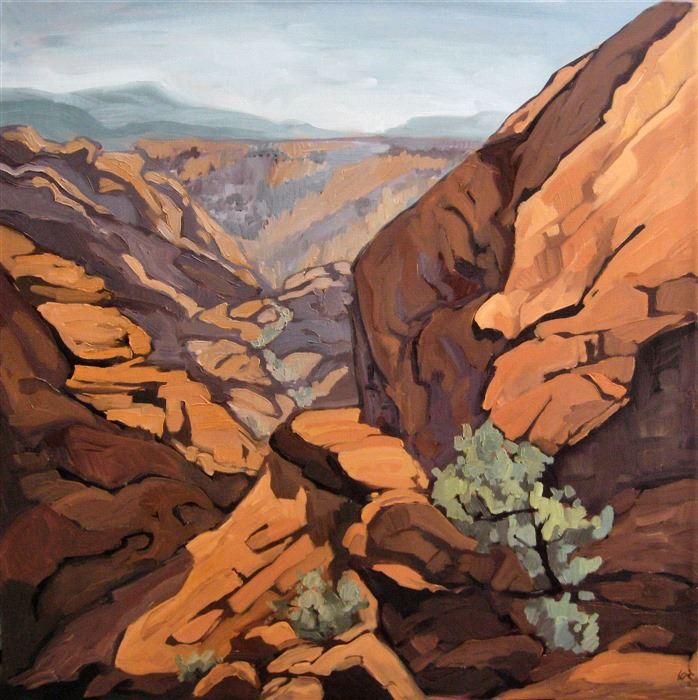 Sweet Pain, 24 x 24 inches
"Sweet Pain" is a challenging climbing wall in Red Rock Canyon, where Erin has spent many an afternoon. The red sandstone in this painting is set off by beautiful lavender shadows.
---
2009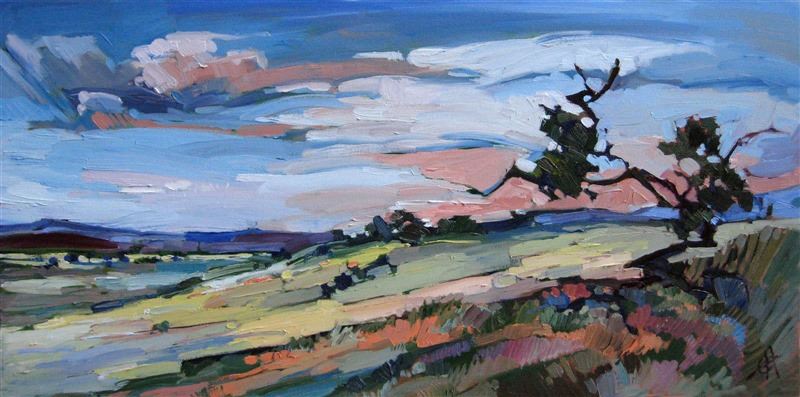 Arizona Pine, 24 x 48 in
The soft colors in this painting capture the feel of the wide-open desert of northern Arizona. The high desert pines are gnarled and stunted from the high winds and dramatic weather.
---
2010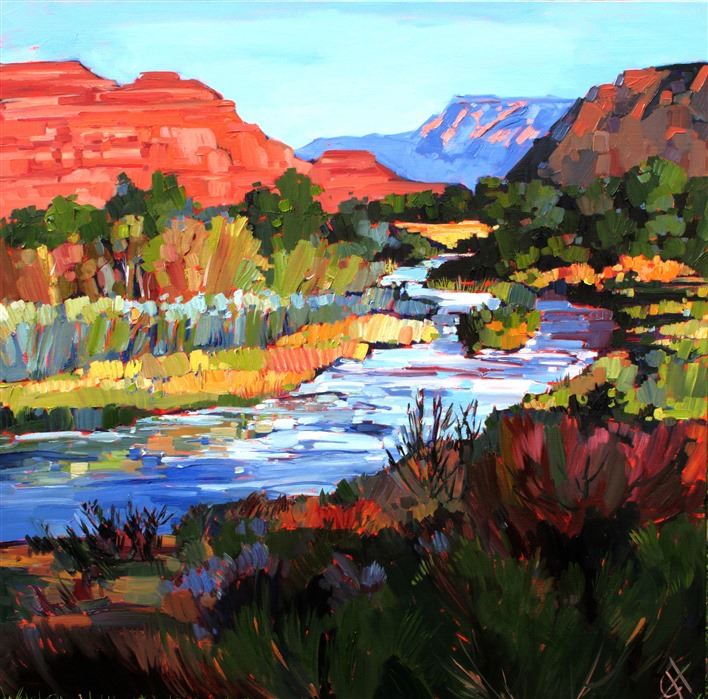 Leaving Zion, 30 x 30 inches
Leaving Zion from the west end of the park, the landscape is seen here bathed in late afternoon colors.
---
2011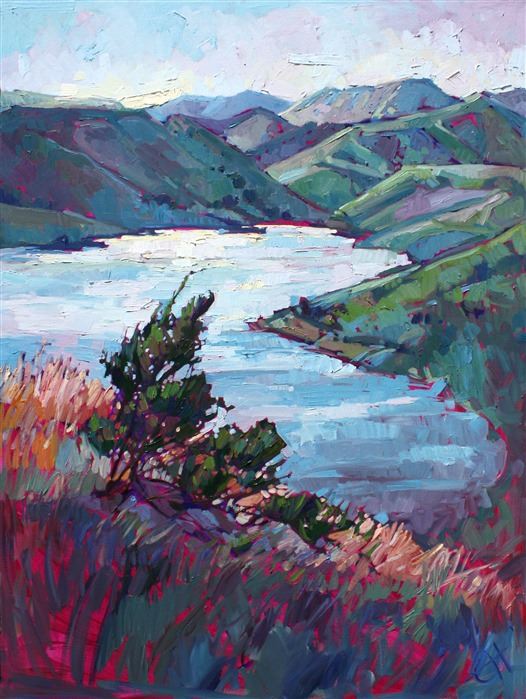 Paso Lights, 40 x 30 inches
California coastal oil painting by Erin Hanson, in impressionistic shapes and colors painted in bold, impasto brush strokes. This inlet of water was found by driving the winding roads between Paso Robles and Cambria.
---
2012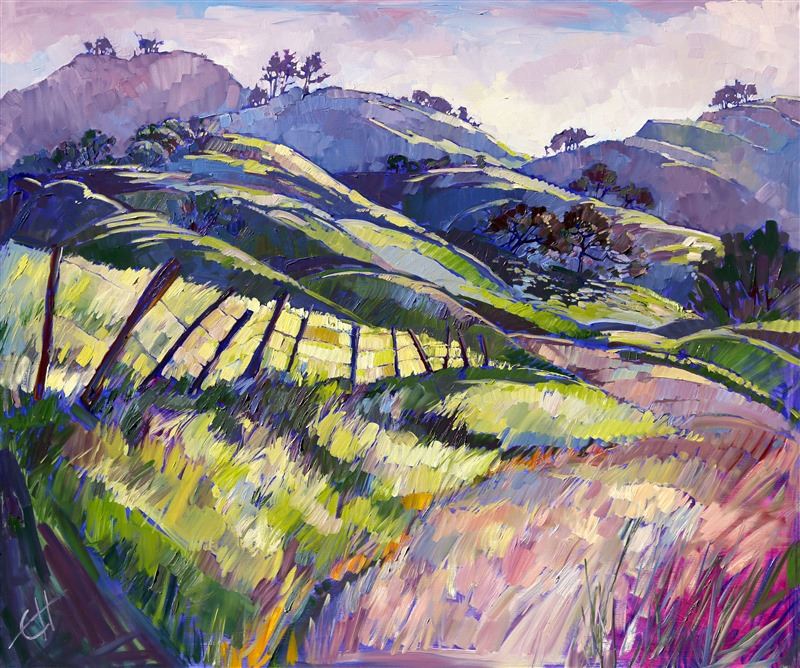 Purple Haze, 60 x 72 inches
A hazy, purple-lit morning in Paso Robles, captured in bold, lively brush strokes. This painting was inspired by a foggy morning driving through the vineyards off Highway 46.
---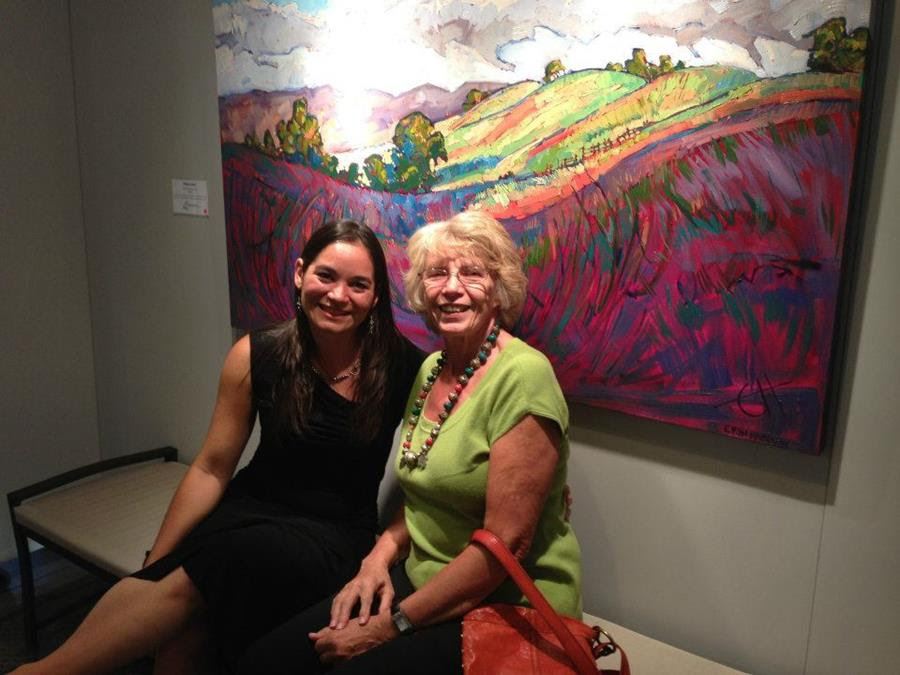 My first ever solo exhibition (2012)

---
2013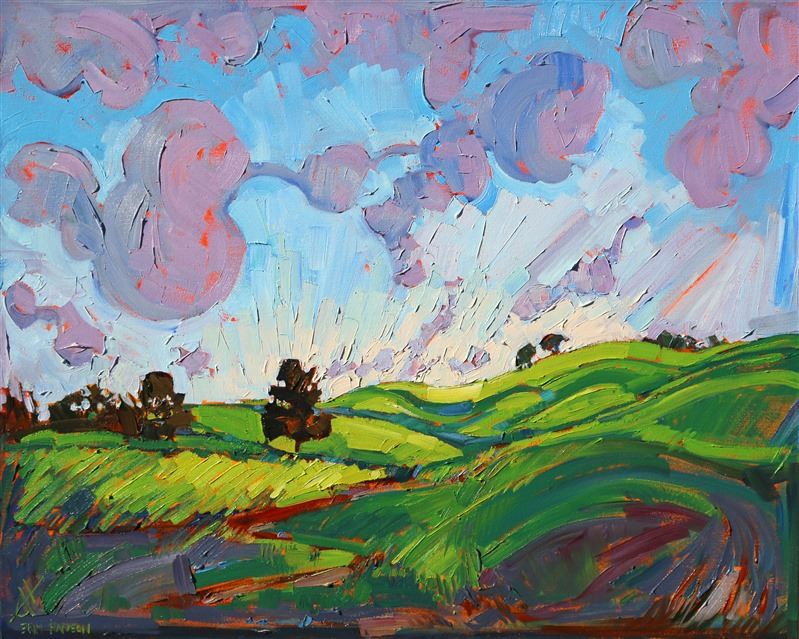 Break of Light, 24 x 30 inches
On this beautiful morning, driving through the rolling hills of Paso Robles, the sun seemed to burst from behind these apple green hills.
---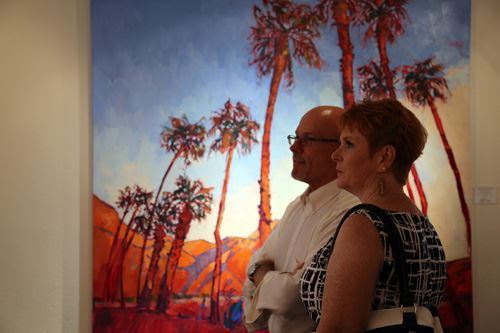 I opened my first "flagship" gallery location in Burbank, California (2013)

---
2014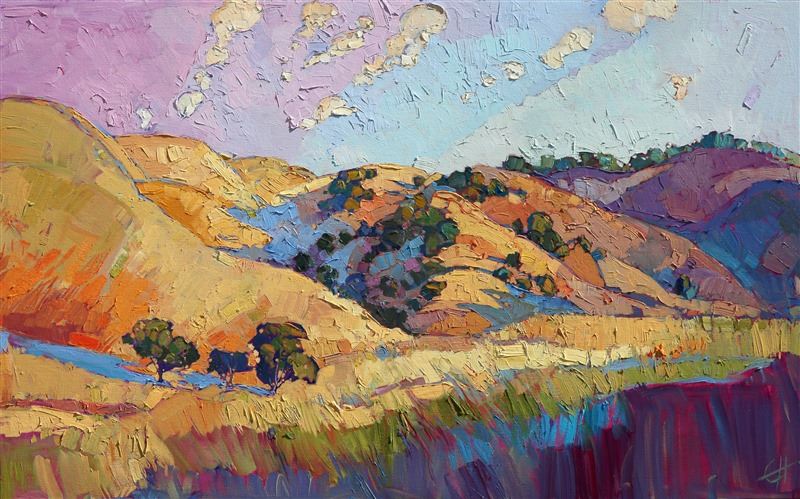 Color Lush, 30 x 48 inches
Paso Robles's beautiful hills are captured in vivid color and thick brush strokes, the painting alive with motion and texture. This painting transports you to the rolling, oak-covered hills and beckons you to rest among the shadowed trees.
---
2015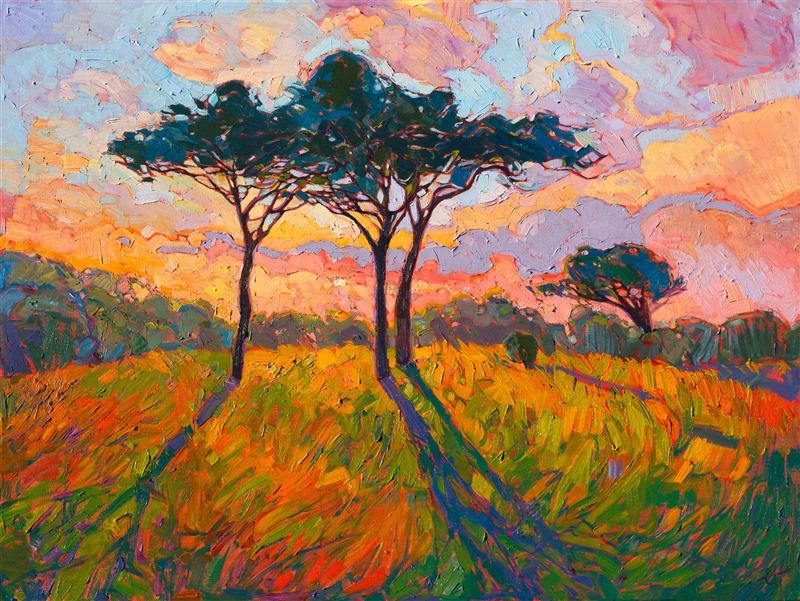 Crystal Sunset, 30 x 40 inches
Vivid impressionistic color bursts from the canvas in a celebration of life! The brush strokes are free and loose, conveying a sense of movement and spontaneity in the painting. The dramatic shadowing draws you into the landscape, while the mosaic quality of the light captures the imagination.

This piece is in the collection of The Allegretto Vineyard Resort, Paso Robles, CA (2015)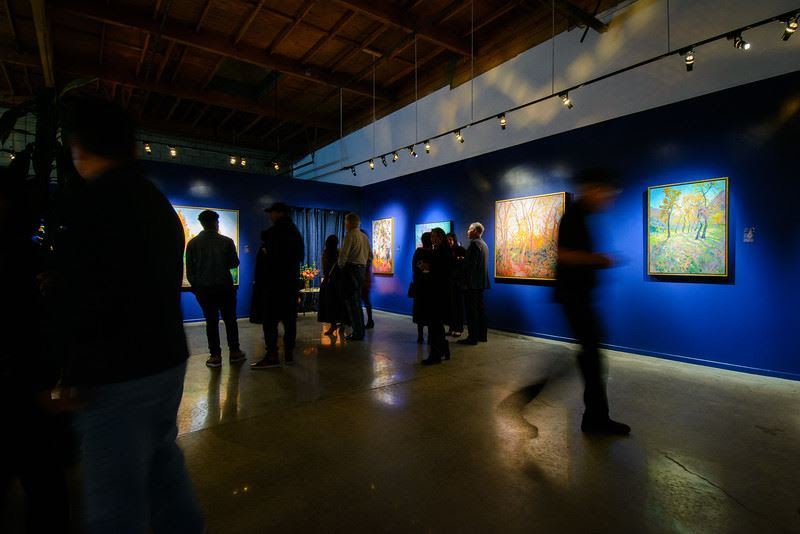 The Erin Hanson Gallery moves to a new and improved LA location (2015)

---
2016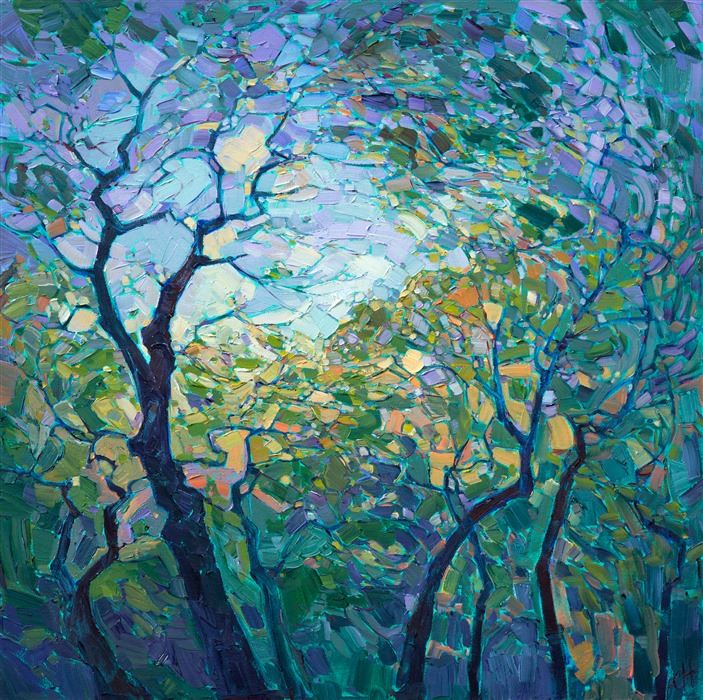 Viridian Oaks, 30 x 30 inches
Viridian light filters through these oak trees, the multi-colored leaves catching and reflecting the sunlight. The brush strokes are thickly applied, full of life and motion. This painting was inspired by a springtime drive through Paso Robles wine country.
---
Introducing Open Impressionism Vol II (2016)
The Painting of Field of Blooms (2016)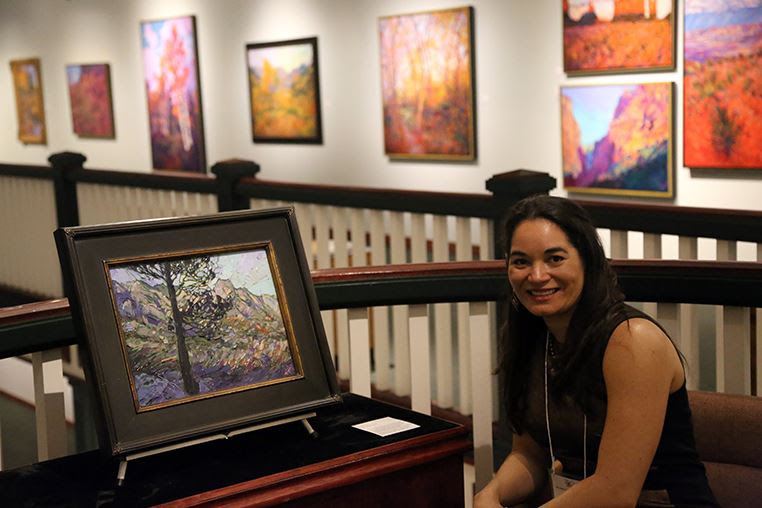 My first-ever museum solo exhibition at the St. George Art Museum.
View Collection: Painted Parks (2016)
---
2017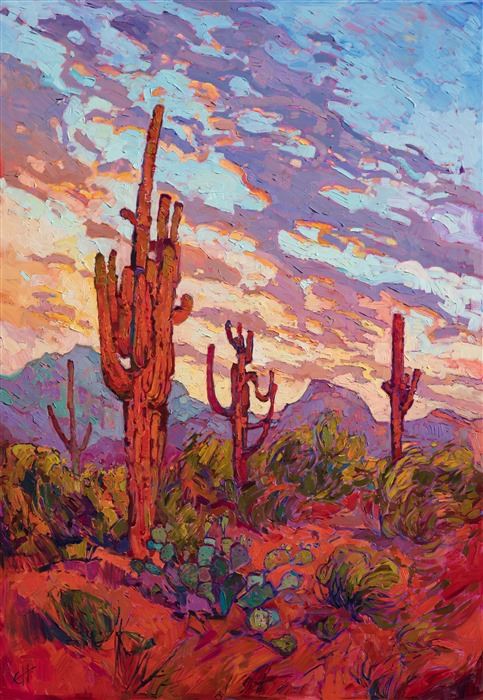 Image caption

Saguaro Sunset, 38 x 57 inches
A dramatic sunset sky lights up the background of these stately saguaros. The desert brush and prickly pear cacti in the foreground create texture and interest in the foreground of this piece. The brush strokes in this painting are loose and impressionistic, alive with color and texture.
Celebrating 10 Years of Open Impressionism (2017)
My LA gallery and art studio relocates to a 7,000-sq. foot location in sunny San Diego (2017)
---
2018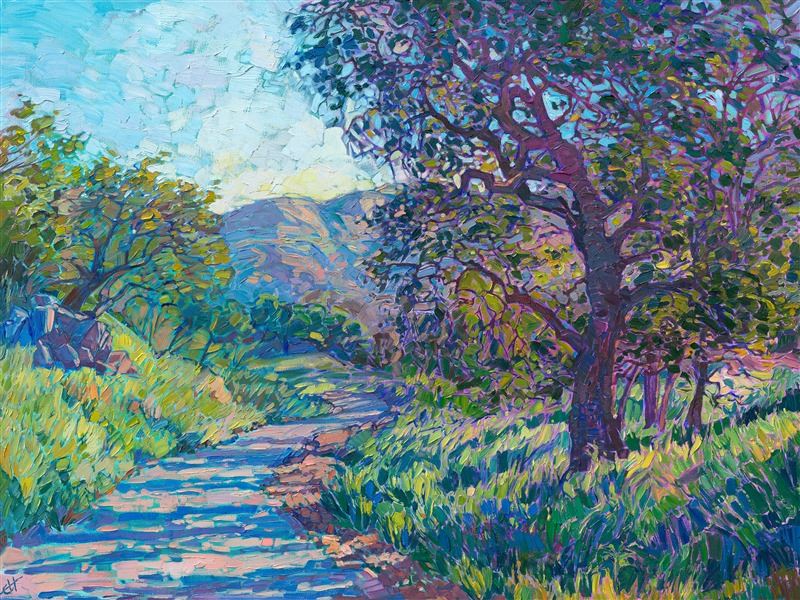 Oaken Walk, 30 x 40 inches
A curving road leads you through the idyllic landscape of Paso Robles in California's wine country. The twisting branches of the oak tree cast long shadows across the pathway, creating a pattern of blue and purple. The lush spring-time grasses cover the hillsides and beckon you into the distance.
---
2019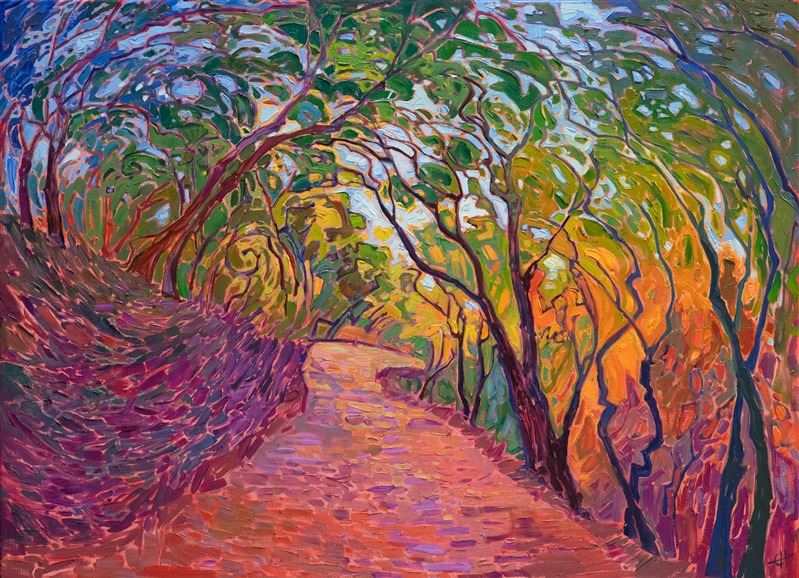 Wooded Path, 26 x 36 inches
Rainbow hues of autumn catch the early morning light. This painting was inspired by driving through the oak-lined roads of Paso Robles wine country. The brush strokes are loose and expressive, capturing the movement and color of the scene.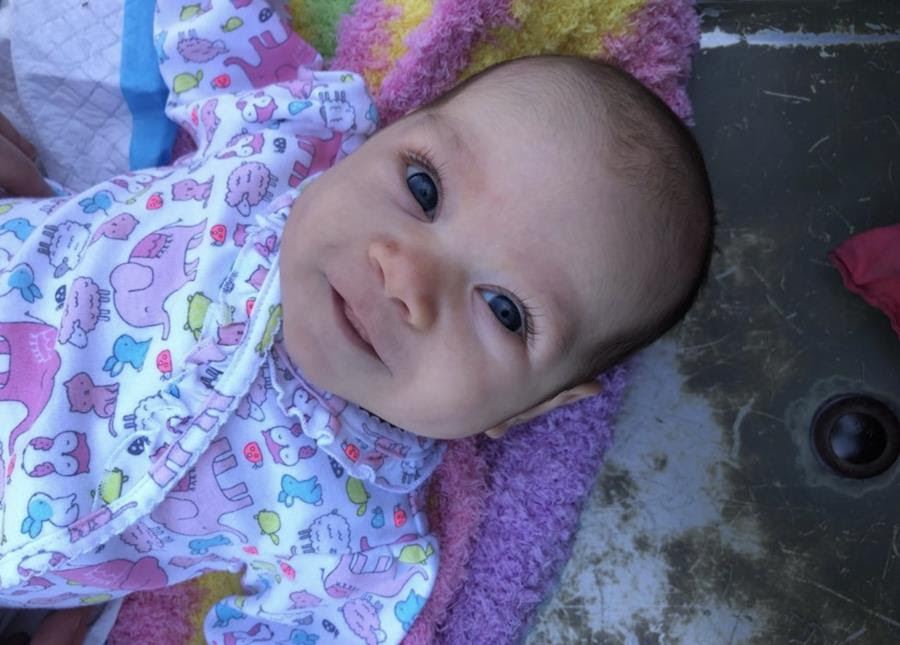 My greatest creation is born.
Sierra Marie (Seri), born June 1st, 2019.
---
2020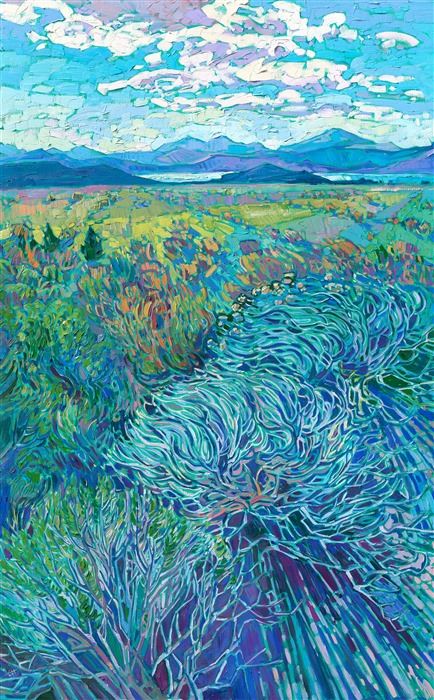 Utah Blues, 30 x 48 inches
Driving through the open plains of Utah's high desert one morning, I came atop a small hill overlooking a wide expanse of landscape in every direction. In the far distance, a lake shimmered between the peaks of distant buttes. Nearby the sagebrush curved in interesting shapes and glimmered with pale blues and lavenders.
Erin Hanson pioneers the cutting-edge technology of 3D artwork printing.
---
We hope you enjoyed this look through the history of Open Impressionism.
You can view Erin's latest works in her portfolio here.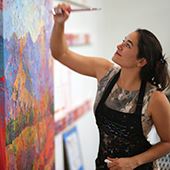 ERIN HANSON has been painting in oils since she was 8 years old. As a young artist, she worked at a mural studio creating 40-foot-tall paintings on canvas, while selling art commissions on the side. After getting a degree in Bioengineering from UC Berkeley, Erin became a rock climber at Red Rock Canyon, Nevada. Inspired by the colorful scenery she was climbing, she decided to paint one painting every week for the rest of her life. She has stuck to that decision ever since, becoming one of the most prolific artists in history. Erin Hanson's style is known as "Open Impressionism" and is now taught in art schools worldwide. With thousands of collectors eagerly anticipating her work and millions of followers online, Hanson has become an iconic, driving force in the rebirth of contemporary impressionism.

---
---