Summer San Diego Art Events 2017
San Diego Summer Art Events
Wednesday, June 7, 2017
Summer in San Diego is filled with many noteworthy art events that we wanted to be sure to share with you. We are also hosting some special events here at The Erin Hanson Gallery, including Hanson's anticipated Coastal California exhibition. Mark your calendar.


June 15th and July 20th from 5PM-8PM: MCASD Downtown at Sundown
Museum of Contemporary Art, San Diego – Jacob's Building
If you are a fan of the visual and performing arts, head over to the MCASD Downtown at Sundown exhibition. This exhibition is put on by MCASD every third Thursday of the month. Enjoy free museum admission and exhibition tours, live tunes from an in-house DJ, free entry into the SDSU Downtown Gallery, drink specials, and more!

June 22nd-July 2nd : San Diego International Fringe Festival
Throughout the city.
The Annual Fringe Festival features the performing arts as well as any form of innovative artistic expression. This festival features local, national and international artists, street theatre, food, beer, and more!

June 23rd from 6:30PM-9:30PM: Poetry and Art
San Diego Art Institute
Editors and authors – including many local authors – will read poems and perform to the sounds of DJ Gill Sotu. Additionally, there are interactive art experiences, snacks, beverages and more. Don't miss this fun and fascinating event!
June 24th from 5PM-9PM: Erin Hanson: Coastal California
The Erin Hanson Gallery
You have seen Erin Hanson's unique open impressionism style applied to rolling hills and depthless deserts, but it's not likely that you have had the opportunity to enjoy her incredible perspective of California's coast. Enjoy Hanson's enigmatic style as it is applied to crashing waves and frothing surf. This is a rare opportunity to see Erin Hanson's collection of oceanscapes all in one place.

June 29th beginning at 6PM: Sculpture and Cocktails: Richard Deacon
The San Diego Museum of Art
This is the first of the Museum's Sundown Series. During this event get the opportunity to enjoy a night among the Art of the Open Air series along with cocktails, custom created t-shirts, games, and more! It sounds like a fun night!

July 18th beginning at 12PM: ArtStop
The San Diego Museum of Art
Museum curators and educators will lead 15-minute tours specifically focusing on one to three works available for your enjoyment. This tour is free with museum admission.
Are you headed out of San Diego for the summer? Don't miss Impressions of Zion presented by Zion National Park Museum in Utah. This exhibition features the work of Erin Hanson and Royden Card as they explore and are inspired by our national parks. The exhibition runs from June 9th through August 27th.
We hope you have the opportunity to attend many of these wonderful San Diego art events. And we will certainly see you soon here, at The Erin Hanson Gallery! [The Erin Hanson Gallery in San Diego relocated to McMinnville, Oregon in early 2021].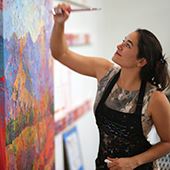 ERIN HANSON has been painting in oils since she was 8 years old. As a young artist, she worked at a mural studio creating 40-foot-tall paintings on canvas, while selling art commissions on the side. After getting a degree in Bioengineering from UC Berkeley, Erin became a rock climber at Red Rock Canyon, Nevada. Inspired by the colorful scenery she was climbing, she decided to paint one painting every week for the rest of her life. She has stuck to that decision ever since, becoming one of the most prolific artists in history. Erin Hanson's style is known as "Open Impressionism" and is now taught in art schools worldwide. With thousands of collectors eagerly anticipating her work and millions of followers online, Hanson has become an iconic, driving force in the rebirth of contemporary impressionism.

---
---