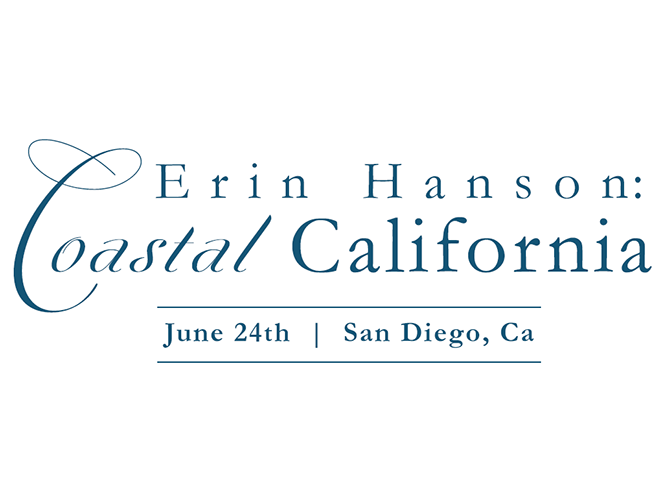 Erin Hanson: Coastal California
Saturday, June 24th | 5pm - 9pm
The Erin Hanson Gallery | 9705 Carroll Centre Road, San Diego, Ca 92126
Erin Hanson: Coastal California
From La Jolla to Monterey, Erin Hanson has for many years traveled the diverse and spectacular California coast for inspiration for new paintings. The coast offers Hanson a sense of calm tranquility and neverending possibility. In this new collection you can expect, as ever, for Hanson to pull from her unique view of nature and her early dawn explorations to tell a story not yet seen on canvas of our beautiful Coastal California.
Hanson's unique impressionistic retelling of beloved landscapes has garnered a large international following and hundreds of collectors worldwide. This is a rare opportunity to see a collection of her oceanscapes all in one exhibition.

Opening Reception - Erin Hanson: Coastal California
Saturday, June 24th | 5pm - 9pm
Join us for live music, wine and refreshments.
The Erin Hanson Gallery
9705 Carroll Centre Road
San Diego, CA 92126
Just off Miramar Blvd and the 15 Freeway.
Click here to view the collection!