How to Create the Art You've Always Wanted to Create


This article is written for artists who are serious about developing their own style and creating a legacy of work. I am going to give you my honest, tough-love view on how to become a master painter in your own right. I hope my words inspire you.
History
I want to tell you a bit of my history and how I got started in the arts. This is the behind-the-scenes look that doesn't appear in any of my biographies.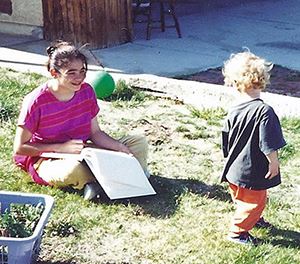 I knew from age 6 that I wanted to be an artist. Being an artist seemed like the most romantic and fulfilling thing I could be. Imagine being able to capture the beauty of a sunset, or paint flowers that look better than real life! Of course, I also wanted to be a scientist, and, as I recall, a dancer.
I am the eldest of four children, and I went to a small private school in Los Angeles, where my mother was a teacher. I attended Delphi Academy from age 6 to age 16, when I graduated high school. At this school, I was allowed to start painting in oils by age eight, and I also learned acrylics, watercolor, pen and ink, charcoal, and anything else I wanted to try. The private school was rather expensive, and at age 12 I decided to help my family by doing a work-study program to cover my own tuition at the school. This meant I worked 4 hours every day doing administrative and teacher assistant work, and then I went to school 4 hours a day. This was a fantastic school, focusing on self-paced, self-education. I learned from books and I learned from doing, and I learned how to learn.
Around this same time, at age 12, when I was just starting high school, I began apprenticing at a mural studio across the street from my school. My school encouraged its students to get early, hands-on experience in the careers they were interested in. I was most interested in the arts and becoming a painter, and so one day I geared myself up and walked nervously down the street to the mural studio business that was established next to our auditorium. I quietly entered a huge room with 40-foot ceilings and enormous scaffolding stretching all the way around the room. Huge canvases hung from the ceiling, and hundreds of gallon-paint cans lay strewn around the floor on large tarps. The music was blaring. I could dimly see a few adults high in the scaffolds painting away. Who was I supposed to talk to?
I peered timidly around and then tiptoed into a small office off to one side, which was crammed full of sketches, paintings, and random paraphernalia. A bearded man sat inside, and he looked up inquiringly as I came in. I held forward the small bundle of paintings I carried with me as a portfolio, held my stutter somewhat in check, and managed to tell him that I went to the school across the street and that I was interested in an apprenticeship.
The man took me quite in stride, and he offered me an unpaid position until I was trained up, at which point he would consider paying me $10/hour (a fortune to me!) I followed him around the studio and met the various artists, all strangers who would later became friends. I was shown the brush-washing room, where I would spend hundreds of hours washing thousands of brushes over the next few years. I was shown the ping-pong table, where I both bested and was bested by the other artists. I was shown the hundred or so gallons of acrylic paint that lay on the floor, among which I would spend hours mixing and pouring to create my concoctions of color.
It was a few months before the studio owner would let me put a brush onto one of his canvases, but I spent that time observing, washing brushes, and mixing paint colors. The company of artists would work in this way: the owner/main artist (Mark) would create a small version of the mural on a piece of canvas and get the painting approved by the client. (All of our work was done on commission.) He would then mix up a series of a dozen or so pixie cups full of the exact colors he wished to use on the larger mural. My job was to make a gallon or two of each color, matching exactly the paint in the pixie cups. I quickly learned from trial and error the relative tinting strengths of the various pigments and how I could create an exact shade of green by mixing blues, yellows, and reds together. I would pour and mix, then do a color test. Then pour and mix, then do a color test. Eventually I became quite the master and mixing color, a skill that came in useful a decade later when I began creating oil paintings using a limited palette of only 5 colors.
Eventually, I found myself on the payroll and perched 20 feet in the air on a rickety scaffold, painting away on our latest project, listening to the blaring music late at night, and feeling like there was nowhere else in the world I would rather be. My specialty was painting trees and nature, and I quickly learned the system of painting Mark preferred. We all had to paint in the same "style", so that the painting looked like it had been created by one person. These giant murals were shipped all over the world, to casinos, cruise ships, and high-end restaurants. (In the picture below, you can see me at the lower left in the 80's palm shirt. And yes, I did have a huge crush on the cute boy to the right.)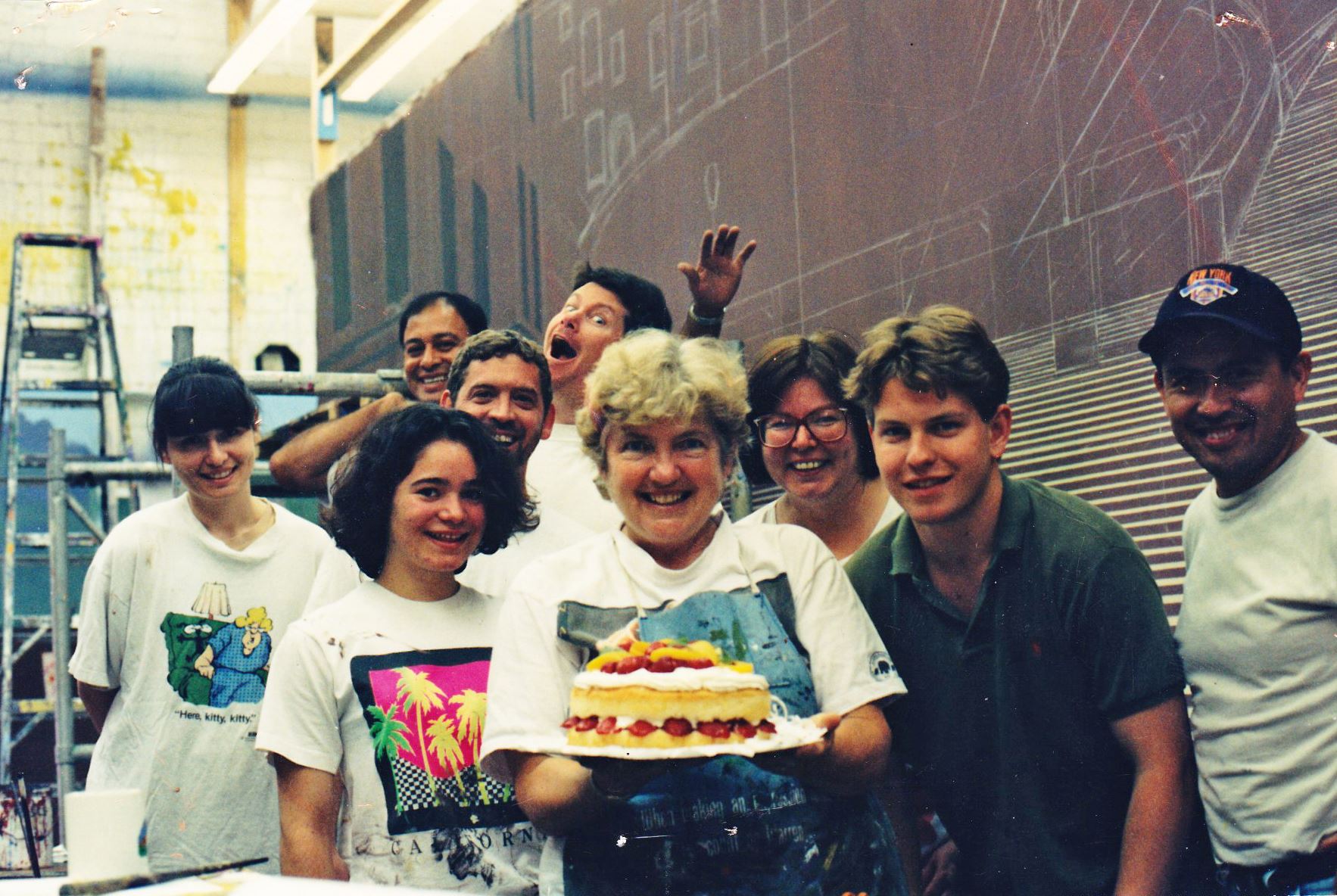 I got to experience first-hand what it was like being in the art business. I watched the owner throw away a hundred feet of canvas we had just finished and start over from scratch, because of a miscommunication with the client. I listened to the complaints of the adult artists, about how hard it was to make a living as an artist. I watched the business dry up from time to time, when all we employees were put on hold until the business picked up again. I saw the business come back around, when we all worked late hours for weeks to make a client's deadline.
By the time I was 15, I had been convinced that it really would be too hard to make a living as an artist, and I took up an apprenticeship with a nearby veterinarian. I had always been fascinated by science and biology, and when I got accepted to UC Berkeley, I decided I would study pre-med, and eventually I graduated with a degree in bioengineering, in 2003.
Even in college, I continued my successful action of working with someone in the field I wanted to pursue. I was paying my own way through college, so that meant working 15 hours a week, while holding a full course load. I chose jobs in the biology departments at Berkeley, and I worked directly for several bioengineering professors. I was able to see the day-to-day life of being a scientist, and I became disillusioned with that profession too. I didn't want to spend 70 hours a week dipping rabbit muscle fibers into various solutions to study carpal tunnel syndrome (an experiment that had been in progress for over 10 years.)
After graduating, with the wide world in front of me, I really had no idea what to do. I had decided medicine was not the field for me, and neither was bioengineering. So, what to do? I am sure I was not the first 20-something in this position, and I did what many of us did: got a job I wasn't really interested in and figured it's just temporary. I took up selling defragmentation software at a company in Los Angeles and tutoring nights and weekends. My life seemed rather anti-climactic after all the hard work and big plans I had made.
After leaving that job after a time, and deciding I hated sales (little did I know at the time that I would have to become a master at sales in order to be an artist!), I found a job I actually enjoyed: I ran a small eBay Drop-Off Store in the San Fernando Valley. This was in the heyday of eBay, when bidding wars would drive prices sky high, when a knick-knack that had a date from the 1950's stamped on the bottom might be worth hundreds of dollars, and when anyone could start their own business from their garage and make a living on this magical marketplace.
Working at my new job, I became a master at photography, Photoshop editing, shipping, customer service, writing descriptions, etc. – all of which skills later became very useful as a self-employed artist. I again got to observe the workings of a small business. I helped the owner make business decisions, I trained employees, and I helped expand the business to make it more profitable.
A few years later, my ambition began to growl again, and I wanted a bigger game. I decided to strike out on my own and start my own business. I had heard of public auctions where you could buy goods on the cheap and re-sell them at a profit, and I decided to give one a try. Have you heard of the TV show "Storage Wars"? Well, I did that business for 4 years before that TV show came out.
Having my own business was a blast. I worked 80 hours a week, but none of it felt like work. I purchased 3-4 storage units every week, moving everything myself without assistance, from refrigerators and stoves to mattresses and machinery. I did two swap meets every weekend, waking up at 3am to set up for the show. I discovered later that setting up a show in the dark and hauling heavy things around would become a way of life for me as a professional artist.
It was actually the occurrence of the TV show Storage Wars that became the impetus leading me back to my artist roots.
When this TV show came out, the competition for storage units became fierce. I knew I had to get out of Los Angeles. I pretty much flipped a coin between Las Vegas and Phoenix, and before long I had loaded everything I owned into my pickup truck and took off to move to a city I had never been to before: Las Vegas.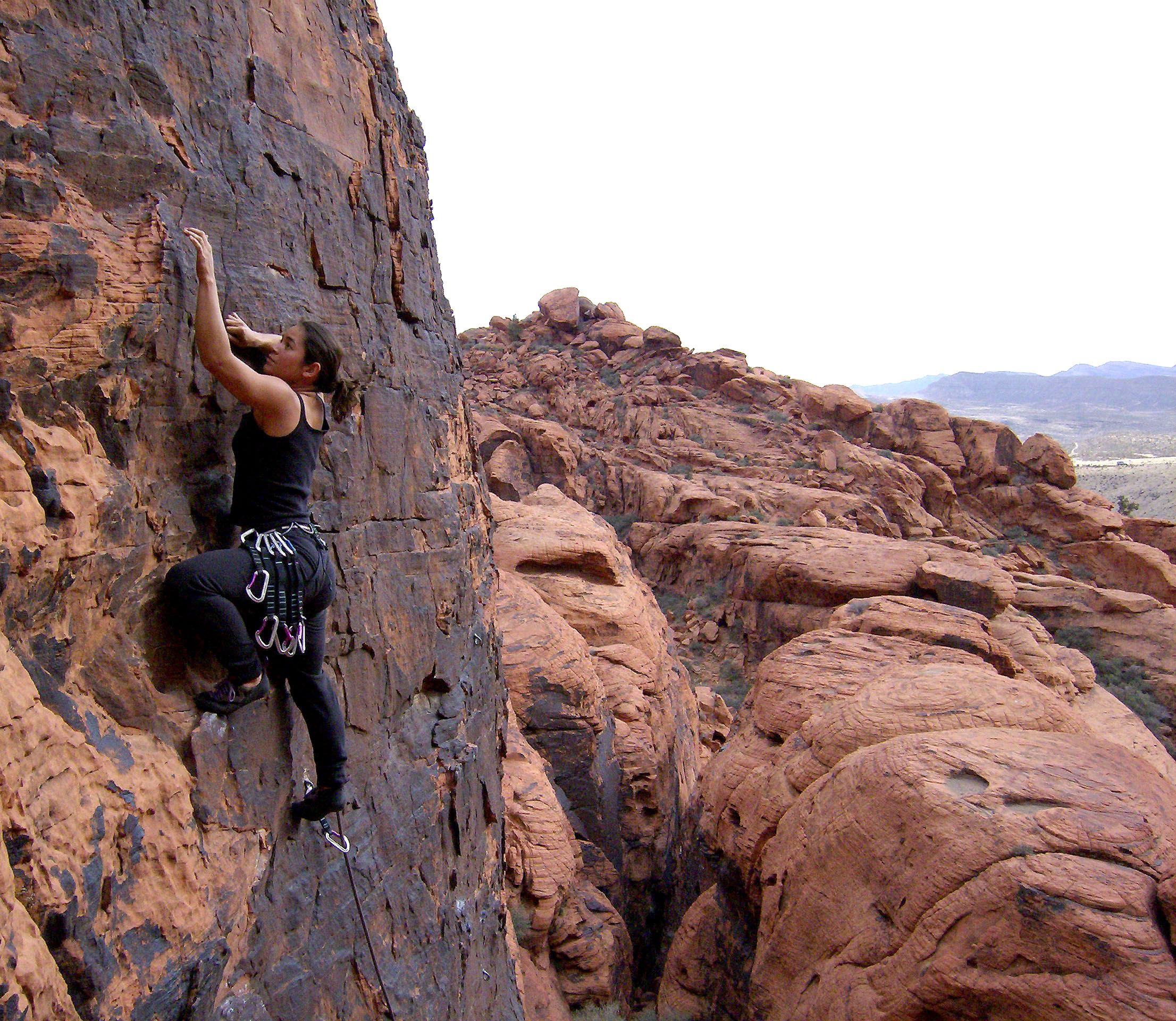 This story I have told many times before: how I rented an apartment on Craigslist, sight unseen, and how the electricity was turned off when I arrived and wouldn't turn on again for 3 days. How I found the nearest campground and found myself waking up and watching the dawn over Red Rock Canyon. How I took out my oil paints and created my first plein air painting since high school. How I met my camping neighbors who were professional rock climbers, and how we all moved in together into a much nicer condo near Red Rock Canyon. How I became an avid rock climber and fell in love with the red rock landscapes of the Colorado Plateau.
After discovering the vivid colors and beautiful cadmium hues of Red Rock Canyon, I became completely re-inspired to paint again. I had just made a huge change in my life, and I decided to bring art back into my life. I came up with the idea of creating one painting every week, just for my own pleasure, and see how things went.
Over the next few years, I adapted my business into a wholesale and consignment business, and I also spent a year as a stone mason, building outdoor kitchens, pools, walls, and other installations all across Las Vegas. All the while, I continued creating a painting a week, painting exclusively the landscapes I was rock climbing and the stark desert landscapes surrounding me. I discovered Zion National Park, and Valley of Fire, and Mt. Charleston. I even loved painting the gray, empty Nevada buttes, which would turn to rainbow hues of color in the sunset light.


Art Festivals
After creating 50 paintings or so, I decided I should see if anyone would be interested in purchasing my artwork. I put my feelers out, sold a few commissions on Craigslist, did a show at Valley of Fire State Park, and participated in a small art show in a local church. Then, from another artist at the church, I heard about "art festivals" for the first time. There was apparently an art festival in two weeks, in Boulder City, and my new friend seemed confident they would let me in even though it was way past the application deadline.
Two weeks later, I found myself the proud owner of a white pop-up tent and white metal grid walls and sitting in front of my best collection of paintings, surrounded by 400 other artists in tents of their own.
I started selling my paintings for a few hundred dollars apiece, and by the end of that first weekend, I had sold enough paintings to pay for the $500 booth fee and my entire investment in show materials. The light bulb went off: every adult I had spoken to as a teenager and every adult artist from the mural studio was wrong – I could make a living as an artist, and it would actually be easy to make a living as an artist.
I spoke to dozens of other artists that weekend. I later learned that the art festival artists are a pretty tight-knit group, and everyone knows each other. I was obviously the new kid on the block, a young girl of 25, excited to be doing her first show. They were eager and willing to help me, and I gobbled up their advice.
The most important thing I learned from all these artists was that they were all living, professional, working artists – creating the art they wanted to create, and making a living doing so. This was not some mystical success story of an artist who was "discovered" or who "got in with the right gallery." These artists answered to no one. They required no authority or gallery owner to tell them if their art was good or not. They simply showed up to the festival, presented their artwork, and selected out of the thousands of passersby those individuals who would respond to their particular mode of artwork. Being a thoroughly independent person myself, this concept enthralled me, and I took art festivals by both horns.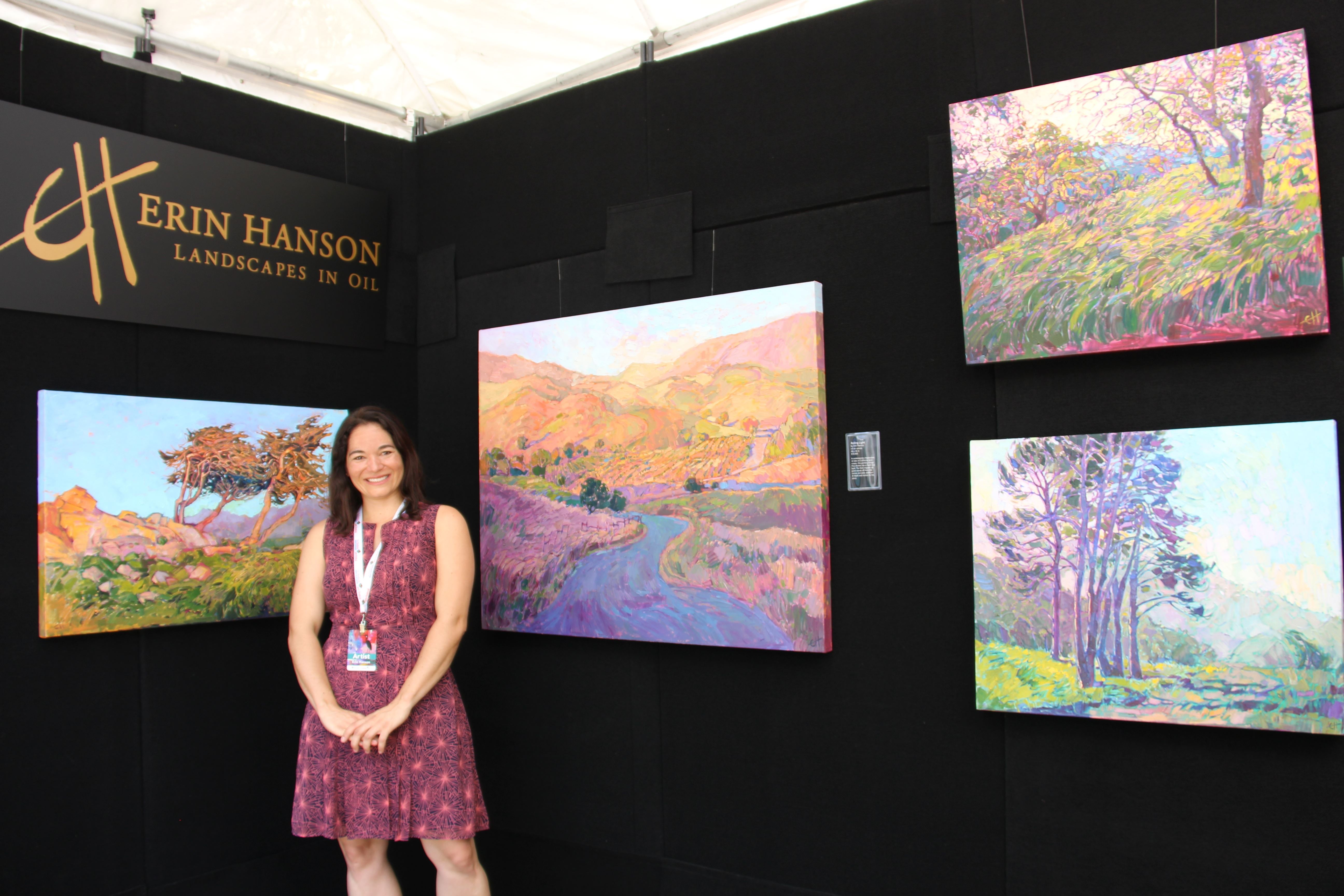 Over the years, I increased the number of art festivals I did each year from 2, to 6, to 10, and eventually to over 25 shows per year. Many of the other artists I knew were doing 45 to 50 shows a year. Yes, that is nearly every weekend. My booth setup improved from a single 10x10 tent with gridwalls to an impressive multi-tent setup with towering-high, black-wall panels, which became known amongst the other festivals artists as "the cathedral," and which often inspired the joke, "Hey, can I sleep in your loft?"
Doing the shows was hard work: driving for days to get to a show, putting together an elaborate booth setup often in the dark and under rough setup conditions, dealing with unexpected wind and rain, navigating long cargo vans into tight spaces, and then standing on your feet for days on end talking to thousands of people. Doing the shows was also FUN! I got to paint for a living and see the joy on people's faces when they took one of my paintings home with them. My life so far had prepared me for the hard work – I had been holding multiple jobs since I was 12 years old, and all those years of swap meets and hard labor (not to mention rock climbing) made art festival setups a breeze.
Since the festivals were only on the weekends, I was able to continue my other sources of income, and after 4 years I was able to phase out my other businesses and focus entirely on painting and doing shows.
The best part about doing regular art festivals was the constant demand to create more paintings. Creating one painting a week was hardly enough. The more I painted, the better I got. As the years passed, I could look back over each year of paintings on my website, and the changes were dramatic. Creating 50-200 paintings per year (and selling just as many) is the absolute best way you can improve your ability to paint. Also, by doing art festivals, I was never pressured to paint in any way other than how I wanted to paint. My own unique style was allowed to grow and mature without teachers, without criticisms, without input from other galleries or persons wanting to make money off my artwork.
Painting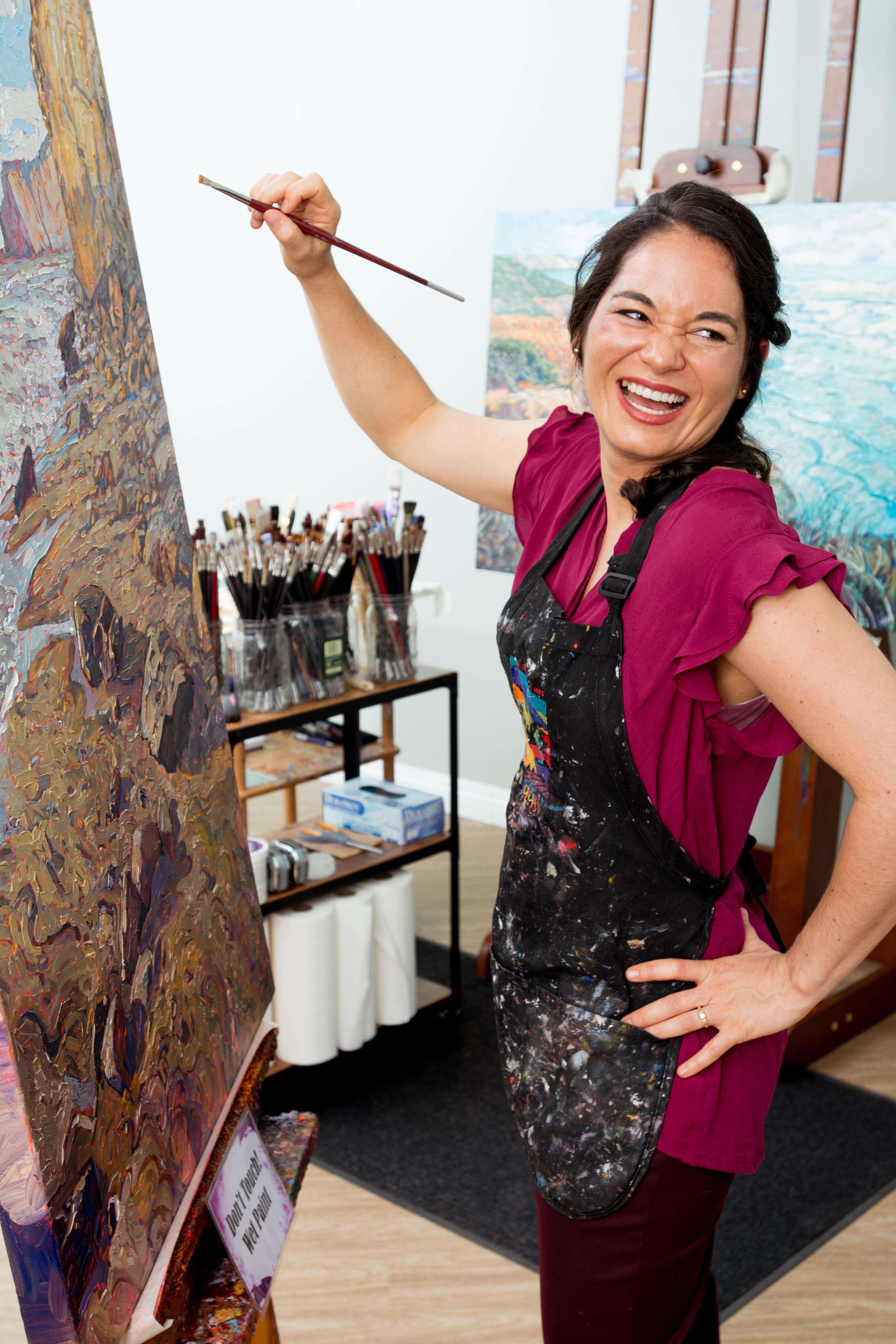 Why have I told you this long story? The title of this essay is "How to Create the Art You've Always Wanted to Create." The answer is simple: you paint. And then you paint another painting. And then you paint 50 more. And then 100 more. You learn to paint in your own style, in the style you've always wanted to paint in, by painting.
When you are first starting out, every painting does not need to be a masterpiece. It is more important to finish a painting (even if you hate the finished product) and start on a new one, taking what you learned from the previous painting and applying it to a fresh, white, un-muddied canvas. This gradual development by trial and error, painting by painting, is how you build your own unique style. You do not build a style by trying to make your first painting into a masterpiece right off the bat. You build a style by painting a great number of paintings. Eventually you create a niche of your own, your own way of holding the brush that creates a unique style of brush strokes, your own way of mixing color to come up with the hues you like to work with best, your own style of composition and rhythm within each painting that eventually will be recognized as your painting and no one else's.
The paints and brushes and mediums are the tools you use to create in three-dimensions the mental pictures you have in your mind. You must learn to use these tools so that they are second nature to you. When a guitarist is first learning to play, he does not try to compose a masterpiece the first time he holds a guitar, painstakingly plucking each string and trying to figure out how to make this strange instrument produce the music that he can hear so clearly in his mind. No, instead he spends years, a decade, or longer, drilling and practicing with the guitar until the instrument is an extension of his own mind, and he can produce the sounds that he hears in his head without even thinking about it. Now he can compose music, and now he can take that masterpiece that he's contemplating and make it a reality. This is how you must approach painting too. Painting is a skill that will take 10,000 hours to master. And when you do master it, you will hardly be aware of what colors you place on your palette, or what your hand and brush are doing. You will be focused entirely on the end-product, that image in your mind, and the execution of the painting will go smoothly towards that end.
Don't be afraid of hard work. Don't let anyone tell you that you are working too hard, or that you should "take it easy." There is nothing that gives greater pleasure than production. You can become the artist you always wanted to be, and you can make a living doing so.
I will write other essays going into more detail about how exactly to build your own style, drills and practical advice on becoming a better painter, how to deal with the obstacles of being a professional artist, painting techniques, business advice, etc…
But for now, my message to you is simple: go forth and paint!