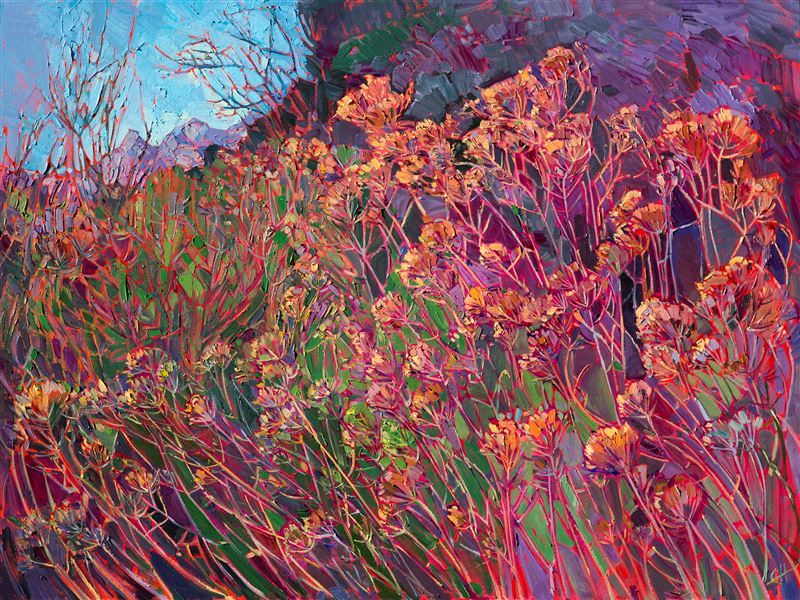 [Artist's Reception] Impressions of California: Solo Exhibit by Erin Hanson
Saturday, September 3rd | 6pm – 9pm
Studios on the Park, Downtown Paso Robles, California
2016 marks Erin Hanson's 5th annual solo exhibition at Paso Robles' Studios on the Park.
Experience the delightful and diverse scenery found across the state of California through the magical impressionistic landscapes of artist Erin Hanson. Delicate wildflowers, textured mountain ranges, dusky deserts, and wild sunsets come to life through Hanson's signature impasto style featuring bold, sweeping brushstrokes and vivid color application.
Exhibition Dates
September 1st - September 25th

Exhibition Special Events
Live Demonstration by Erin Hanson
Saturday, September 3rd, 8 am - Noon
Artist's Reception | Art After Dark Paso
Saturday, September 3rd, 6 pm - 9 pm

Weekly Exhibition Hours
Monday - Wednesday: 12 noon - 4 pm
Thursday: 12 noon - 6 pm
Friday & Saturday: Noon - 9 pm
Sunday: Noon - 6 pm
Private viewings available by appointment Monday - Wednesday.
To schedule, please call Sasha at 805.610.5596.
Studios on the Park
1130 Pine Street (between 11th and 12th)
Paso Robles, CA 93446
Visit Studios on the Park Online

ERIN HANSON is a life-long painter, beginning her study of oil painting at eight years old. As a teenager, she worked in a mural studio creating paintings for restaurants and casinos around the world. A graduate of UC Berkeley, Hanson studied Bioengineering while continuing to pursue her artistic passion.
Inspired by rock climbing Red Rock Canyon and the southern California desert, Hanson has since spent almost a decade painting the dramatic scenery of Utah, Nevada, Arizona and California. Erin Hanson has created a unique style of her own, bringing elements of classic impressionism together with modern expressionism and adding a dash of "plein-air style." Her oil paintings stand out in a crowd, bringing a fresh new look to contemporary Western landscapes.
STUDIOS ON THE PARK engages and inspires the San Luis Obispo County community and its visitors with a unique open studio environment. Studios features artists working in a variety of media, educational programs for children and adults, and quality exhibitions by regional, national and international artists.
Studios on the Park, Inc. (Studios) is a 501(c)(3) nonprofit organization dedicated to providing a creative, educational, and transformational experience to enhance understanding and appreciation of the visual arts.