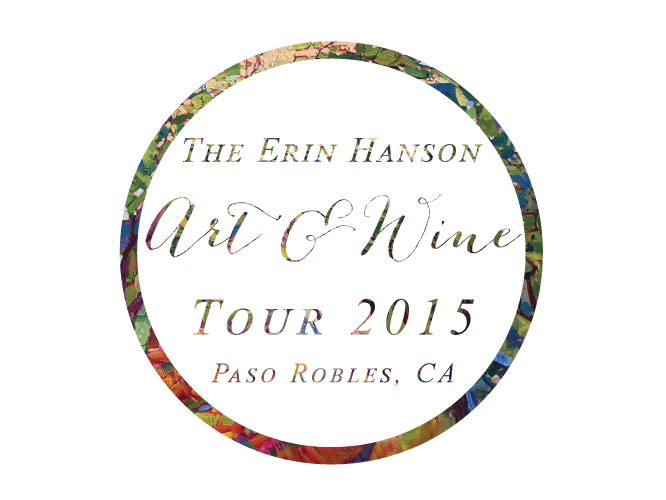 The Erin Hanson Art & Wine Tour 2015 | Paso Robles, California
September 1st - September 30th, 2015
Paso Robles, California
Fifteen local Paso Robles wineries are participating in The Erin Hanson Art & Wine Tour 2015. Each winery will display original Erin Hanson oil paintings for the duration of the month.
The Wine Line will also feature Art Hop a special "hop on, hop off" shuttle tour.
Visitors will not only be able to be a part of a unique cultural experience but have the opportunity to enter giveaways and prizes ranging from an original painting to Erin Hanson prints and books.
For More Information Contact: amy@erinhanson.com
Or contact the Paso Robles Visitors Center at: 1225 Park St, Paso Robles | (805) 238-0506

Wineries Include:
Peachy Canyon
10am - 5pm, Monday - Sunday
Eberle Winery
10am - 5pm, Monday - Sunday
Pelletiere
11am - 5pm, Monday - Sunday
Hammer Sky Vineyards
11am - 5pm, Thursday - Sunday
Barr Estate Winery
11am - 5pm, Friday - Sunday
Cass Winery
11am - 5pm, Monday - Sunday
Graveyard Vineyards
11am - 5pm, Thursday - Monday
Shale Oak Winery
11am - 5pm, Monday - Sunday
Wild Horse Winery
11am - 5pm, Monday - Sunday
Clavo Winery
12 - 5pm, Sunday - Thursday | 12 - 6pm, Friday & Saturday
Thacher Winery
11am - 5pm, Thursday - Monday
Still Waters Vineyards
11am - 5pm, Thursday - Monday
Vina Robles
10am - 5pm, Monday - Sunday
J&J Cellars
11am - 5pm, Friday - Monday
LXV Tasting Room
12 - 7pm Friday - Sunday | 12 - 5pm Monday | 3pm - 7pm Thursday