Learn How to Frame a Painting
Friday, September 27, 2019
Learn How to Frame a Painting
The sad reality is that much of our most interesting and beautiful artwork is stored within our homes, in boxes in the attic, garage or collecting dust on a shelf.
Paintings belong beautifully displayed on our walls, not tucked away. Yet many of us lack the skills and knowhow to frame our own paintings. Not to mention the task can be both confusing and time-consuming for those unfamiliar with the process.
After all, there are a wide-array of frame styles and mat colors to choose from. What about hiring a professional to frame a painting? That's certainly an option, but often an expensive one.
This guide provides you with a simple approach to framing and hanging artwork in your home. Read on to find out how you can.
How to Frame a Painting: Some Beginners Basics
For the sake of clarification, when we discuss how to frame artwork, we are talking about basic paintings and not expensive artwork or sentimental pieces that may require the skills of an expert in order to properly preserve them in immaculate condition for decades to come.
A great many individuals have a wonderful collection of artwork, including self-made paintings, photographs, children's paintings, vintage posters, or even an artsy quilt that needs to be framed. It is exactly these pieces that you want to hang up on your wall. Homes with beautifully framed artwork don't have to look like museums.
Choosing the Right Material
The first thing you need to do is determine the dimensions of your piece of art and choose a picture frame . Next, in order to get longevity out of your artwork, choose matting material that is acid-free and that has a dust cover on its back. You can then opt between a glass or acrylic covering, also known as picture frame glazing, to be used for the front-facing part of the frame.
Keep in mind that while acrylic is lightweight and shatterproof, it is also more easily scratched than glass and requires special handling. Regardless of which glazing you choose, it should always have been properly treated to protect your art from harmful UV rays, the number one enemy of art that can cause fading and other damage over time.
Oil Paintings on Canvas
Canvas artwork needs to be treated differently than other forms of art. Oil paint on a canvas backing is more stable against the elements than other types of mediums.
Therefore, hanging canvas art in indirect sunlight can be done without any further UV protection, aside from any final varnish applied by the artist. You may also lightly dust these works without the worry of damage.
When framing this type of artwork, skip the glass and the mat and simply surround the canvas with the frame itself.
Watercolors or Textile
Mediums like watercolors or textiles that tend to be more sensitive will need UV protection on the glass as well as placement in a well-shaded area of your home. A good rule of thumb is to hang watercolors in a dimly lit hallway or dark room so that their vibrant colors won't be faded by the sun's damaging rays.
Pastel Paintings
Pastel paintings are created using soft pastels, which are an art medium consisting of pure powdered pigment and a binder. They deserve a special mention here because pastel art MUST be framed under (preferably) UV glass. Acrylic glazing creates a static charge that will collect pastel dust from the painting.
Matting Essentials
For those who may not know, a window mat is a thin piece of paper-like material with a beveled hole cut in the center which frames the art behind it. The purpose of the window mat is both decorative, it should highlight the artwork, and protective because it prevents the art from touching the glass, which could damage it.
In framing, the standard matting technique is to mount the artwork on backer board and place the window mat over it, creating an "artwork sandwich", which supports and protects the art.
Tips:
Any art that is on paper like a drawing, print, or watercolor, will look even more beautiful with a mat.
The mat should enhance, rather than detract from your artwork.So, when choosing a mat color, it's best to go with something understated.
When selecting the final molding, or frame, for your artwork, it's a good idea to go with something classic, yet understated, and matching. The frame should properly complement the artwork.
For certain pieces, a float matting technique will propel the art into view. This matting technique will make the art appear to float slightly above the backer board. This will usually cost a bit extra, though with this technique, you will also be able to clearly view the artist's signature. Float mounts work especially well for watercolor paintings with deckled edges. Because the backer board is visible in a float mount, choose an uncut mat board for the backer that is the same color as the window mat board to create a seamless display.
Quick Tips for Hanging Art
When hanging your matted and framed artwork, you should:
Carefully plan out your display BEFORE hammering any hangers into the wall

Look at the area from both standing and seated positions. (When in doubt, hang the art low.)

Don't "eyeball" it. Use a measuring tape.

Lay art on the floor to work out interesting patterns before committing to wall space.

Don't line all of your art up.

Use the art's distinct images to create a mood and focal point.

Mistakes (as in holes in the wall from picture hooks) are fixable.
Closing Thoughts About Framing a Painting
Regardless of the mat or frame, the right piece of art will add beauty and depth to your home. Instead of being overwhelmed by all of the choices out there, go forth and embrace all of the possibilities that are available to you when framing your most treasured piece of art.
Article courtesy of Framedestination.com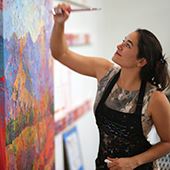 ERIN HANSON has been painting in oils since she was 8 years old. As a young artist, she worked at a mural studio creating 40-foot-tall paintings on canvas, while selling art commissions on the side. After getting a degree in Bioengineering from UC Berkeley, Erin became a rock climber at Red Rock Canyon, Nevada. Inspired by the colorful scenery she was climbing, she decided to paint one painting every week for the rest of her life. She has stuck to that decision ever since, becoming one of the most prolific artists in history. Erin Hanson's style is known as "Open Impressionism" and is now taught in art schools worldwide. With thousands of collectors eagerly anticipating her work and millions of followers online, Hanson has become an iconic, driving force in the rebirth of contemporary impressionism.

---
---