Plan Your Weekend in San Diego - Natural Beauty
Nature Lovers, Are You Planning a Weekend in San Diego? Don't Miss our Top Picks!
Thursday, May 4, 2017
Here at The Erin Hanson Gallery, we know how inspiring natural landscapes and vistas can be. Erin Hanson has painted local San Diego natural areas like Torrey Pines, La Jolla Cove, and the sun setting over the water along the San Diego coast. If you adore natural beauty as much as we do, be sure to visit some of the incredible, rugged landscapes in and around San Diego.
San Diego's Natural Beauty
Many tourists come out to San Diego to see the beauty of wildlife captured in our Zoo, Sea World, and the Safari Park. But we know that many of you are more adventurous than the standard tourist. That's why you love the impressionist landscapes painted by Erin Hanson. So, we wanted to help you plan a weekend around viewing incredible local vistas and sites that celebrate the natural California beauty San Diego has to offer.

Here are some of our favorite local treasures:
Torrey Pines State Natural Reserve
Would you like to see the California coast as it should be? Wild, natural, and beautiful? Torrey Pines is 1,500 acres of land that was set aside before San Diego was developed. This is a reserve, so there are mainly assigned paths and trails to travel instead of free hiking and climbing. However, this means that a slice of natural, California beauty has been left unmarred by human hands and feet.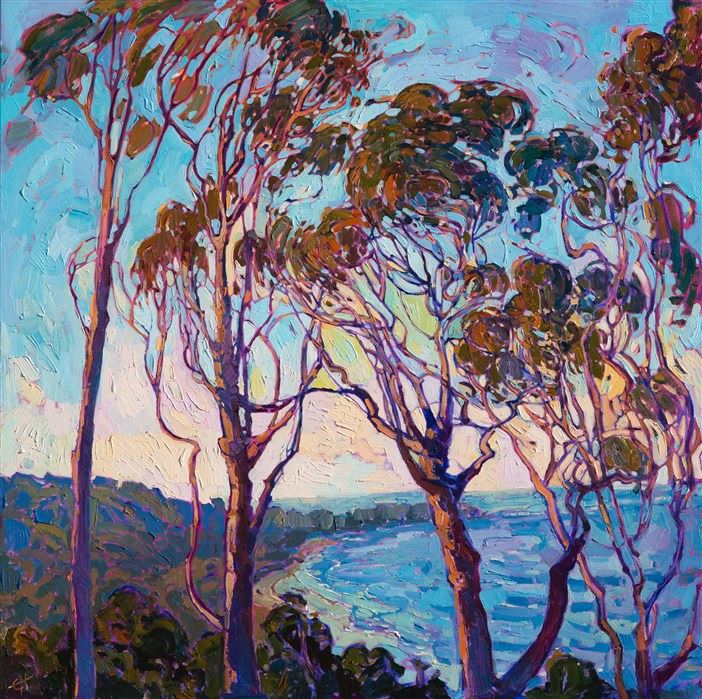 Torrey View by Erin Hanson (View from Torrey Pines)
La Jolla Cove
On the other side of the spectrum, La Jolla Cove and nearby La Jolla Shores Park afford incredible views of the ocean but can get crowded. The water around La Jolla Cove is particularly beautiful as it's an ecological protection zone - so surfers and other boarders are not allowed within the cove. This means it's an incredible place for swimming, snorkeling, kayaking, and diving. If you want to see a vibrant, living ocean, La Jolla Cove may be the place for you!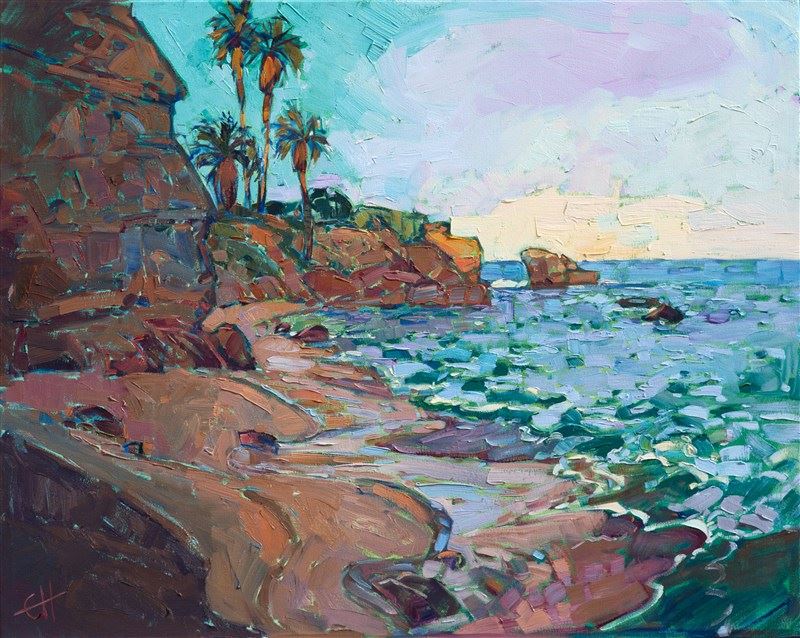 Cove at Dawn by Erin Hanson (Painting of La Jolla Cove)
Point Loma Tidepools
One thing we love about the beaches and coves in and around San Diego is the sheer variety of vistas. La Jolla Cove is a calm beach, while the tide pools at Point Loma are filled with rocks and drop offs. The half-submerged boulder field at Point Loma makes it a perfect spot for tidepools, allowing people to see diverse marine animal and plant life. Also, the incredible cliffs and drop-offs in the area make for breathtaking ocean views.
Cleveland National Forest
The Cleveland National Forest in San Diego is filled with great hiking trails, camping, fishing, and more. There is also a vast diversity of natural views and vistas, abundant plant and animal life, and 460,000 acres of raw beauty.
The Cleveland National Forest is the most Southern national forest in the U.S. This means it encompasses many desert spaces along with lakes, mountains, and sloping hills. It also has a wide variety of plants, from cactus to chaparral to oaks.
If you love the great outdoors, Cleveland National Forest is the perfect place to explore during a weekend in San Diego.
Sunset Cliffs Natural Park
The sheer cliffs at Sunset Cliffs Park in San Diego allow for an incredible view of the sun dipping low over the ocean before it is extinguished by the cool, wild sea. The cliff line is also home to intertidal species, native coastal sage, and hidden caves. Sunset Cliffs is one of those spots that can occasionally help you forget that you live in a busy city.
Anza-Borrego Desert State Park
About 70 miles out of San Diego, you will find the Anza-Borrego Desert State Park. This incredible park should be on the "must visit" list for any nature lover. This state park features one of Erin Hanson's favorite subjects to paint: ocotillos. However, these incredible wildflowers are not the only feature of Anza Borrego. This park was one of the places the experienced a recent "super bloom" with vistas of yellow, orange, white, purple, and pink flowers along with flowering cacti sweeping across wide expanses.
This park is made up of flat desert valleys and higher, mountainous elevations. This variation makes for long, broad views of clear skies and breathtaking beauty. Additionally, the difference in elevation can mean that the valleys can look dry and dead, while the hills and mountains are still blooming.
Anza-Borrego Desert State Park is proof that both life and beauty can be found in the desert.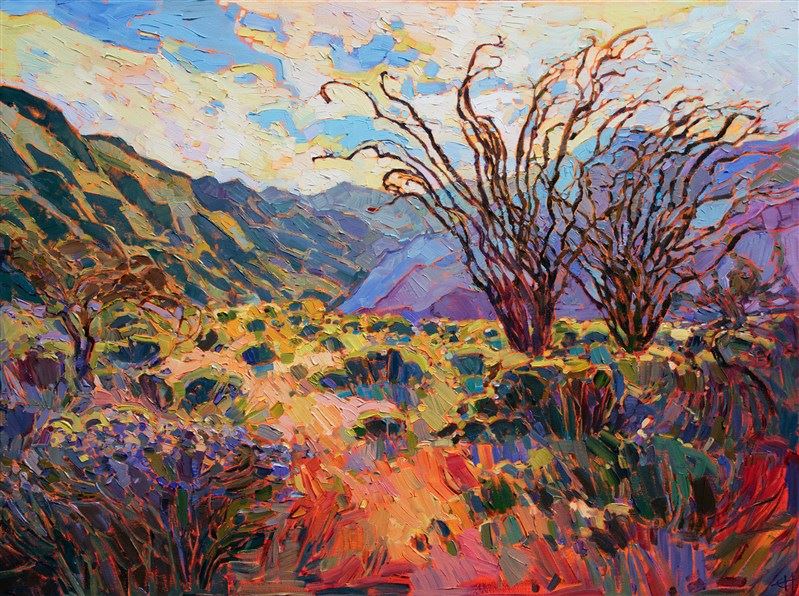 Borrego in Bloom by Erin Hanson (A painting of our recent super bloom)
You can see many additional treasured locations all across the western US in Erin Hanson's paintings. Explore her paintings of San Diego here.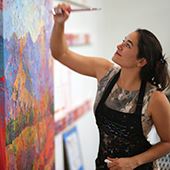 ERIN HANSON has been painting in oils since she was 8 years old. As a young artist, she worked at a mural studio creating 40-foot-tall paintings on canvas, while selling art commissions on the side. After getting a degree in Bioengineering from UC Berkeley, Erin became a rock climber at Red Rock Canyon, Nevada. Inspired by the colorful scenery she was climbing, she decided to paint one painting every week for the rest of her life. She has stuck to that decision ever since, becoming one of the most prolific artists in history. Erin Hanson's style is known as "Open Impressionism" and is now taught in art schools worldwide. With thousands of collectors eagerly anticipating her work and millions of followers online, Hanson has become an iconic, driving force in the rebirth of contemporary impressionism.

---
---