The Erin Hanson Gallery in Modern Luxury Magazine San Diego
Friday, May 5, 2017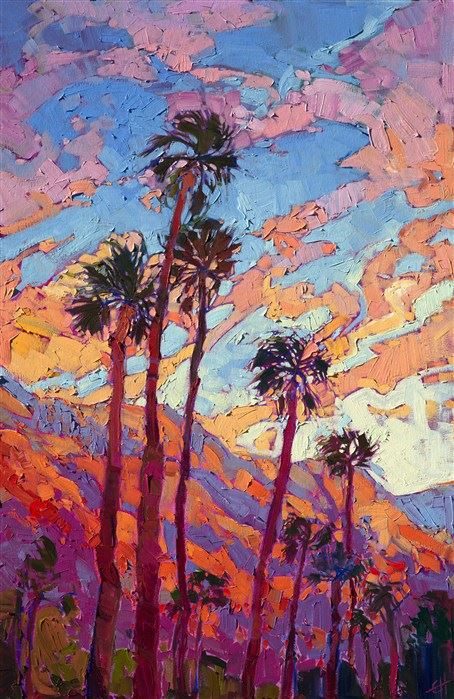 G A L L E R Y G I R L | C U L T U R E V U L T U R E
By Allison Mitchell
After seven years of painting Los Angeles beautiful with her vibrant works, artist Erin Hanson has traded in her Frogtown digs for a 6,000-square foot gallery in Mira Mesa. With 2,500 square feet of showroom space, The Erin Hanson Gallery is stocked with Hanson's original rural-, desert-, and coastal-inspired oil paintings, which have been likened to the works of the great Vincent van Gogh thanks to her focus on landscapes and textured brushwork.
Modeled after Hanson's favorite museums - Los Angeles' LACMA and Norton Simon - the space is awash with bold hues and minimalistic clean lines, and also includes a studio and shipping space from which she creates custom commissioned pieces for her curated clientele.
By blending modern expressionism and classic impressionism, Hanson has coined the term "open impressionism" which frees her to create art that's utterly one of a kind. As for what we're pining after, the La Jolla-inspired "Cove at Dawn" and the Palm Springs-inspired "Sunset Light" both have us California dreaming. Score your own conversation piece for a cool $2,000 to $65,000 on canvases as grand as 13 feet wide.
Let the double takes commence. 858.324.4644 wwwerinhanson.com.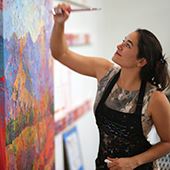 ERIN HANSON has been painting in oils since she was 8 years old. As a young artist, she worked at a mural studio creating 40-foot-tall paintings on canvas, while selling art commissions on the side. After getting a degree in Bioengineering from UC Berkeley, Erin became a rock climber at Red Rock Canyon, Nevada. Inspired by the colorful scenery she was climbing, she decided to paint one painting every week for the rest of her life. She has stuck to that decision ever since, becoming one of the most prolific artists in history. Erin Hanson's style is known as "Open Impressionism" and is now taught in art schools worldwide. With thousands of collectors eagerly anticipating her work and millions of followers online, Hanson has become an iconic, driving force in the rebirth of contemporary impressionism.

---
---