Fall San Diego Art Events 2017
Wednesday, July 19, 2017
Though summer is coming to a close, the San Diego art scene is more vibrant than ever! These upcoming art events are sure to cap off your summer with a splash of inspiration.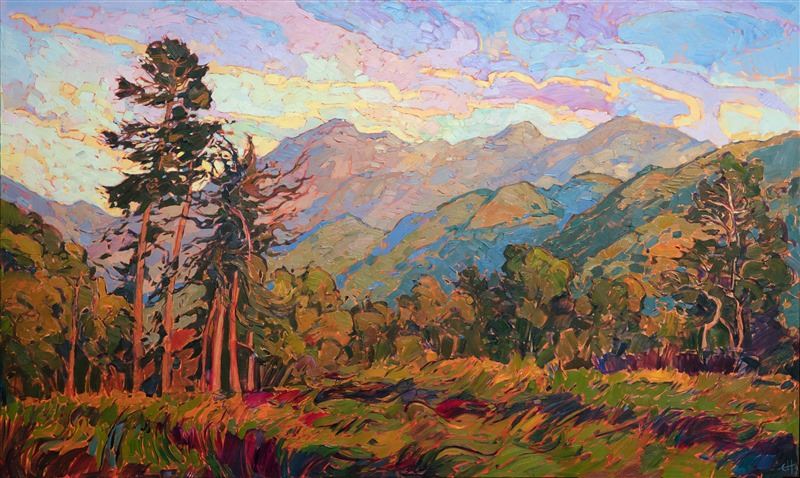 Mystic Valley by Erin Hanson
August 12th and 13th beginning at 10AM: ArtWalk at Liberty Station
Ingram Plaza
This will be the twelfth anniversary that the ArtWalk at Liberty Station brings together local artists, residents, and out-of-town visitors for a beautiful weekend in the Arts District. This year attendees can enjoy works of art, exhibitions, dining, and live entertainment. Spend the weekend celebrating the last month of summer by enjoying the incredible outdoor setting and the amazing art!

August 26th beginning at 7PM: The San Diego Pancakes and Booze Art Show
57 Degrees on Hancock St, San Deigo CA
This is San Diego's largest underground art show, featuring emerging artists that you have likely never seen, along with a free pancake bar, live body painting, and more.

August 31st beginning at 8PM: Screen on the Green: Midnight in Paris
Botanical Lawn on the East Side of The San Diego Museum of Art
Make a picnic of the evening as you enjoy the art world under the stars in Balboa Park. Watch the Woody Allen film Midnight in Paris with other art lovers and enjoy the beauty of a summer's evening.

September 14th 10AM-4PM: The Art of Fashion
The Inn at Rancho Santa Fe
Many people feel that fashion is an art form unto itself. This is why the MET Gala is so popular and why so many wonderful pieces are compared to paintings of the past. The Art of Fashion features a runway show, drinks and hor d'oeurves, luncheon, and more.

September 28th-October 1st: Art San Diego | A Spectrum Art Show
Del Mar Fairgrounds
Art San Diego is a contemporary art show featuring over 500 leading artists. Not only is this show juried, it hosts events, lectures, exhibitions, and more. Erin Hanson won three awards during the 2016 Art San Diego show, and she is returning for 2017!
We hope you celebrate the summer's end with us here at The Erin Hanson Gallery at The Super Bloom Show coming up on September 9th. [The Erin Hanson Gallery in San Diego relocated to McMinnville, Oregon in early 2021].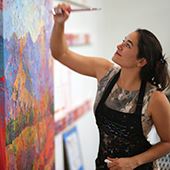 ERIN HANSON has been painting in oils since she was 8 years old. As a young artist, she worked at a mural studio creating 40-foot-tall paintings on canvas, while selling art commissions on the side. After getting a degree in Bioengineering from UC Berkeley, Erin became a rock climber at Red Rock Canyon, Nevada. Inspired by the colorful scenery she was climbing, she decided to paint one painting every week for the rest of her life. She has stuck to that decision ever since, becoming one of the most prolific artists in history. Erin Hanson's style is known as "Open Impressionism" and is now taught in art schools worldwide. With thousands of collectors eagerly anticipating her work and millions of followers online, Hanson has become an iconic, driving force in the rebirth of contemporary impressionism.

---
---