Erin Hanson's Support of Napa Valley Relief Efforts
Tuesday, February 20, 2018
In October of 2017, Napa Valley suffered its worst wildfire in forty years. You probably saw the news coverage of this fire, strong winds buffeted the flames and spread the blaze so rapidly that many homeowners had to evacuate as soon as the order was given, scrambling to gather family members, pets, and essential belongings before hustling to a shelter.

Napa has a special place in our heart at The Erin Hanson Gallery. Erin has created incredible, moving pieces that showcase the valley and coincidentally visited Napa Valley in September - just before the fires. Because of her deep love for California's wine country, Erin Hanson created a campaign to support two Napa-based foundations aiding with local relief efforts.

California Wine Country Relief

Erin Hanson generously announced a campaign where 100% of the purchase price for her popular California Wine Country: Impressions in Oil coffee table book directly benefited the Napa Valley Community Disaster Relief Fund and the Sonoma Humane Society. The monies were split evenly between these two vital relief foundations, providing them with desperately needed funds.

We are proud to say that, with your help, we donated $5,000 to these relief efforts. The money we provided was used to give vital assistance to those whose homes and livelihoods have been damaged by the fire, helping area residents get back on their feet. It was also put toward helping to protect, treat, and house pets that got left behind or lost in the confusion until they could be reunited with their owners. We are so glad we could do our part to help fund two vital programs which are directly assisting the wonderful, friendly people of Napa Valley and we wanted to give a big thank you to every single one of you who helped fund this effort.

Painting Napa Valley

A discussion of the beauty and strength of Napa Valley would not be complete without talking about Erin's most recent paintings of this landscape. She visited Napa in September of 2017, only a month before the fires swept through the valley. During this time she was struck by the beauty of the gently rolling hills, green vines, and native plants. Erin is delighted that she managed to see Napa Valley in all of its late summer glory - before the fires struck. Here are three of the paintings that came out of her 2017 visit.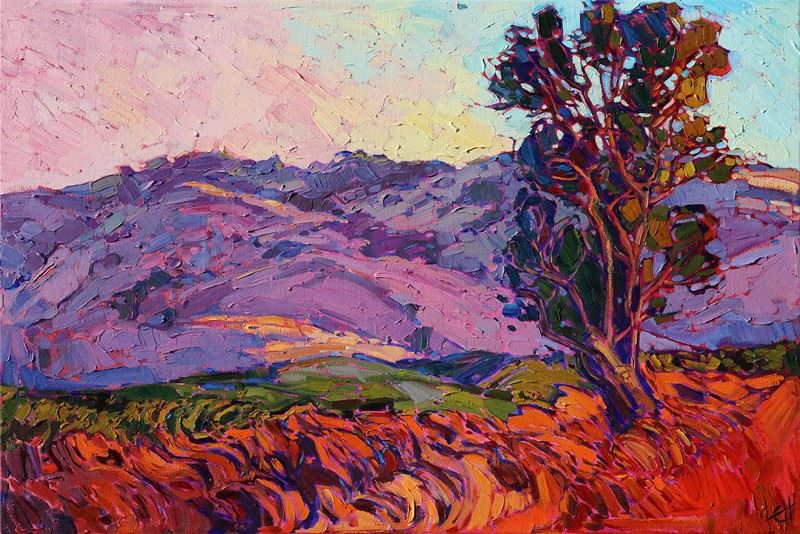 Napa Eucalyptus by Erin Hanson

Napa Eucalyptus brings us into the world of a quintessential Napa Valley dawn. Not every part of the valley is covered in vineyards - there are moments of natural beauty and pockets where we are reminded of America the Beautiful with its purple mountain majesty above the fruited plain. Napa Valley and many of the other idyllic agricultural areas of America harken back to a time when the nation was vast and teaming with natural landscapes.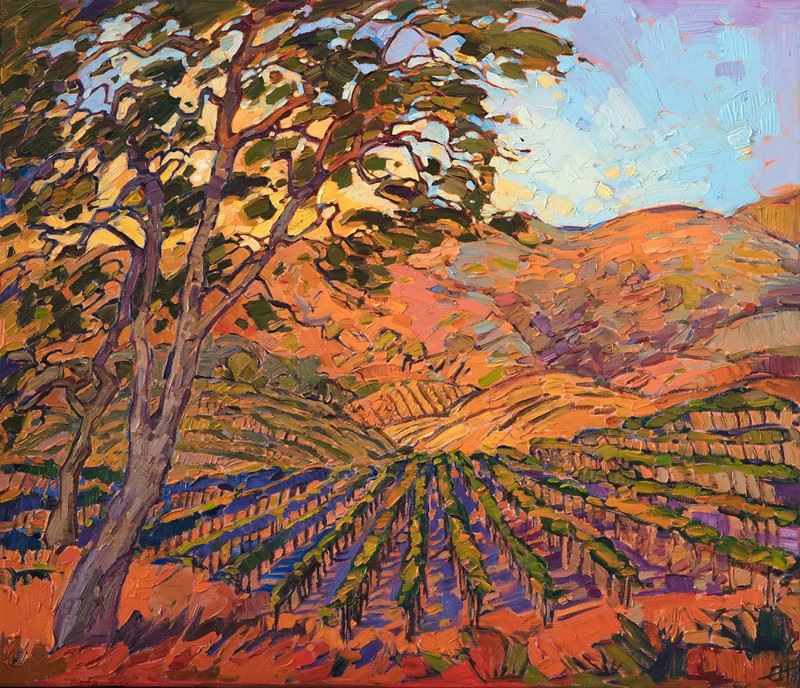 Golden Vineyards by Erin Hanson

As we follow the path of the sun, we find that dawn light has turned from purple to golden, revealing the fruiting vineyards of which Napa Valley is so famous. Golden Vineyards shows the magic of Napa in all of its glory, and we can feel the joy and freedom so many California wine growers experienced when they moved out to this gorgeous valley to fulfill their wild dreams.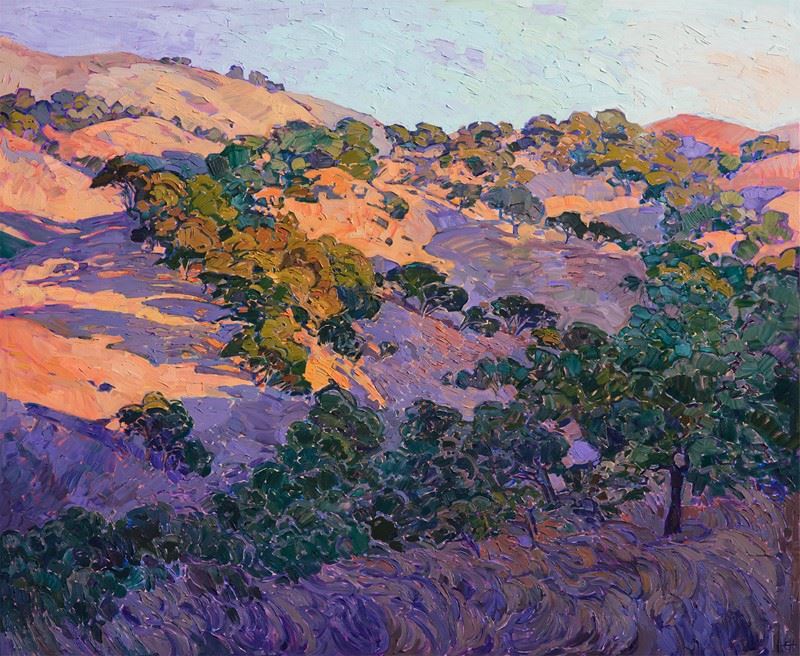 Napa Oaks by Erin Hanson

Finally, we find inspiration in the hearty California oak. This and many other California native plants thrive on the many wildfires our state endures. In fact, members of the ceanothus family utilize the heat from fires to help their seeds germinate. Additionally, native trees like the oak have robust bark and deep root systems that are largely protected from fire. So, we hope this final Napa Valley landscape serves as a reminder that the area will not only regrow - but thrive.

Napa Valley and the rest of California wine country has a very special place in our hearts and minds. Thank you all for purchasing the California Wine Country: Impressions in Oil coffee table book and thereby helping us to raise funds for all those impacted by the October 2017 wildfires. We appreciate you and hope our donation has benefited those in need.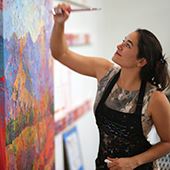 ERIN HANSON has been painting in oils since she was 8 years old. As a young artist, she worked at a mural studio creating 40-foot-tall paintings on canvas, while selling art commissions on the side. After getting a degree in Bioengineering from UC Berkeley, Erin became a rock climber at Red Rock Canyon, Nevada. Inspired by the colorful scenery she was climbing, she decided to paint one painting every week for the rest of her life. She has stuck to that decision ever since, becoming one of the most prolific artists in history. Erin Hanson's style is known as "Open Impressionism" and is now taught in art schools worldwide. With thousands of collectors eagerly anticipating her work and millions of followers online, Hanson has become an iconic, driving force in the rebirth of contemporary impressionism.

---
---