Building Your Art Collection: Reproductions vs. Originals
Maneuvering the Art World
Saturday, July 2, 2016
There are many people in this world who are fortunate enough to fill their home with original art. Some art lovers end up hanging prints as well as original paintings, typically when a piece is either outside of their budget or unavailable for purchase. If you have had to settle for a print, you know what I am talking about when I say you can tell the difference between an original painting and a print. Why is this?
Light
An original oil painting captures light in a way that is impossible for ink printed on any medium to capture. As light moves across a room, the paint strokes change in character and depth, bringing new life to the piece. This is because an oil painting is truly three-dimensional art. Though it is the representation of something in two-dimensions, the paint itself has texture, adding height and motion to the painting and interacting with light in ways a flat surface never can.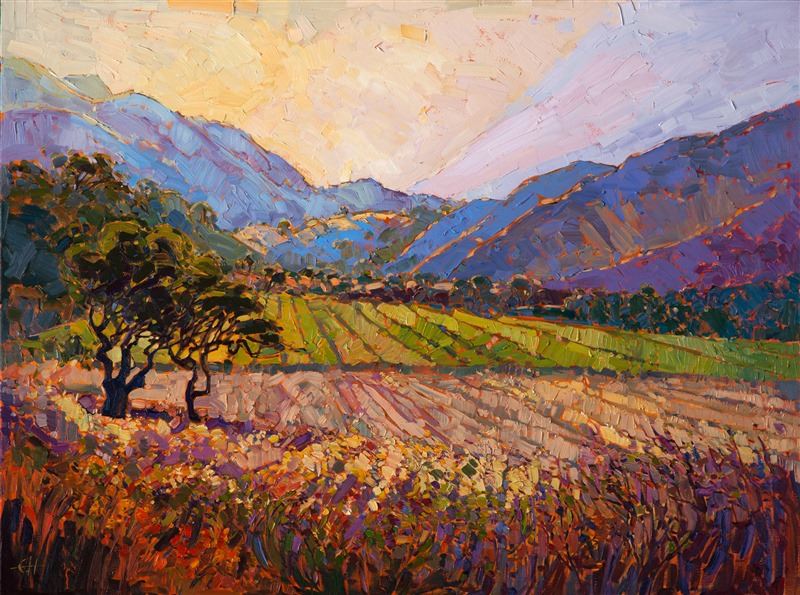 Carmel Light by Erin Hanson
Lifespan
Another aspect to original oil paintings is longevity. The pigments in oil paintings are colorfast, which may not be the case with prints. A print will eventually fade while an original painting will stay vibrant and often increase in value as time goes on.
When budget is a consideration, however, prints are a wonderful option for many budding art lovers. One way to capture the feel of a painting while keeping to a lower budget is to purchase a print that is on canvas. This can make the print look like a painting from a short distance away – though it will not be able to capture the light and depth as the original painting would.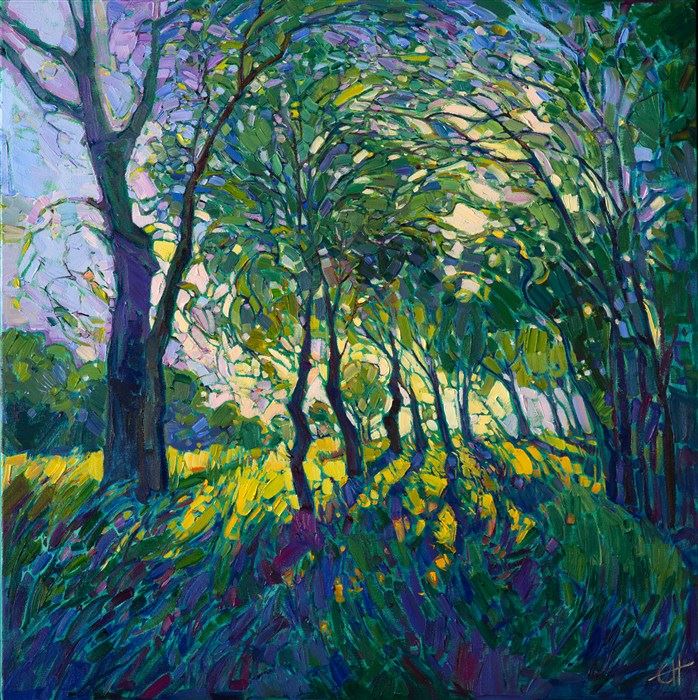 Viridian Rays by Erin Hanson (SOLD)
Originality
The pride in building your original artwork collection is a matter of the heart, and in many cases of pride. After all, you are the sole custodian and there is only one piece like it in the world. You are the only person to enjoy the beauty of those exact brush strokes, that exact glimmering light and each twisted branch. Many collectors feeling a growing connection and appreciation for each of their pieces, this value running deeper than any monetary investment or value.
To view all of Erin Hanson's original works, be sure to enjoy her portfolio right here on ErinHanson.com. We also must tease that you will also soon be able to purchase high quality reproductions on an artist-select canvas, with preferred framing options directly through the ErinHanson.com website.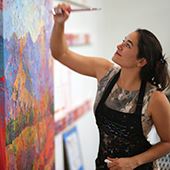 ERIN HANSON is a life-long painter, beginning her study of oils as a young child. Her passion for natural beauty is seen in her work as she transforms vistas familiar and rare into stunning interpretations of bold color, playful rhythms and raw emotional impact. Her frequent forays into National Parks and other recesses of nature include backpacking expeditions, rock climbing, and photo safaris. Hanson's unique painting style has become known as Open Impressionism, which is now taught in art schools around the world. With hundreds of collectors eagerly anticipating her work and millions of followers online, Hanson has become an iconic, driving force in the rebirth of contemporary impressionism, and she is quickly recognized as a prolific, modern master.

---
---