What is the Best Lighting for My Painting?
Wednesday, August 29, 2012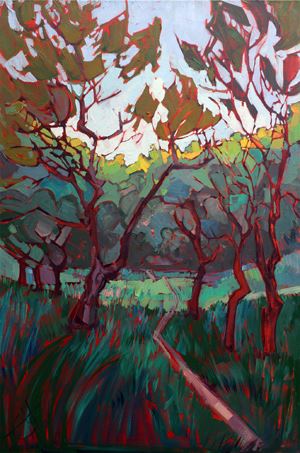 Your painting will look different depending on what lighting you have for it. Natural ambient light will create a nice feel for your painting during the day, the colors subtly changing as the sun rises and sets during the day. At night, however, you will be fully reliant on artificial light. Have you ever noticed how great paintings look in a gallery setting? Art galleries will use warm or cool-toned spot lighting to bring out the colors in certain parts of the painting, intensifying the light on the painting's center of attention, for example. You can imitate this effect in your home by installing halogen directional spot lighting in the ceiling above your painting. These lights are surprisingly inexpensive to install (an electrician can install them in a few hours), and if you wish, you can purchase the fixtures yourself online. There are lots of options for low-wattage spotlights, as well.
Many houses are already fitted with some sort of recessed ceiling fixtures. These can be adapted to directional spot lighting with minor handyman work. Even without direct lighting on your painting, the artwork will still look good with nearby incandescent lighting. The one thing you want to avoid is hanging your painting behind a hanging chandelier, which will cast a direct glare spot in the middle of the painting without highlighting the natural colors and texture of the painting. A light that is angled from above, or even from the side, will allow you to see the thick brushwork, see each subtle variation in color, and truly enjoy the painting in a whole new light.
A good website to look at directional spot lighting is Lighting Direct.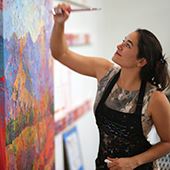 ERIN HANSON has been painting in oils since she was 8 years old. As a young artist, she worked at a mural studio creating 40-foot-tall paintings on canvas, while selling art commissions on the side. After getting a degree in Bioengineering from UC Berkeley, Erin became a rock climber at Red Rock Canyon, Nevada. Inspired by the colorful scenery she was climbing, she decided to paint one painting every week for the rest of her life. She has stuck to that decision ever since, becoming one of the most prolific artists in history. Erin Hanson's style is known as "Open Impressionism" and is now taught in art schools worldwide. With thousands of collectors eagerly anticipating her work and millions of followers online, Hanson has become an iconic, driving force in the rebirth of contemporary impressionism.

---
---