Artist Adventure Series, No. 2
Adventures that Inspire Erin Hanson's Paintings
Saturday, April 30, 2011
It was a dark morning in Ghost Ranch, New Mexico, home and inspiration to Georgia O'Keefe. I awoke at daybreak, ready to search out the perfect scene to paint. The hike was short, only a mile or so, but it climbed straight up to the top of a butte. From the towering peak, I peered dizzyingly down to the ground.
So enchanted I was, I hardly noticed that the ever changing clouds and changed to a decidedly darker hue. I realized suddenly that the mountainside a few hundred feet behind me had disappeared completely behind a cloud: a dark, electric blue cloud that looked like something from Gotham City. It had grown suddenly silent.. then the deep rumbling started. I was exposed without shelter, a mile from the ground, with no rain jacket. So, I ran.
Like a leaping horse, I ran down the rocky trail, seeing for the first time all the blackened and barren pine trees that had been electrically stripped of their foliage. I ran, the cloud following me, the wind starting to whip, lightning cracking and snapping just behind me.
I reached my van as the first thick drops started splattering heavily around me. Ten minutes later I saw several sodden and unhappy hikers lurch to safety. But I sure got some great photos!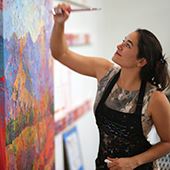 ERIN HANSON has been painting in oils since she was 8 years old. As a young artist, she worked at a mural studio creating 40-foot-tall paintings on canvas, while selling art commissions on the side. After getting a degree in Bioengineering from UC Berkeley, Erin became a rock climber at Red Rock Canyon, Nevada. Inspired by the colorful scenery she was climbing, she decided to paint one painting every week for the rest of her life. She has stuck to that decision ever since, becoming one of the most prolific artists in history. Erin Hanson's style is known as "Open Impressionism" and is now taught in art schools worldwide. With thousands of collectors eagerly anticipating her work and millions of followers online, Hanson has become an iconic, driving force in the rebirth of contemporary impressionism.

---
---