Your Guide to Art Collecting Part 1
How Do I Start Collecting?
Monday, December 5, 2016
There is a difference between buying art and collecting it. When you collect art, you are gathering works that interlink in some way. Your art collection follows a theme or an overarching story.
While art collecting can feel like serious business, it is also a labor of love. You are building an intertwined series of artworks that show something about you, what you love, what catches your eye, and what evokes emotion within you. Collecting art isn't about telling someone else's story, it's about sharing pieces that connect with you – and connect with each other. This may sound like a lot of work, and it is, but having a cohesive art collection is a beautiful way to display your passion for art to the world.
Wondering how to start collecting art? Here is a "how to" guide that you can use as you begin to build your art collection.

Learn
You clearly love art, or you wouldn't be hoping to collect it. The best way to start is to learn about art by reading books, touring museums, visiting galleries, and watching documentaries. All of this knowledge will help you build an idea of what you want and the type of story you'd like to tell with your collection.
There is so much information out there right now, much of it at your fingertips. You can go online and investigate art through blogs, articles, and other platforms. Artists are more accessible than ever through their web pages and online galleries. You can learn much by talking to your favorite artists and other collectors and by discussing art with gallery owners and museum curators.
An in-depth knowledge will help you make the right art selections for your collection.
Note: While we don't recommend relying solely on expert opinion, hiring an expert to assist you with your art purchases may be the right choice for you. Just be sure to continue your art education so that you feel comfortable with and understand the selections your art expert makes for your collection. Art is a highly subjective purchase, so even if you have hired someone to help you build your art collection, you need to remain involved in the final selection process.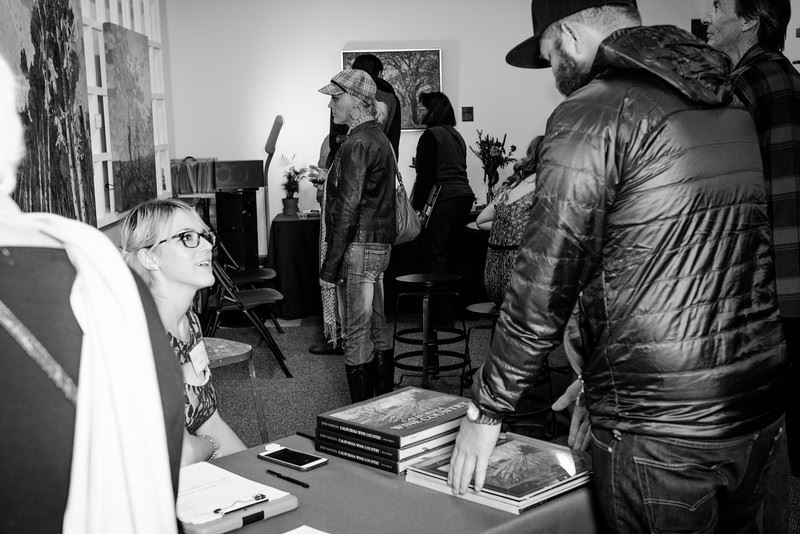 Set a Budget
Oil paintings, street art, modern art, and other artworks can cost anywhere from $100 to $100,000 – or more. This means that art collectors of any stripe or economic background should set a budget for their collection. Besides keeping finances in check, a budget has the benefit of helping art collectors understand what kind of protection they must set up at their art storage facility and home.

Build a Story
The best art collections are an "assembled whole that is greater than the sum of its parts." This means that you are gathering a beautiful series of pieces that have a beginning, middle, and an end. You can decide upon any theme to bring your collection together, including:
Emotional: How does a series of pieces makes you feel? Does the series run the gamut from happiness, through anger and sadness, to apathy? Is your series going to focus on joy or perhaps happiness exclusively? Consider what emotional depth you want to bring to your collection.
Visual: Does your collection repeat specific visual elements? Is there a rainbow of color, or is one color predominant or the focus of each piece? Do the subjects in the collection share similarities? Do you want to focus on fantastical art like that of Dali or Picasso, or are you going for a more realistic or impressionistic series of pieces similar to those painted by Van Gogh or Erin Hanson?
Focusing on one artist: You may have fallen in love with the work of one artist. We see this concentration in museum exhibitions regularly. If this is the case, you will want to work out how to group and display the collection of your favorite artist's work. Will the pieces be displayed by focus or would you prefer to look at everything chronologically? Are you going to add any other artist's works to your collection, or do those pieces deserve their own collections?
Focusing on one style: There are more stylistic differences among artists than drops of water in the ocean. However, many artists are categorized under specific stylistic headings that can guide your decision-making process. Are you more drawn to Impressionist oil paintings or do you tend to enjoy Pop Art? Take a look at what grabs you by the heart and focus your collection on that artistic style.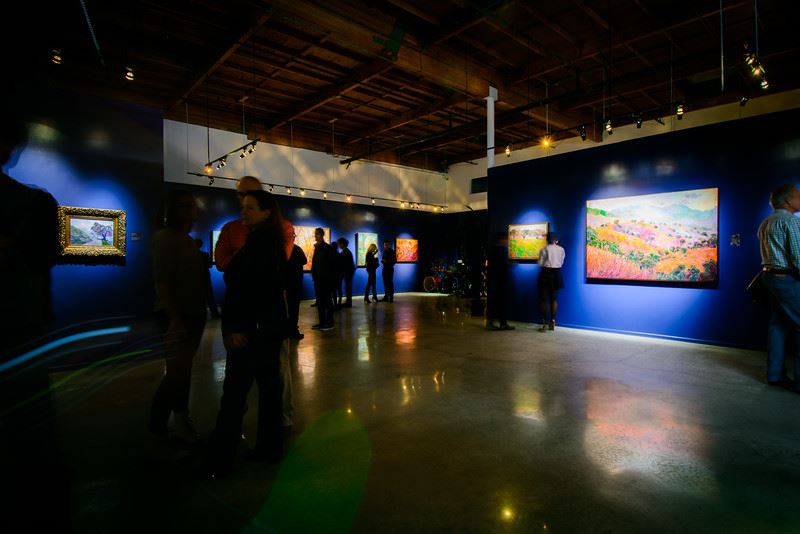 Document Your Art
There are two benefits of documenting your existing art collection. The first is financial; the second will help you create a better collection.
You may have already purchased one or two pieces of art in your time. As you proceed in your art collection, document the provenance of each piece. This will help you prove that the piece is authentic in case you decide to sell it in the future, donate it to a museum, or get the piece insured.
Your documentation may also help you view your existing collection from an external point of view, and you may see a relationship between your pieces that will lead to you to decide what type of works you would ultimately like to collect. These first passion purchases could provide you with the launching point for an entire collection.

Give Yourself a Gut Check
As you go forward with your art collecting, you must trust your instincts. Art is a finicky and, as we said above, a highly subjective business. Don't just collect pieces that are "in right now." Instead, follow the advice of famed art dealer Richard Polsky and "trust your eyes and trust yourself." If you love a piece, then you will never regret buying it – even if it falls out of favor with the art world. You will still have a piece of art that you adore. However, if you buy just to please those around you, and the price of the piece you purchased later fluctuates, you may kick yourself every time you walk past it.
Art collection is a balance of following your passion while making clear, analytical choices. And, remember, even if you are building a collection of distinct pieces, you are allowed to purchase art that is not on-theme if you love it. Who knows; that incredible painting you purchased at an art fair may one day be the nexus of a whole new collection.
Article by Julia Shaw.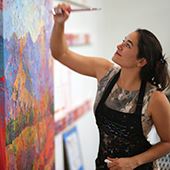 ERIN HANSON is a life-long painter, beginning her study of oils as a young child. Her passion for natural beauty is seen in her work as she transforms vistas familiar and rare into stunning interpretations of bold color, playful rhythms and raw emotional impact. Her frequent forays into National Parks and other recesses of nature include backpacking expeditions, rock climbing, and photo safaris. Hanson's unique painting style has become known as Open Impressionism, which is now taught in art schools around the world. With hundreds of collectors eagerly anticipating her work and millions of followers online, Hanson has become an iconic, driving force in the rebirth of contemporary impressionism, and she is quickly recognized as a prolific, modern master.

---
---