Five Tips for Finding the Right Gift for the Art Lover in Your Life
Friday, October 27, 2017
Finding holiday gifts or birthday presents for an art lover who seems to "have it all" can be intimidating. You want to give a loved one a thoughtful gift that shows you've been paying attention but doesn't completely break the bank. You also want to find the perfect gift of art that they will find uniquely beautiful. Since art and beauty can be subjective, this last factor might be one of the most difficult.
Napa Eucalyptus
Erin Hanson
Giving the Gift of Uncommon Beauty
Before you embark upon your gift-seeking journey, take a look at our five tips for finding the right gift for an art lover. We know art lovers - and we hope we can help you find the perfect piece for that special someone in your life.


1 Give their collection a once-over
It can be difficult to sneak a peek at every piece in a friend or family member's collection, but it is important to do so in order to a) attain a firm grasp of what they like and b) make sure you don't purchase a duplicate piece in print form.
As you tour your loved one's collection, be sure on the look out for the following things:
A particular artist who's work your friend enjoys collecting.

A specific style of art that he or she enjoys.

A sneakier angle is to puruse their collection of art books or coffee table books for clues as to artists they are impressed by.
All of this information will come in handy as you begin to look for the perfect addition to your loved one's collection.

2 Consider where they would hang the piece
As you tour your friend's art collection, take note of the colors and themes around his or her home. Also, take a look at their framing preference. This information can help you pick out a piece that not only goes with the collection, but complements their home's interior as well.
3 Set a budget
Art can cost anywhere from $50-$500,000 and up! So, before you begin shopping, be sure to have a budget in place. Sticking to a budget (or at least some semblance thereof) when gift shopping can help you get the gift your loved one has always wanted - without completely breaking the bank.
Firewheels on Green
Erin Hanson
4 Consider where to shop
Depending on the artist or type of art you are looking for, the location at which you shop may give you a better deal than other locations. For example, buying direct from the artist will likely help you avoid fees a gallery may introduce to the process, while also giving you access to that artist's latest work. Giving your friend a piece he or she didn't yet know existed may just make his or her year!

5 Decide what type of piece to purchase
Many artists offer both originals and prints. If you are on a budget or your friend spoke highly of a certain painting, but the original has already been sold, a wonderful option may be to consider buying a print.
When buying an original painting, remember that many artists will also create commissioned pieces. A commissioned painting is an exceptionally unique gift, capturing a memorable trip or landscape your friend has a personal connection with.
Art is an incredible, personal gift that is worth giving. Let us know how we can help you discover the perfect piece for a friend or loved one. Contact the Erin Hanson Gallery today.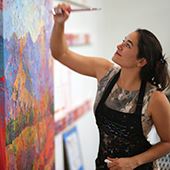 ERIN HANSON is a life-long painter, beginning her study of oils as a young child. Her passion for natural beauty is seen in her work as she transforms vistas familiar and rare into stunning interpretations of bold color, playful rhythms and raw emotional impact. Her frequent forays into National Parks and other recesses of nature include backpacking expeditions, rock climbing, and photo safaris. Hanson's unique painting style has become known as Open Impressionism, which is now taught in art schools around the world. With hundreds of collectors eagerly anticipating her work and millions of followers online, Hanson has become an iconic, driving force in the rebirth of contemporary impressionism, and she is quickly recognized as a prolific, modern master.

---
---