Erin Hanson
Interview Questions & Answers
Thank you for your interest in Erin Hanson! We hope that this list of complied interviews helps you with your project. The questions have been separated into the following categories:

Personal History
Open Impressionism
Inspiration
Artistic Technique
Personal Trivia
Advice for Artists / Business Questions
Personal History
Erin Hanson, the Beginning
Hanson has cited Vincent Van Gogh as an early influence. At age 7, after seeing Van Gogh's Irises, she decided to become an impressionist painter. In interviews, Hanson has also cited as an inspiration the Group of Seven, also known as the Algonquin School, a group of Canadian landscape painters from 1920 to 1933. Hanson has said rock climbing as a young adult brought her back to her artist roots and her love for the outdoors. While living in Las Vegas, Hanson became a skilled rock climber, often hiking in Red Rock Canyon. "Some might consider the desert to be drab and colorless with white granite rocks and scraggly trees, but I love to capture the moments when the early-morning light peeks through and lights everything up in sherbets, lavenders and ice cream colors. I want my collectors to experience the drama and excitement of the landscape like I do."
Wikipedia - https://en.wikipedia.org/wiki/Erin_Hanson
Where are you from — born, raised, and any other geographic affinities/affiliations?
I was born in Portland, Oregon on July 13th, 1981. When I was 2 years old we moved down to California and I was raised in the Los Angeles area, but in the outskirt desert regions and mountains, which had a closer proximity to nature and wonderful hiking paths.
When I was in my early twenties I decided to move to Las Vegas where I discovered Red Rock Canyon and Valley of Fire. This was the first natural landscape that I painted in my Open Impressionism style. I made a decision at this point in my life to create one painting every week, and I spent two years rock climbing and exploring the landscapes of Nevada and southern Utah, painting the scenery I loved.
What is your academic background and artistic training?
I would probably qualify as being "self-taught" since I got my degree in Bioengineering from UC Berkeley. In high school, I worked at a mural studio and developed my skill and knowledge in that trade. I was always enrolled in art classes at a young age, and my whole life I have experimented with many different media and subject matter.
When and how did you begin to paint?
Like most children, I was an artist from a young age. I was lucky enough to have the same art teacher from the age of 6 until I graduated high school at age 16. This art teacher really helped me to master the basic techniques and gave me a lot of freedom to explore and test out new mediums including watercolor, pen and ink, charcoal, pastels and acrylics. I started painting in oils at age 8.
You started your art career at a fairly young age. Was there someone in your family who encouraged you to pursue the arts?
I did not have any professional artists in my family, but my parents are both musicians and I learned very early that practice makes perfect. My dad suggested to me that I draw 5 life drawings every day, to develop the skill and confidence I needed to become a painter. I took this advice to heart, and I firmly believe that the best way to learn to paint is to paint every day and perfect your skills by practice and doingness (not just by studying concepts!)


Did you receive any valuable advice from art instructors along the way that still serves you today?
I went to a small private school, where I graduated high school at age 16. For 10 years at this school I had the same art instructor. Aside from valuable lessons in technique and theory, the most important thing I learned was to open my eyes and draw objects as they really were, not draw my assumptions about them. We did a LOT of drawing and painting from nature and still life, and I did hundreds of repetitions of drawing my own face in the mirror or drawing my own hand holding the drawing pencil, drawing itself on the paper (M.C. Escher-style). It was all this practice painting realism that allowed me to eventually simplify the complexity of what I was seeing and develop the minimalist approach that I have today.


Can you tell us a bit about your background and how you got started in the art world?
I think all of us begin as artists, and like many small children I sketched what I saw around me and painted with various mediums from watercolors and inks to oils. I was lucky enough to go to a small private school that had a rich arts program and an art teacher that fostered my love of painting through most of my formative years. I worked in a mural studio when I was teenager, where I became the official color-mixer, mixing gallons of acrylic paint to match colors the lead artist made up in little dixie cups.

I decided to fully pursue the arts as a career when I was well out of college (with a degree in bioengineering) and after I had started my own business that was able to support me when I was a budding artist. I moved to Nevada and started rock climbing around Red Rock Canyon and southern Utah, and it was these beautiful surrounds that made me decide to become a landscape painter.
Were you deterred from becoming a landscape painter and if so, what, if any, effects did this have on your artistic style and/or career trajectory?
When I was younger I was told, as most aspiring artists are, that it is too hard to make a living as an artist. In my opinion, it is quite easy to sell paintings and make a living, but you have to be willing to work hard (60-80 hours a week is very common) and learn how to market yourself. Being able to create amazing paintings is only half the battle, then you have to be able to get your paintings in front of people so they can see them!


Art and science are often seen as dichotomous. Do you think they are? And does your science background influence your art in any way?
I am sure they are different in many ways but both certainly take dedication, attention to the fine detail and a willingness to always be learning. In that way, I believe there are many parallels and that my education in the sciences has enhanced my abilities and approach to the arts. I think my degree in Biology also gives me an extra appreciation for the beauty of our natural world.


When and how did you decide to become a professional artist?
I was raised to do everything as a professional. If you are going to do something then you might as well be the best and really apply yourself. Even as a child I was selling commissioned paintings of friend's dogs, and I painted an album cover on commission (and got paid in a giant stack of $2 bills.) When I finished college, I had been creating a painting a week for a year before I decided to start selling my new impressionist paintings. I started doing outdoor art festivals and gradually built up quite a demand for my work, eventually opening my own gallery about 6 years later. I suppose the decision to become a full-time professional artist was gradually made over several years, as I realized that I could make a living as an artist.


Once you decided you wanted to pursue art, what was the first action step you took?
I decided I wanted to get back into oil painting when I left Los Angeles and was moving up to Las Vegas. It was particularly beautiful driving from Los Angeles to Las Vegas that day, and I decided without reservation that I would paint landscapes. Later that week I discovered Red Rock Canyon, just outside of Las Vegas, and decided that was the most beautiful landscape I had ever seen. I started rock climbing every week, and so for two years I only painted rocks and sunrises and stunning desert vistas.
Where did you grow up and what was your first experience of landscape (when you first realized it was important to you)?
I grew up as a young child in Silverlake (Los Angeles). Home was very concrete and gray and the nearby hills of Griffith Park were only occasionally perceived through the smog that dominated Los Angeles in the 1980′s.
When my family would escape for yearly camping expeditions, the clear air and crisp greens were like paradise. When I was a little older, we moved to Palmdale and commuted daily over the San Gabriel Mountains into La Canada for school. Palmdale, located in the Mojave Desert, was like being in the paradise of camping all of the time! We were surrounded by empty land, and the foothills of the San Gabriels were just a short bicycle ride away. This is where I first decided that landscapes would be the most beautiful thing in the world to paint. I loved the windy desert days, the rolling tumbleweeds, and the colorful sunsets seen through the Joshua Trees, the San Gabriel mountains blushing red and pink in the waning light. I also loved that the desert had actual weather, and one year we experienced real Christmas snow on the ground at my house (a marvel for us Los Angelans!)
You've talked about your dad's role in encouraging you. Any specifics? What did your parents do? Any artists in the family tree?
My parents are not painters, but they are both musicians. Growing up understanding the importance of daily practice to hone your skills, it was natural for me apply that diligence to painting. My dad used to tell me that to become a master painter, I should begin by drawing five life sketches every day. I drew everything around me from the cats to the trees. I remember spending Saturday mornings sitting on the bathroom sink so I could draw my face profile in the mirrored door.
My grandfather was a painter, although I was not close to him. I did inherit his wooden painting box marked "HANSON," which I still use to this day (along with the wooden easel my father made me for my 10th birthday.)

You graduated in a very left-brain field (bioengineering) yet gravitated away from calculus to art. Do you approach art with the eye of a scientist?
People do laugh to hear that I was a bioengineering major in college. To me science and art were never very separate in my mind. Science is just the art of observation, and the technique of art is certainly a science. I won two of my school's science fairs: one for a year-long naturalist study of a specific valley in the San Gabriels, and one for programming a tic-tac-toe computer game that could never lose. I always appreciated Da Vinci's equal ability in both fields of art and science, and the book The Agony and the Ecstacy, about Michelangelo's life, always interested me – especially how he would sneak into graveyards at night to dig up bodies to learn human anatomy. I apply science to all the paintings I create. In fact, I have developed a unique method of painting in oils after over twenty years of trial and error.
You seem to have a special affinity for desert places. Did you go to the desert as a kid? What did it first dawn on you that you liked dry, scrubby places?
Living in the Mojave Desert definitely inspired my first love for the desert. I got my own German shepherd puppy when we moved to Palmdale, and most nights of the week I would walk out with my dog deep into the desert. We would wind through the Joshua Trees in the dark and silence; I would collect bones while Rascal chased rabbits.
Tell us about your move to Las Vegas and how you started rock climbing.
After I graduated from UC Berkeley, I started my own business buying and selling retail goods, and I moved to Las Vegas to follow a business lead. On the first day of my arrival, my apartment didn't have electricity yet, so I camped out at Red Rock Canyon.
I got to the campground late at night, and I had no idea that I had just stumbled on the most beautiful scenery in Nevada. I had already decided to use this move to Las Vegas as an excuse to get back into painting, so I woke up at dawn the following day and set up my easel at the top of the little hill near the campground. When the sun came out and hit the eye-popping expanse of Red Rock Canyon and Rainbow Mountains, I was excitedly surprised and pleased to discover such beautiful scenery to paint! Later that day, I met my campground neighbors and they invited me to rock climb with them. I was lucky enough to fall in with a university rock climbing teacher and a veteran mountaineer, and they taught me to become a master climber. I loved experiencing the rocks hands-on, and rock climbing was an addictive thrill.
Lately you've been painting more pastoral landscapes in central California. You have said that you approach the rolling fields somewhat the same visually as when painting rock faces. Please explain.
When I moved back to Southern California and experienced the rolling hills of Paso Robles, I was immediately grabbed by the entirely different landscape and color scheme.
I had hardly ever used green in my paintings (unless it was a scrubby desert green!) I love a challenge, and I leapt at it. I spent a week driving around the back-country roads between Paso Robles and Cambria, taking thousands of photos of oak trees, hill shadows, and curving horizon lines. When I returned home ready to paint, I naturally applied everything I had learned painting rocks and desert buttes to painting oak trees and rolling hills. I treat an oak like a rather fluffy rock, but with the same angular planes and sharp contrasts. Trees and hills reflect light just as rocks do, so I got the hang of it pretty quickly.
Are there other painters who've inspired you? Other influences in art, music, books?
As a child, I was mostly inspired by the classic Renaissance artists and the impressionists Monet and Van Gogh. To this day my father still buys me art books for Christmas, which always inspire me, including some of my favorites: The Group of Seven, Ansel Adams, Andrew Wyeth and Cezanne. I love loose plein air artwork, the classic California impressionists, and abstract expressionism in landscapes. I am drawn to color, simple landscape shapes, and unique viewpoints. Growing up without television, my family read for pleasure every night. I enjoy reading about artists and their unique perspectives. I listen to audio books all day while I paint, everything from English classics to science fiction. Getting lost in a book helps relax my mind and lets me concentrate better on the details of painting.
You were painting Japanese landscapes in ink when you were in college. What is your relationship with Japanese art?
In college, I fell in love with the simplicity and clarity of Japanese art and how the artists could utilize empty space on white paper, without feeling like they had to cover up every bit of white space, like Western artists do. I bought all the traditional materials and worked on watercolor and ink paintings in college.
How do you physically approach landscape exploration and painting? Hike in? Backpack? Take photos or paint on site? Go solo or with friends?
Now that I am a full-time artist, I set aside several times during the year when I travel out into the wilderness to get inspired for months of painting. I often hike solo, waking up before dawn every day to get the best lighting across the landscape. I love monsoon season in the desert, with the lightning and the giant dramatic cloud formations. Lately, I have been going backpacking with my younger brothers; we've been on a five-day trek across Zion National Park, backpacking the eastern Sierras in November, and hiking into and out of the Grand Canyon.
I always carry a camera with me, and my eye is constantly roaming for a unique perspective, an interesting tree, or a beautiful piece of light. Even driving around in the city, I find myself getting excited about a sunset sky or a grove of eucalyptus trees. I have transformed Pasadena's ficus trees into several beautiful paintings.
Open Impressionism
What is Open Impressionism?
I coined the term "Open Impressionism" a bit over a decade ago to give me a frame of reference for my style. I am a loyal fan of the impressionists but also have a huge respect for expressionism and wanted to have a chance to bend the rules and be a bit more "open" with my brush strokes and approach. It also touches on the fact that my focus is on nature and wide-open spaces. I thought it was the perfect way to describe my vision and what most moves me.
Open-impressionism is a contemporary blend of classic impressionism and modern expressionism, with a plein-air-style technique. These oil paintings are created wet-on-wet, without layering, relying on a vibrant underpainting for a transparency effect. Open-impressionism is all about capturing impressions of a landscape, memories and fleeting glimpses of color. I am not trying to re-create a photograph, I am trying to get my viewers to open their eyes and see their world a little differently. I want people to look at the San Gabriel mountains, when they are stuck in their car during 5pm traffic, and see the amazing range of purples that appear when the sun starts setting and the brilliant oranges and sherbet colors in the highlights. It is easy to zone out and not look around, but I am often surprised at how truly beautiful Los Angeles is.
How did you develop into your current style?
There were many pivotal moments that lead to me developing my style pf painting, Open Impressionism. I think the first moment I realized that art could surpass or enhance the beauty found in nature was an exceptional moment for me. I was raised by musicians who instilled in me a mindset to practice, practice, practice. When I told my Dad that I wanted to be an artist he said I should do 5 life sketches a day and I latched onto that idea with ferocity. I would often perch myself on the sink in the bathroom and sketch my face over and over and over again. Many of my family photos show me painting or sketching away in one of my books while my little brothers played with trucks or lizards (not that I didn't partake in the fun).
I had an early respect for the impressionists and nature. My Dad is a huge fan of Ansel Adams and is also a photographer so we would go out on family hikes and I got an early idea of composition and how he experienced the various scenery we enjoyed.
When I moved to Las Vegas and started painting red rock landscapes, I knew I needed to use a lot of color, and the thick texture of my paintings was a response to the bulky rock formations I was climbing.
How did you develop your style and from where/whom did you draw your inspiration?
I visited the Getty Museum (in Los Angeles) on a school field trip when I was pretty young. I remember seeing "Irises" by Van Gogh. I think that moment was fairly pivotal for me; I really responded to the color and life he portrayed. Then I recall seeing actual irises while planting in my mother's garden, and I decided that the painting was much more beautiful than real life. Since then, I have always wanted to be an impressionist painter, although I had to work through the "realistic" phase first, which took many years, and many discarded paintings.



How would you best describe your work, including your form and style?
I describe my style as "Open Impressionism." It is an homage to the late 19th-century impressionists, with a nod to the more subjective expressionist movement of the early 20th century. I use bold colors and loose brushstrokes to capture the vibrancy and movement of natural landscapes.
What are the differences and similarities between your style and impressionism or expressionism?
After creating about 500 paintings in my unique style (developed through trial and error), I found that my technique and style of painting had deviated from what was normally considered "impressionism." It was also neither abstract nor fully expressionistic. So, I came up with the term "open impressionism" to signify a more open approach to impressionism. My style is rather like a bridge between classic impressionism and modern expressionism: I use pure color and focus on light like the impressionists, but like the expressionists I use bold, blocky brush strokes and I alter the landscape to be more emotional than representational. I have now created over 2,000 oil paintings, and I my style has continued to be consistent, even though I strive to improve and challenge myself every day.

What message do you want people to take away from your art?
I'd like anyone viewing my art to be pulled into my world and see the beauty that I see in the many natural landscapes by which we are surrounded.
Inspiration
Who are your favorite artists?
Group of Seven, Van Gogh, Monet, Ansel Adams, Cezanne, Georgia O'Keeffe, to name a few.


What are your sources of inspiration?
I get my inspiration to paint by hiking, backpacking, and rock climbing through National Parks and other beautiful terrains. My latest haunt has been closer to home: the idyllic scenery of Paso Robles wine country.


How do you stay focused during painting?
During the long hours I spend painting every day, I like to listen to books on tape. This lets me un-focus from "reality" and lets my mind wander in fictional realms while I create fictional landscapes with my paintbrush.
Most of your paintings are inspired by nature. Have you considered painting other subjects?
I have been painting since I was a young girl, everything from portraits to buildings to animals. I also spent the first 15 years of my life experimenting with different styles and mediums. But nothing ever inspired me like the intense natural beauty you can find in landscapes.

Describe your creative process.
The first step is always nature. I get out into the great outdoors and really look around me. When I am out in the field I take many reference photos to use later in the studio. When I am back home I come up with a composition and color palette that will capture the emotional feeling of being out of doors. I want my paintings to really be an impression of what it's like to stand on the edge of a cliff looking down into a canyon, or to experience a brilliant sunset along the coastline, or to see the grandeur of a National Park for the first time.
I do a lot of prep-work before I start painting, including several sketches, a small painting sketch, laying out my composition on my primed canvas, and pre-mixing my entire color palette from 4 or 5 primary colors. Once I know exactly what direction my painting is going in, I pick up a brush and start to paint. This allows me to have a loose and painterly style that is always "right the first time."
What are your sources of inspiration? What gets your juices flowing?
I must say that it just boils down to the outdoors and the natural beauty on this planet. When I was creating my last collection (The Red Rock Show) a 15-piece collection quickly grew to 23 pieces and I could have kept painting… I still had about 30 other compositions I wanted to create, all inspired by the National Parks and Monuments around Utah and Arizona.
What is your creative process like?
The first step to creating a painting is getting the inspiration. Several times every year I put down the brush and go out by myself into the wilderness to hike and explore. I visit the Colorado Plateau every year, revisiting some places like Canyon de Chelly and Zion National Park over and over to see the landscape in different lighting and to search for new compositions in the red rock cliffs. After returning home from a trip like this, my camera is full of thousands of ideas to paint from. I then have to somehow glean from my 2-dimensional and flat-looking photographs what it was actually like to experience the beauty I had seen there in person. I have to look back in my mind and try to re-capture those stunning colors and feeling of space and motion that all get lost in a camera. After printing out several different photos from my stash, I sketch out an original composition that will transform my flat canvas into a three-dimensional miracle of color and light.


Do you ever have difficulty when deciding what to paint, if so, how do you overcome this/ get inspiration?
For me, there is always a surplus of inspiration and it can get overwhelming. I have a filing cabinet with thousands of pictures I've taken over the years that I am itching to paint. It helps me to work on themes for a show, which focuses my attention and lets me create paintings I wouldn't otherwise have found time to create. For example, I did a Coastal Show in my gallery recently and I was able to focus entirely on seascapes. This focus on a theme also lets me confront trouble areas and become a better artist for it.
How much time do you spend in a day or week on your art?
I spend just about every waking moment painting, exploring new landscapes, taking photographs, and running my gallery. I have spent about 80 hours per week on my art for over a decade. Now that I am starting a family, I have cut down to 60 hours per week.
Give me the backstory on one of your favorite paintings.
Here's a story behind a painting I did of the Grand Canyon (Golden Dawn):
I started hiking down into the Grand Canyon one early morning, 2 hours before dawn. The trailhead began way back from the main canyon, a few miles' hike from the first uninterrupted view where you could see the wide expanse of the canyon. As I hiked along with my two brothers, large packs on our backs, I watched the sky slowly lighten above us. Eventually we no longer needed our headlamps, and I could make out the dim shape of the steep cliff beside us. As the hour of daybreak approached nearer, I started jogging anxiously forward, hoping to catch that magical moment of dawn hitting the Grand Canyon. The trail kept switching back and forth behind a large outcropping in the cliff, and I could not get a full view of the canyon. In the distance, I could see the sun starting to hit the first tips of the distant peaks. I urged my brothers forward, trotting forward at a near gallop now, and when the trail finally led me around the final switchback and out into an unimpeded view of the canyon, I skidded to a stop. This is the vision I saw: an ancient manzanita tree catching the bright rays of the sun, mere minutes after daybreak, with the wide expanse of the canyon as the backdrop. In my painting can see the sunlight striking the top of the boulder next to the trail -- five minutes later and the entire trail was bathed in warm light. Five minutes after that, and the Grand Canyon itself was fully lit from top to bottom, and the dramatic and mystical period of dawn had passed. The colors changed rapidly from brilliant gold and purple to a dull orange and brown. I was so happy I had made it to this spot in the trail in time, and I took about a hundred photos during those subsequent minutes, recording the sun slowly descending down the canyon walls.

This painting captures the moment of first light I experienced as I came around that final bend in the Grand Canyon.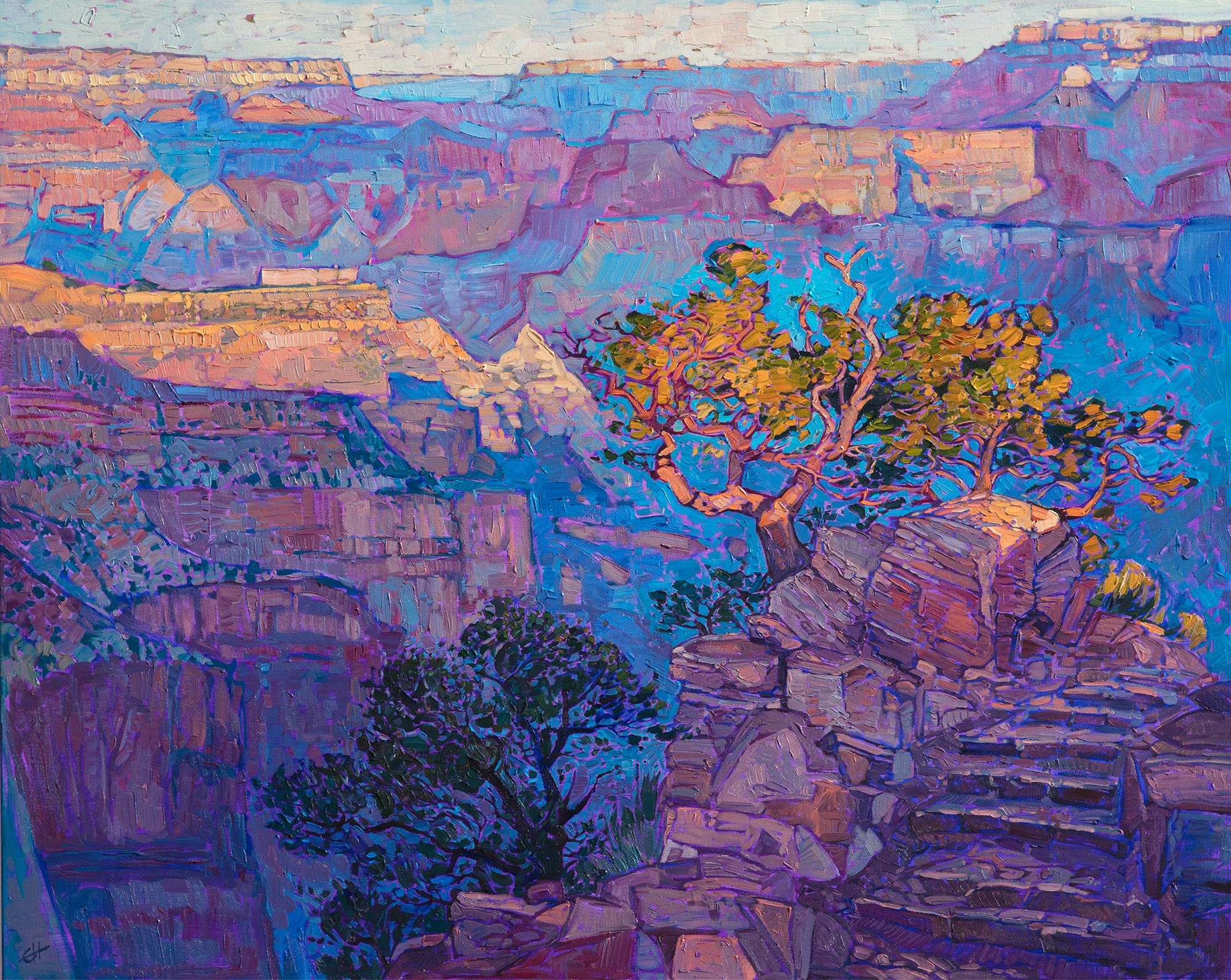 Since you create one painting every week, who or what do you turn to when looking for sources of inspiration?
It is very easy for me to create a new painting every week… in fact I have my next 50 paintings planned out in great detail, if I only had the time to paint them all! I have been backpacking and hiking in National Parks and stunning desert scenery for over a decade, and every year I accumulate more reference photos than I know what to do with. Last year I drove from Seattle to Park City doing art festivals, and I drove through the Cascades at sunset, hiked around Smith Rock at dawn, explored the idyllic pastures north of Boise, and then saw the beautiful scenery of the Rockies. From that trip alone I could create hundreds of paintings, but I have only had a chance to paint a few. If I am ever feeling low on inspiration, all I have to do is go hiking and I am 100% revved up again.


Do you ever paint anything else besides landscapes?
I like to paint still lifes and florals now and again, and I occasionally will paint an animal or a person. But I find landscapes to be the most diverse, challenging, and beautiful of all the subjects I could paint. I also like creating drama in scenes that might be considered ordinary (a tree next to a winding road, for example.) I am also excited to start exploring other countries and discovering entirely new landscapes and color themes to paint.



What are your favorite landscapes to paint?
My favorite natural landscapes include Zion National Park, Canyon de Chelly, and Monument Valley. I travel as often as I can and continue to hike and backpack to keep in touch with the natural beauty of the outdoors, which is the entire source of my inspiration. Since moving back to California, I have also fallen in love with painting California wine country, as well as the coastal and desert regions.
You say that Red Rock Canyon inspired you to dedicate your life to one distinct form of art. Can you elaborate?
My style of painting is very chunky and abstracted. This style began when I was painting a lot of comic art and Japanese landscapes in ink while I was in college. When I moved to Las Vegas and started rock climbing every week, the obvious thing to paint was rocks… lots and lots of rocks, in all colors and shapes and lighting. The dark cracks in the rocks, separating out the flat planes of color, were easy and fun to paint, and my style developed from there. When I moved back to California several years ago, I decided that fluffy oak trees and winding rivers were really just like differently shaped rocks and I could apply my same technique to painting them. From there, an almost mosaic style of painting has evolved, which I like to call "Open Impressionism."
There was a very definite and distinct moment when I became inspired to paint landscapes. It was when I was moving to Las Vegas, having never been there before, with my mattress tied to the top of my car, blowing awkwardly in the wind, my seats full of boxes, and knowing I was making a huge life change. One of the changes I wanted to make was getting back into art, but the postulate was vague and confused. Up until then I had painted everything from urbanscapes to pets to nude models in all sorts of mediums, from watercolors to pen and ink to giant 50-ft acrylic murals. Then I saw the sun set over the dramatic peaks and plateaus of the desert, their shapes abstract and delineated, the colors unbelievable. I decided in that moment that I could paint this landscape a thousand times, and I knew I would concentrate on landscapes exclusively and that the thick, chunky texture of oil would be my medium.

You are a real student of rock. What can you tell us about painting (or climbing) the red rock of Canyon de Chelly versus the granite of Joshua Tree, and other varieties.
When I moved to Las Vegas, I decided to get back into painting (the last job I had had as an artist was working in a mural studio near my high school). Continuing my childhood maxim that practice makes perfect, I decided to create one painting every week. Since Red Rock Canyon was the most beautiful landscape around Las Vegas, and the rocks were the most interesting thing there, that is what I painted. As climbers we were often hiking before dawn to avoid the heat, and I experienced many colorful sunrises over the red, pink and white striped sandstone. I loved the way the rocks reflected the light around them, and I loved their interesting abstract shapes. The rocks were both a challenge to overcome with my hands as a climber and a challenge to learn to paint with the brush. I wanted everyone to see the bold beauty of the rocks as I saw them. After two years of climbing and painting red rocks, I started experiencing other landscapes like Joshua Tree National Park and southern Utah.
Artistic Technique
What is your favorite studio tool/supply?
Kolinsky sable brush


What do you hope to communicate with your art?
I like to concentrate on a single factor when I am designing a painting. This communication might be as simple as "Look at how the oak trees appear to create a circle around a disappearing path" or "Look at the contrast between the sun-lit regions and the shadowed regions." This lets me focus my artist communication and create a central theme in my painting.
The overall communication in my artwork is always about natural beauty and encouraging people to enjoy the natural landscapes that surround us.


Are oils your only preferred medium?
At this point I have been working solely in oils for about 13+ years. I landed on really focusing on exploring nature and using impressionism and expressionism to recreate what I see.


You say you use a limited palette – which colors do you paint with?
I am constantly experimenting with new color combinations. It is important to stick with the pure colors on the outside of the color wheel, to keep your palette from becoming "muddy." For the first several years I painted in oils, I used exclusively these four colors: Alizarin crimson, ultramarine blue, cadmium yellow light, and pthalo green.
Do you add anything to your paint for impasto texture?
No, I don't add anything to my paint, the oil paint straight from the tube is already very textured. I do add a paint thinner, such as Liquin, when I want to thin out the paint.
What do you use to clean your brushes?
I don't use turpentine at all when I paint – I clean my brushes with Masters Soap (available from any art supplies store.) I also have a trick of sticking my brushes in the freezer if I don't want to clean them at the end of a long night of painting.
Do you work en plein aire, or in your studio?
I have done my share of plein air painting (working out of doors), but I much prefer to work in my studio. I am painting the most transient light there is – early dawn and late afternoon, so it is impossible to paint outdoors when the light is changing so quickly. So, what I do is take hundreds of photographs of the scene I want to paint, and then I work at my leisure in my studio. I never copy a photograph, since I am trying to create an original work of art – instead I use the photos as loose reference material.

How would you describe your technique?
I paint in a loose, expressive style using varying thickness of paint to create rhythm and motion within my paintings. I try to never go over the same spot on the canvas more than once – instead I try to "get it right the first time." I have found that trying to correct brush strokes that are already on the canvas only leads to a muddy mess. I try not to overlap my brush strokes, which gives my paintings a mosaic, or stained-glass appearance.
Do you work from photos when you paint?
Yes, I use my own photograph as references when I paint. I do many sketches before I paint to determine the composition that will best capture what I am trying to communicate. Then I use my photos to help me fit in which tree goes where, which background to use, how the shadows are falling, etc.

What is your general sequence of creating a painting?
I start with exploring the outdoors and looking for unique compositions in the landscape. I take photos to use as reference material later. When I am ready to paint, I start with a series of pencil sketches to determine value and composition. Next, I sketch out my composition directly onto the canvas. The next thing to do is mix all the colors I want to use for the painting. I use a limited palette of 5 colors when I paint, so I have to mix all the intermediate colors ahead of time. I will then usually create a miniature version of the painting on a small canvas board (a painting sketch) to make sure my colors and composition are good. Finally, when all this prep work is done, I can pick up a brush and start painting!


Do you use an acrylic underpainting when you paint?
No, I only use oil paints in my paintings. My underpaintings are made with thin washes of oil paint.


Do you work on more than one painting at a time?
No, I only work on one painting at a time. I do all the prep work to get ready to paint, and then I work on the painting until it is completed, usually over several days. The painting then dries for several weeks on my dry rack. One of my most successful changes that led me to become a professional artist was to actually finish each painting before going on to the next. Before that, I would start a painting, get frustrated because it wasn't turning out the way I wanted, and then decide to "come back to it later" and start a new painting. 10 years ago, when I decide to always finish each painting I started, I immediately began to learn how to deal with these trouble areas by just pushing through and trying different solutions until I got it right.

Do you varnish your paintings?
Yes, once the painting has dried for 4-6 weeks, I apply a finishing varnish (also known as retouching varnish) with a brush. This type of varnish allows the painting to continue to dry and cure underneath, without creating an air-tight seal. Oil paintings will continue to dry over many years.


How your art has been evolved from the beginning? Could you summarize the progress among your past works & perception, and today's?
My work has gotten looser and more confident over the past decade of painting. My earlier works were done in carefully laid brushstrokes, with which I would try to cover up all the white canvas. Now I use a toned underpainting which has really freed up my work and allows me to be more expressive with my brush strokes.
Personal Trivia
If you could have an all-expenses paid trip to anywhere in the world to paint, where would it be?
I would like to go to southern France, and then meander around to Greece. I like the idea of painting romantic European landscapes and visiting all the past masters' sources of inspiration.
What is your favorite book?
I would say my favorite art-related fiction book is "The Fountainhead" by Ayn Rand. I think every artist should read this book. It is not only a great fiction read, but it describes the ideal in artistic integrity.

What is your favorite color?
I suppose my favorite color is purple. I also like yellow… and blue… A few years ago I painted an entire show focusing entirely on the color orange. I called it "The Orange Show."
When you look through your own portfolio, is there one specific painting that stands out amongst the rest?
I like to experiment with my paintings, trying different techniques and effects with the paint to create a more stunning visual image. One painting that I experimented with turned out so well that it influenced my style from then on out. This painting was called Crystal Light, painted in 2013. I loved the way the tree branches formed a mosaic, stained glass imagery, perfectly communicating the way I perceive light filtering through trees.
What is your favorite painting you've ever created?
The painting Crystal Light holds a special place for me. This painting was one of the first that I felt truly captured the dramatic light I have seen so often in California's wine country. The bold lines of the oak trees' shadows and the colorful mosaic colors created by their interlacing branches has become a recurring pattern in my oil paintings.


Tell me about your studio, what is it like?
My studio is in San Diego and is actually in the same space as my gallery (The Erin Hanson Gallery). San Diego is a lot greener than LA so when I open my large window curtains I see these beautiful puffy trees and at dusk the wonderful San Diego sunsets. I've styled my studio to be very cozy and I have a big velvet green couch that my cats love to lounge on while I paint.


What is it about your passion that gets you out of bed in the morning?
I get very excited at the thought of starting a new painting and making this painting the best I have ever done. It is always a bit of struggle during the painting processes, as I fight to make the paint and the canvas become more vibrant and more alive than "real life," but the end product is almost always satisfactory.
If you could describe your work in three words, what would they be?
Vibrant, textured, mosaic.


What do you think of the contemporary art word?
I think the modern or contemporary art world shies away from landscapes or natural beauty. I don't really understand why since it is one of the most pleasing art forms to the eye and certainly one of the most popular. I have a hard time keeping up with the demand for my work, so I am not so concerned about what the great "curators" or "critics" might say, but what the actual collectors and fans think and feel as a result of my works.
What was the best advice given to you as an artist?
To draw five drawings a day to learn how to paint, and to paint one painting every week in order to learn how to paint.



Do you prefer to work with music or in silence?
I love to immerse myself in an English novel or exciting science fiction story through Audible while painting. Listening to audiobooks while I paint allows my mind to disconnect somewhat and explore freely the potential colors and brush strokes in order to bring a unique landscape to life.



If you could only have one piece of art in your life, what would it be?
Van Gogh's Irises. This was the painting that made me want to become an impressionist oil painter, at age 7. I started taking oil painting classes soon afterwards.
Advice for Artists / Business Questions
What advice do you have for artists thinking about becoming full-time professionals?
The best advice I can give is to not expect to make a living as an artist all at once. Creating a following for your work can take years, and it's important not to get frustrated, or expect your painting sales to pay the rent during your first year. The great thing is that there are lots of ways to get your paintings out there without quitting your day job – online and art festivals are the two best ways I know.
The other thing to remember is that you can't just become an awesome painter and expect to make a living. You need to be all parts of the business, including marketing and promotion, treasury and finances, legal rudiments quality control, shipping and printing services, website development, framing, writing, press relations, salesmanship, etc., etc. The business side involves commitment and hard work - I spend two hours on the business side of being an artist my artwork for every hour I spend painting, and this is a ratio that is common for many successful artists.
When you are first starting out, you are carrying the entire load of the business on your own shoulders, but as you become more successful and your income level increases, you can hire other people to help you with parts of the business, such as social media marketing, promotion and public relations, show applications, shipping, online sales, interacting with galleries on your behalf, etc.


What advice would you give to those who want to follow a similar path in life?
I was told by many adults growing up that art was a difficult way to make a living. I decided therefore to get my degree in Bioengineering when I went to UC Berkeley. After graduating, however, I just went right back into art and I have never looked back. Yes, it could be hard to make a living as an artist, but not if you decide to take full responsibility for the business of being an artist. If you sit back and wait to be discovered and wait until your paintings are "good" enough to be sold in big galleries, it will be hard to make a living, yes. With the internet today artists have the ability to get their work in front of thousands of interested buyers and you can market your work directly to your collectors.
My advice is to go on Amazon and buy every book on art marketing you can get your hands on. And then dedicate, for every hour you spend painting, an additional hour to growing your business and promoting your own art. You will find that being an artist is not only a very well-paid way of making a living, but the most rewarding thing you can do.

Do you have any advice for an art student in grade 12?
Create at least one painting a week (it's OK if they're small - it's all about learning the creative process and completing paintings that will make you into a better artist.) Don't listen to nay-sayers or seek critiques or opinions about your art. The only person who can judge if a painting is good or not is yourself. You are the one with the vision and only you know if your painting matched the way you wanted it to turn out.
If you want to become a professional artist, you need to be willing to be your own salesperson, marketer, web designer, photographer, finance manager and everything else that goes into a business. So learn as fast as you can and make it all fun. The best thing to do is to start showing your work anywhere you can and start learning how to talk about your own work. Keep track of everyone you talk to or sell a painting to and put them into an Excel spreadsheet. When you have a new painting or something exciting to share, send an email out to them so that they can follow along.


What is the best advice about art you have ever been given?
My parents are both musicians so they instilled in me the mindset of perfecting your skills through practice and experience. My dad told me that if I wanted to be an artist I had to do 5 sketches a day, every day. I used to sit up on my sink and just sketch and re-sketch my face, over and over. The point where I really started developing my style was when I decided to do a painting a week. I have since done over a painting a week for more than 13 years.


What advice would you like to give to budding artists?
Create your art every day, no matter what else is going on in your life. Keep going, keep persisting, and keep sharing your work with others. The more you produce, the better you will get. The more you share your work, the more you will become known.
What are the pros and cons of being an artist?
Being an artist is the most wonderful job in the world because you can live and breathe your passion. I would say the main con is that it is hard work that one must dedicate a lot of time and energy into to become a professional. However, I would argue that a professional in any industry must do his due diligence to gain recognition and make money. So, this con is similar to that of any job.
When and why did you decide to start your own gallery?
Honestly, I kind of had to. I was working out of my Burbank home for years and it got to the point where I was annoying my neighbors with all the big delivery trucks always coming and going on the narrow winding street I lived on. One of my neighbors reported me to the city and this inspector came and said to me: "There have been reports of too many canvases." Once the inspector determined I was actually making a living as an artist, he gave me two weeks to move my business out of my home. That was a little bit terrifying but I pretty quickly realized the next step was to create a gallery and studio space. It allowed me to expand quite a bit and within a couple of years I had outgrown the first 2,000-sq ft space and moved into a 5,000-sq ft space in an artsy neighborhood near downtown LA. I later upgraded again, and I now have an even larger gallery and studio space in San Diego. It is much prettier down here.


Opening a gallery is a strong business move, how does this tie in with where you see your career progressing?
I have always been a bit of daredevil as an artist, taking my career into my own hands and not playing the usual game of waiting for a good gallery to pick me up. This involves driving solo for 24 hours at a time across country to attend top-notch art festivals, working 80 hours a week, 50 weeks a year, paying for my own marketing, and having to learn everything from HTML to book publishing. When I first decided to make the move from amateur to professional artist, 9 years ago, all I had was a beat-up 1970's pickup truck and a pop-up tent. I decided I would create one oil painting every week, which would keep my painting skills progressing and sharp, and I would apply the business sense I've had since a young child to the business of being an artist. Since then I have somehow managed to double my income from selling paintings every year, and I now have a multi-million-dollar art career.


What made you decide to start your own gallery?
After the City of Burbank let me know I could no longer paint in my 3-car garage (neighbor complaints of "too many canvases") I decided I would move my business down the street and test out an idea that had been tickling me: how to have a professional gallery setting without paying retail rates and having to work in a separate studio location. My combined studio/gallery was a great success, allowing me to work and be productive during the day, while also accepting appointments to show my work under beautiful lighting in a gallery setting. The only problem was I outgrew my little 2,000 sq ft place in Glendale.

Did you purposefully choose to forgo gallery representation and if so, why?
This is really a personal preference. I have worked with galleries in the past and likely will in the future, but only for exhibitions or limited engagements.
I approach this as my "game" as it were, so I prefer to have the reigns when it comes to when and how my works are displayed. It is also an issue of keeping up with the demand: I can hardly keep pace with the requests for my work at this point so I have a hard time sending off my paintings to outside businesses. I think galleries might be a good fit for an artist who has zero interest in the business of being an artist and who will gladly pay 50% commission in the hopes that someone else will do the work for them.
Does the stress of owning and operating your own gallery impact your art life and if so, is it worth it?
I never worry too much about "stress". I probably enjoy the art of business as much as I enjoy actually painting. I enjoy working with my staff and making plans. It helps me greatly to have the reins and be able to personally control the presentation of my pieces. We have a great team here at the gallery. We are able to work with other galleries, museums, wineries, country clubs and designers quite seamlessly.


Would you recommend emerging artists develop their own business and marketing skills to secure their professional career, as opposed to relying on galleries?
Absolutely. Galleries, gallerists and curators are important pieces of the puzzle but the more hands-on you can be the more likely you are to actually get your art in front of collectors and fans. We live in the modern age where you can really be as successful as you want to be, and there are so many resources available to artists online for free. You just have to figure out how you want to play your game.
How do you promote and market your work? What are the greatest challenges in being promoted and recognized as an artist?
The most effective marketing tool that got me started was doing top art festivals across the United States. At one point, I was doing 30 art shows every year. Aside from that, I utilize every outlet possible including my own gallery and gallery website, Fine Art America, Saatchi Art, Facebook, Pinterest, Instagram, Twitter, news outlets, local papers, and more. Additionally, I have connected with galleries and museums across the U.S. to host several shows. I also share my work through western art fairs and exhibitions and my gallery hosts local events.
You talk a lot about art festivals. Can you tell me why you recommend doing these shows?
The best part about doing regular art festivals is the constant demand to create more paintings. Creating one painting a week was hardly enough, and the more I painted, the better I got. As the years passed, I could look back over each year of paintings on my website, and the changes were dramatic. Creating 50-200 paintings per year (and selling just as many) is the absolute best way you can improve your ability to paint. Also, by doing art festivals, I was never pressured to paint in any way other than how I wanted to paint. My own unique style was allowed to grow and mature without teachers, without criticisms, without input from other galleries or persons wanting to make money off my artwork.
The other great thing about doing art festivals is you get to learn how to talk about your work, and you get over the innate shyness that all artists seem to have (I used to have a terrible stutter and hated talking to people I didn't know!) You also get to experience first-hand how people react to your paintings, and you get the pleasure of personally handing someone a painting he just purchased and seeing the joy in his face. This is an experience you will never have when you are represented by galleries.
Do you think the art industry is benefiting through the internet and digitization?
Yes. The internet allows people across the world to see new budding artists and collect original art work directly from the artists themselves. The internet is also allowing fans to connect directly with their favorite artists and share paintings across the social media network.


Do you have any concerns about over-commercializing and it to keep you away from your sense of art?
No, I am not worried about becoming over-commercialized. In fact, I have withdrawn from publishers and other companies that would like to commercialize my work. I am only concerned with having an audience for my work and knowing that I will be able to sell everything that I decide to paint. Since I started my art career with another source of income in place, I was able to paint only what I wanted to paint, in the style that I liked to paint the best, without worrying about who would like it, or whether it would sell.I was not trying to please anyone else.I have preserved this attitude about my work, even though I now sell millions of dollars' worth of art every year.
What does your average day look like?
I am at my art studio/gallery by 10am, where I paint and run the business of being an artist for 12 hours. I like to order breakfast, lunch and dinner from a fantastic diner nearby in Silverlake called "Home." I usually get about 8 hours of painting done and 4 hours of administrative work done every day. There is a surprising amount of legwork needed to actually sell the paintings I create!On the weekends, I am often traveling out of town to sell my paintings at art festivals, galleries, wineries and pop-up shows as far north as Seattle and as far east as Dallas.
How can I go about to create my own style of painting? How do I know if I am good enough to be a professional artist?
When you are first starting out, every painting does not need to be a masterpiece. It is more important to finish a painting (even if you hate the finished product) and start on a new one, taking what you learned from the previous painting and applying it to a fresh, white, un-muddied canvas. This gradual development by trial and error, painting by painting, is how you build your own unique style. You do not build a style by trying to make your first painting into a masterpiece right off the bat. You build a style by painting a great number of paintings. Eventually you create a niche of your own, your own way of holding the brush that creates a unique style of brush strokes, your own way of mixing color to come up with the hues you like to work with best, your own style of composition and rhythm within each painting that eventually will be recognized as your painting and no one else's.
The paints and brushes and mediums are the tools you use to create in three-dimensions the mental pictures you have in your mind. You must learn to use these tools so that they are second nature to you. When a guitarist is first learning to play, he does not try to compose a masterpiece the first time he holds a guitar, painstakingly plucking each string and trying to figure out how to make this strange instrument produce the music that he can hear so clearly in his mind. No, instead he spends years, a decade, or longer, drilling and practicing with the guitar until the instrument is an extension of his own mind, and he can produce the sounds that he hears in his head without even thinking about it. Now he can compose music, and now he can take that masterpiece that he's contemplating and make it a reality. This is how you must approach painting too. Painting is a skill that will take 10,000 hours to master. And when you do master it, you will hardly be aware of what colors you place on your palette, or what your hand and brush are doing. You will be focused entirely on the end-product, that image in your mind, and the execution of the painting will go smoothly towards that end.


Do you have any last advice for aspiring artists?
Don't be afraid of hard work. Don't let anyone tell you that you are working too hard, or that you should "take it easy." There is nothing that gives greater pleasure than production and becoming a professional in everything you do. You can become the artist you always wanted to be, and you can make a living doing so.
Additional Resources

Portfolio – www.erinhanson.com/portfolio

Widewalls Artist Profile - http://www.widewalls.ch/artist/erin-hanson/

Erin Hanson Painting Details - https://www.erinhanson.com/Blog?p=AboutErinHanson

Painted Parks Exhibition Profile - http://artistsofutah.org/15bytes/16feb/page6.html

Framebridge Interview - http://blog.framebridge.com/framebridge/artist-spotlight-erin-hansonutm_campaign=Artist%20Spotlight&utm_medium=Erin%20Hanson&utm_source=blog&utm_content=&utm_term=

My Modern Met Interview - http://mymodernmet.com/erin-hanson-interview

Life as Human - http://lifeasahuman.com/2014/virtual-art-gallery/what-is-open-impressionism/

The Erin Hanson Blog - https://www.erinhanson.com/Blog?p=What-is-Open-Impressionism

The Roll of Impasto in Impressionism - https://www.erinhanson.com/Blog?p=Impasto-in-impressionism
Art Festivals Blog - https://www.erinhanson.com/Blog?p=Seven-Years-of-Art-Festivals

Travel China - https://www.youtube.com/watch?v=iACQIIX1RkM

Behind the Canvas - https://www.youtube.com/watch?v=8LiqzwZQg0w

Open Impressionism - https://www.youtube.com/watch?v=NeIR11PJjgk

Field in Blooms Work in Progress - https://www.youtube.com/watch?v=mkZDKSOxSO8